Turkey Tourist Attractions
Turkey tourist attractions include so much more than only pristine beaches and luxury resorts. The country is home to countless ancient sites as well. From vast subterranean cisterns and ancient monuments in Istanbul, to long abandoned underground fortresses and rock carved monasteries in Cappadocia, Turkey really has something for everyone.
>> Explore the best of both Egypt and Turkey with our breathtaking private guided Egypt and Turkey Tours!
Click here to learn more about the top Turkey tourist attractions
A Quick Look At Top Turkey Tourist Attractions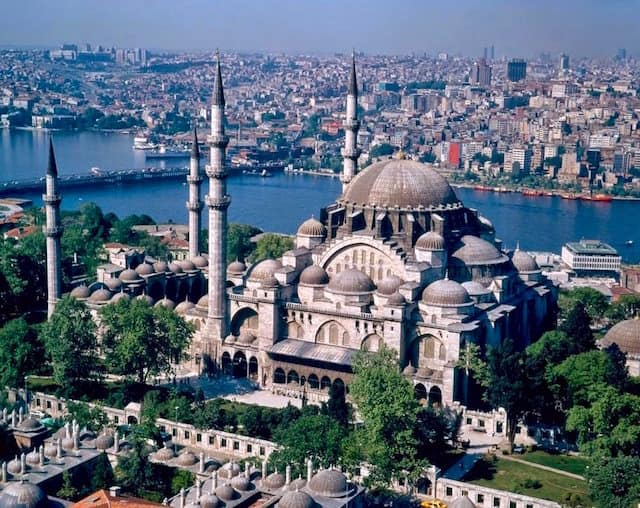 Planning a trip to Turkey is a tremendous amount of fun, but it is also a time when you have a lot of decisions to make. After all, this amazing country is spread between Asia and Southeastern Europe and has a history that traces far back into ancient times. It is far larger than many realize and surrounded by the Black Sea, Aegean Sea, and Mediterranean Sea, as well as being split by the "Turkish Straits" made up of the Bosporus, Dardanelles, and Sea of Marmara.
This tells anyone planning a trip that there is quite likely to be a long list of "must see" Turkey tourist attractions, and that a knowledgeable and enthusiastic guide may be the key to an enjoyable trip.
Getting To Know The Tourist Attractions In Turkey
Before you start looking for a good tour guide or tour provider, take a few minutes to familiarize yourself with the basic geography of the country, as this really helps you to know where the top Turkey tourist attractions can be found. If you visualize a map of Turkey, you will see that it can be divided up easily into a few specific regions.
There is what many call "Black Sea Turkey", which is the area that stretches along the coast of the Black Sea. This is where many enjoy mountain trekking and hiking. Abutting this area is the Marmara Region where the great city of Istanbul is found along with a lot of the sites relating to Ottoman and Byzantine history. South of this is the Aegean Turkey region full of Greek and Roman sites, home to Izmir, and dotted with large tracts of olive groves.
Heading inland is Central Anatolia where popular and otherworldly Cappadocia is found. Further east is Eastern Anatolia, which is a mountainous country similar to some areas of Eastern Europe and where Mt. Ararat (of Noah's Ark fame) is found. Southeastern Anatolia has a distinct Middle Eastern climate and abuts Syria and Iraq, and west is Mediterranean Turkey abutting the Mediterranean Sea and home to one of the top Turkey tourist attractions, Pamphylia.
This brief list makes it easy to see just why it is a good idea to spend a bit of time considering which of the regions you intend to visit, and which of the Turkey tourist attractions have drawn you there. In fact, many people who book tours base their travels on specific themes.
For instance, they might decide that they want to enjoy the amazing natural beauty of Turkey and head to Cappadocia, or to Mount Olympos National Park. They may decide that a visit to some of the top cities is in order as well and choose to experience the broad spectrum of Turkish culture and history with stops in Izmir, Bodrum, Cappadocia, and Istanbul.
If all of this sounds appealing, and yet also a bit overwhelming, you will want to begin your trip planning with a visit to EgyptToursPlus. Specializing in travel in Egypt and the surrounding regions, there is an impressive range of Turkish tours available, and many designed to give visitors an opportunity to see some of the most important places to see as well as lesser-known wonders.
Which Places To See In Turkey?
If you were looking for just a simple or straightforward list of the most popular destinations on which to base a trip to see Turkey tourist attractions, you would want to consider:
Istanbul – This is a must for anyone who visits Turkey. Not only because it is a historic location, but also because of its immense beauty. Sites that many head to Istanbul to see include the Blue Mosque, the unbelievable Basilica Cistern, the Mosque of Suleiman, the breathtaking Church of Hagia Sophia, Topkapi Palace, Rumeli Fortress, the historic Spice Market, the Pera District, the Islamic Art Museum, Galata Tower, Domabace Palace, the walls of the city, and the Covered Bazaar.
Cappadocia – Described as moon-like and straight out of a fairy tale, this area is home to such attractions as Kaymakli Underground City, the capital city of Ankara, the Red Valley, the Monks Valley, Devrent Valley and Pigeon Valley. Cavusin church is here as well, and well worth an exploration. Most visitors also make a point of seeing the amazing Ortahisar Castle, a natural rock formation that served as an impenetrable fortress.
Other top Turkey tourist attractions include the Bodrum area, which is a Southern Aegean location popular with those on holiday, but also offering Roman ruins. The city of Bursa has some amazing sights too. As the first capital of the Ottoman world, it is also where visitors find the colorful and charming Grand Mosque of Bursa as well as the popular and appealing Old Silk Market.
Consider All The Options…And Book With The Most Enthusiastic
So, are you ready to begin planning your visit of the top Turkey tourist attractions? Before you take the next step, do remember the importance of one often overlooked thing – enthusiasm. When you choose a tour company to help you visit and explore the best Turkey tourist attractions you will want that company to show the same level of enthusiasm about exposing you to these many delights as you feel in seeing them.
One of the reasons that so many people hesitate to take a guided tour is because they fear that there will not be the kind of lively interest they crave. And it can be hard to tell if a company offers this or not. One simple way to determine whether or not the tour company is as interested and excited about a place like Turkey is to see if they have options for visiting most of the sites we've listed above.
EgyptToursPlus is one firm that does indeed have a comprehensive list of tours to the top sites in Turkey. With guides and service providers that are as interested in the entire area as the many visitors who book with them, guests are guaranteed that trips are educational, exciting, fun, and fulfilling. When you are looking to explore the best Turkey tourist attractions, consider booking through them.