Morocco Tourist Attractions
Speaking the place names of the top Morocco tourist attractions is like reciting a magical spell. That is because they are easily some of the most enchanting and familiar names in the world. It is impossible to resist the charms of the Fes el Bali, or the appeal of Oudaias Kasbah, and yet there are many other attractions in Morocco and it is important to be sure you have seen as many as possible. Explore the best of Morocco with our amazing selection of Egypt and Morocco Tour Packages.
The Best Places To Visit In Morocco
Below is a list of some of the most treasured, appealing and beautiful Morocco tourist attractions. Some are cities or towns, some are specific sights within those cities and towns, and some are remote locations or historical spots that must be seen to be appreciated.
This is why anyone paying a visit to Morocco can benefit from an organized list of top places to visit in Morocco, or even a pre-planned tour.
If you are building a list of the best places to visit in Morocco, there are several spots frequently mentioned. There are also some that should be more popular, but which remain a traveler's secret.
The most common and most visited Morocco tourist attractions are actually the cities. They include Marrakech, Casablanca, Fez, Rabat, Tangier, and Agadir.
Each of the cities has many important destinations or attractions, including gardens, ports, markets, and historical sites. It is why you must consider keeping them on a list of your Morocco tourist attractions, and why a private city tour guide is always an advantage.
In addition to those cities, there are some other, lesser-known spots like Meknes, Chefchaouen, Essaouira, and Ait Benhaddou.
Meknes is a must-see among the best Morocco tourist attractions because of its impressive architecture, amazing walls and gates, and because it is so close to another of the top Morocco tourist attractions, which are called the Roman ruins at Volubilis. Anyone visiting Meknes must be certain to visit Bab al-Mansour, which is an enormous and stunning gateway into the city.
Chefchaouen, or Chaouen, is recognizable to many film fans because it has appeared in a number of movies. It is the remarkable blue city in which many of the homes feature bright blue doors and trim. It is the Rif Mountains of northeast Morocco and is the perfect destination for those in search of handmade goods and delicious goat cheese!
Essaouira is a port city in the central coast area of Morocco. It is among the popular Morocco tourist destinations for its laid-back pace, its excellent windsurfing, and mostly for its wonderful "Medina" or market that features many hand made goods, including wooden crafts and cabinetry.
Ait Benhaddour is mostly uninhabited, but is a good choice among the Morocco tourist attractions because of its impressive beauty. It is another spot that will be recognizable to movie fans as it appears in several popular films. It is a fortified city that was once part of the caravan routes that ran between Marrakech and the Sahara desert. There are high mud walls, several kasbahs (fortresses), and homes. Some still live within the walls, but most live across the river in the modern town.
Clearly, you might have an entire holiday visiting only the smaller cities, but you would miss far too many of the other places to visit in Morocco.
The larger cities are home to stunning mosques, markets, and so much more. Even a day trip to each of the larger cities will be an unforgettable experience.
Of course, there are also the tourist attractions in Morocco that are more remote or which can be described as individual or unique locations of their own.
Individual Morocco Tourist Attractions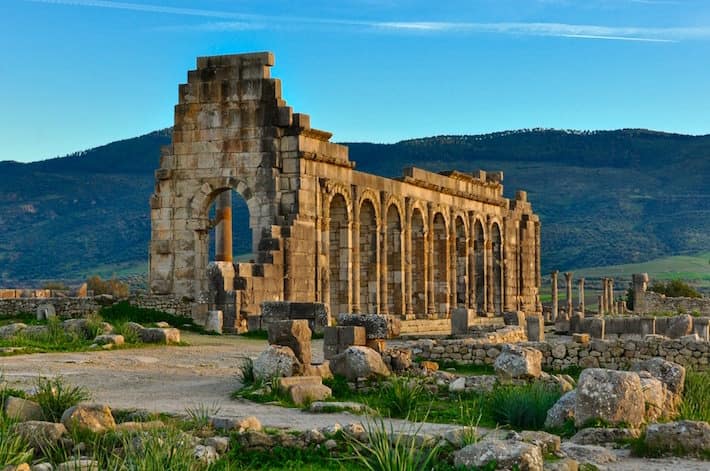 Among the most frequently mentioned Morocco tourist attractions is Volubilis. It was a Roman town on the western border. At that time, it was an administrative site and a place of many Roman buildings and developments. It was also surrounded by lush farmlands used to produce exports back to Rome.
Around the 300s CE, the Romans left the region, but it remained inhabited for centuries afterward.
Today, you can pay a visit to Volubilis and marvel at the remaining Roman ruins. There are mosaics, temples, columns, and pavements along with a hilltop location that provides you with breathtaking scenery. You will find that a visit to these ancient ruins is included in nearly all of our Egypt and Morocco Tours.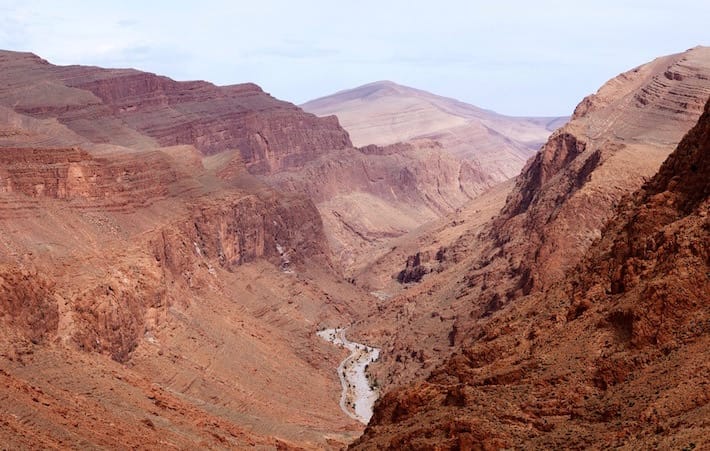 East of Marrakesh is another of the top Morocco tourist attractions. The impressive Todra Gorge is in the High Atlas Mountains. Described as spectacular, it is also a perfect place for anyone who is interested in some guided hiking. That is because it is also the same area as the Dades Valley.
This is a nature lover's dream spot, and it provides some of the most impressive views of Morocco.
You may see snow in the mountains or you can enjoy some bird watching, hiking, or exploring the many small villages that dot the landscape. It is a good spot for those on a visit to Marrakesh, as it is west from the mountains, or even those in Fez, which is a bit farther to the north.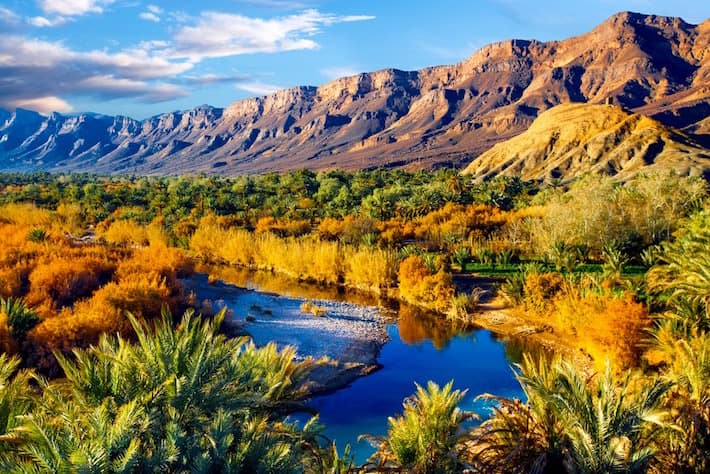 Heading south, another of the most scenic Morocco tourist attractions is the Draa Valley. It too has many ancient fortresses or kasbahs, palm groves, wide-open landscapes, and friendly villages.
It too is within the High Atlas, and a drive along this course is often described as unforgettable.
Morocco attractions exist far from the mountains and the coast. Erg Chebbi is far inland and is where the Sahara Desert meets Morocco's borders.
Those visiting the village of Merzouga can book some camel trekking into the desert, or have a tour guide arrange for a visit into the soaring dunes!
Urban Morocco Attractions
When you are ready to return to the cities of Morocco, there are still many top attractions in Morocco to visit. The most frequently toured city is Marrakesh, and though the entire town is worthy of exploration, travelers must be sure that they see the most popular Morocco tourist attractions there.
[vimeo 64301849 w=710 h=399]
Key among the Morocco tourist places of Marrakesh is the wildly famous Djemaa el Fna (Marrakesh Medina). It is an ancient square that is a place of great entertainment, including snake charmers, during the daytime hours.
As the day ends, more entertainers appear, but there are also many food and market stalls. At night it is a place of enchanting aromas, colors, sounds, and sights.
The city of Fez is also at the top of the list where Morocco tourist attractions are concerned. It has two large medinas or markets. It is a medieval city that remains intact, and is popular with history buffs. It is also popular because of its more casual atmosphere in which you will see carriages and donkeys as often as cars and motorcycles.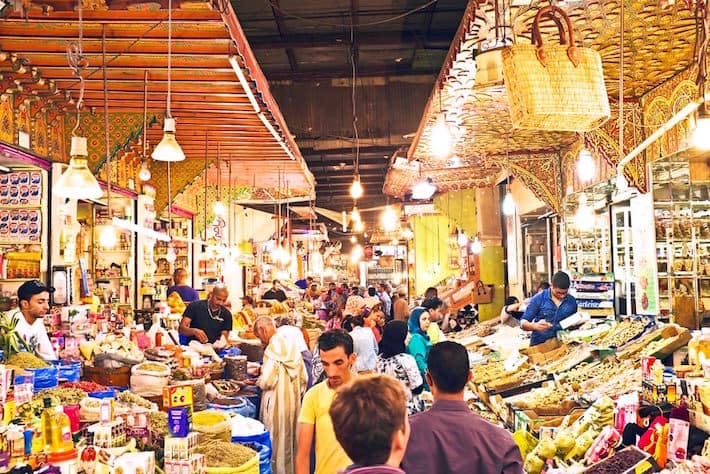 The Fes al Bali is the biggest market, and the oldest. Beautiful gates and high walls surround it, and you can even find rooftop terraces and shops that give you an amazing view of the market and the city.
If you were hoping to experience an authentic market, the Old City of Fez is the place to go. It can be confusing, and it is always advisable to consider a private guide to help you make the most of your day in the medina here.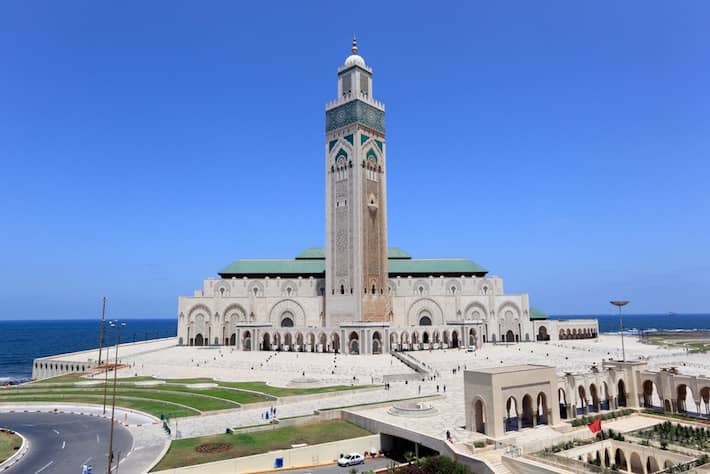 Next on the list of cities that rate as top Morocco tourist attractions is Casablanca. Famous since it was used as the setting in the 1940s film, it is also home to the impressive Hassan II Mosque.
This is a modern structure completed in the 1990s, but it has the looks of an ancient building. It is heavily adorned with decorative mosaics and traditional tiles, and required the handiwork of more than ten thousand artisans!
Though there is much more to see and enjoy during a stay or visit to Casablanca, this is one of the most important stops to make. The next city in terms of its popularity is the most European of all cities in the country, and that is Tangier.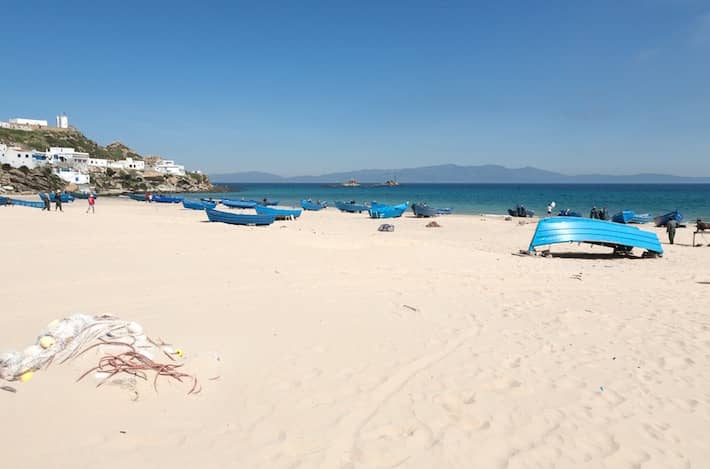 Colorful and exotic, historic and truly lovely, it is a unique city for its great beaches and harbors, but also for its unusual past. Tangier is one of the most eclectic cities in all of Morocco and is a blend European and North African cultures.
With only 20 miles between this city and the coast of Spain, it is only natural that this should be a city with such heavy European influences.
Though there are many appealing sites to visit, the one thing that a traveler in Tangier is encouraged to do is simply walk through the kasbah, the beachfront avenues, and to sip tea at one of the many cafes.
The medina or market here is popular as an evening destination, and will only add to your enchantment with this city.
The list of top cities in Morocco includes the capital city of Rabat. North along the coast from Casablanca, it too is a more low-key city than other larger and busier areas.
It is home to one of the loveliest kasbahs in the country, the Oudaias Kasbah. This is in a neighborhood that is known for its astonishing peace and quiet, its beautiful blue and white buildings, and its pretty paths and alleys.
The Ouiaias Kasbah is a medieval citadel that will provide you with lovely sea views and it is just steps from the Old Medina. This provides a bevy of markets and leads to some of the best shops in the city.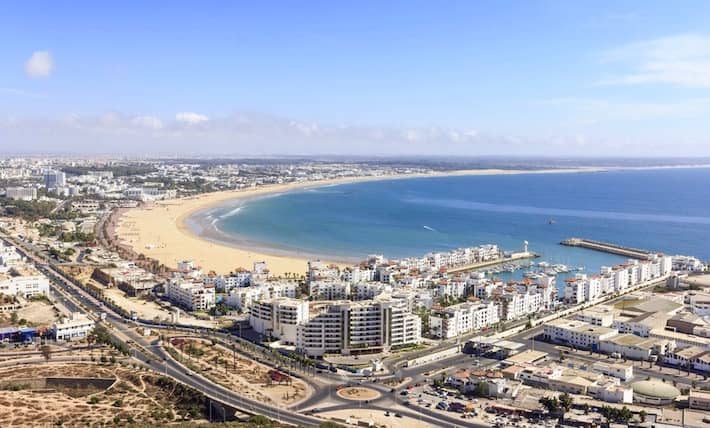 Agadir is another of the popular tourist destinations of Morocco. It is, however, one of the most modernized cities. It was destroyed by an earthquake in the 1960s and has been rebuilt since that time.
Mostly visited as a resort, Rabat is the perfect spot to choose if you are looking to hit the beaches while visiting Morocco.

A portion of the original kasbah (fortress) remains on a hill above the town, and the Souk El Had has more than three thousand stalls. It is a perfect spot to purchase locally grown fruits and vegetables or to find excellent souvenirs to take home with you.
However, this is a market where haggling is expected, and it is the perfect time to bring a private guide with you to help ensure you get good prices, have fun, and enjoy an authentic market experience!
Begin Your Journey to Morocco Today
As you can see, an experience of Morocco is one that can include the sands of the beaches or the sands of the Sahara. You can tour ancient Roman ruins or enormous ancient cities that remain after centuries of use by desert caravans. You can see a modern masterpiece of a grand mosque or a rooftop café where you look down on the amazing sight of authentic tanneries at work.
In addition to what we have considered here, there are also the much larger tourist destinations such as the Atlas Mountains, the many palm and citrus groves, the Berber villages, and so much more. You can opt to tour the coastal areas, the mountains, or the desert.
All of this explains precisely why you will need to spend time mapping out your visit, or working alongside a tour provider who can ensure you see all that you hope to see.
When you are ready to enjoy a visit to all of the top Morocco tourist attractions and sites, visit EgyptToursPlus.com. We offer Egypt and Morocco Tours that are quite simply flawless in every way. With private guides and drivers, you can create any tour package imaginable.
Explore the Best of Egypt and Morocco – And Beyond