Dubai attractions are nothing like the tourist sites you'll find in many other Middle Eastern countries. Nonetheless, they'll certainly dazzle you and leave you with countless unforgettable memories. Everywhere you look, you are greeted by luxury, opulence, and architectural achievements that will leave you speechless. Welcome to one of the wonders of the modern world – welcome to the most important Dubai attractions.
→ Come explore our amazing Egypt and Dubai Tours
Click here for a brief guide to the top Dubai attractions
How To Enjoy The Finest Dubai Attractions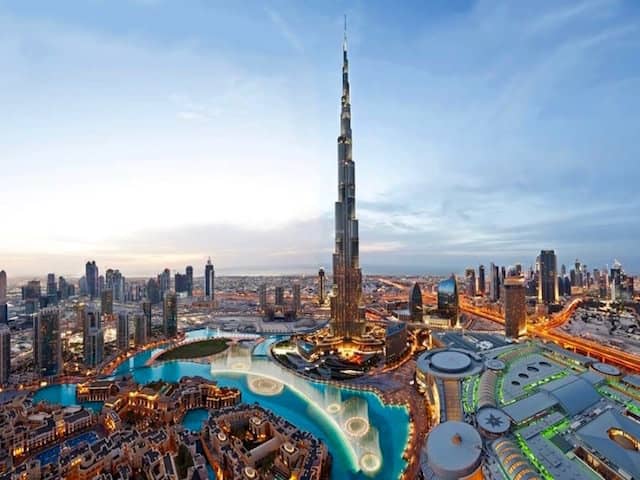 You may have decided to visit Dubai because you want to see the immense opulence, modernity, and architecture that defines this utterly modern city. However, if you focus only on the modern and newest spots, you will miss the many magical and historic places to see in Dubai, as well.
This is a little-known secret, but travelers looking for the best Dubai tourist attractions must not forget that the city is rich in history, too. In this brief look at the many Dubai attractions we will certainly cover those modern wonders that so many visitors describe accurately as breathtaking and awe inspiring, but we will also give attention to some of the charming, old, and historic spots, too.
Modern Dubai Tourist Spots
Let's look first at the Dubai attractions that no one misses – the world class buildings that make the city's skyline such a show stopper.
The Burj Khalifa – This is the world's tallest building and is the epitome of technology and science. It is also an impressive sight as it soars high above the rest of the city.
The Palm Jumeirah – A manmade residential island that is formed into the shape of a palm. Built on the water, it is full of equally impressive luxury homes, boat slips, and even small hotels.
The Burj Al Arab – This sailing-ship shaped hotel is the only 7-star property in the world. It is amongst the most familiar landmarks of Dubai and known around the world for its innovative and elegant design.
In addition to the impressive buildings, the architecture and design of this ultra-modern city also includes the extreme engineering of the Sheikh Zayed Road and the elegant Dubai Fountain. The latter features lights, music, and color projectors, and stretches for an immense distance up a waterway that runs through the city.
Historical Places To See In Dubai
And then there are those older sites that you must not forget as you plan to see the best tourist attractions in Dubai.
Al Fahidi Fort – This is the oldest building in the city, and it houses an excellent museum that enjoys thousands of visitors each day. With its stone tower and simple lines it is in strong contrast (albeit in an appealing way) to the modern city.
Al Bastiakiya – In Bur Dubai (in the center of the city) is a place that many describe as offering "a taste of how Dubai once was". Here there are still classic "souks" (markets), narrow lanes and alleys, shops and homes, excellent restaurants offering foods that only locals usually enjoy, and that distinctive air that lures so many to the Middle East. The magical combination of spicy scents, exotic sounds, and appealing stalls offering everything from dried fruits to gold trinkets.
The Souks – While talking about the older or historic Dubai, we need to also consider the markets. While many enjoy the modern shopping in the upscale centers, there is also still a chance to enjoy souks retaining some of their historic style and charm. Those along the waterfront of Dubai Creek still offer the traditional souk experience, but if you want to see one of the most astonishing Dubai attractions, you must visit the spice souk. This is the classic souk that many dream of witnessing – colorful mounts of spices, haggling vendors and buyers, and the rare chance to create an unforgettable memory. The city also has textile, vegetable, and fish souks as well as an opulent and astonishing gold souk.
Sites To See In Dubai By Land And Water
The city also has a creek, known as Dubai Creek and if you have a chance to enjoy a cruise or sail on this body of water you will get a rare and unique glimpse of many Dubai attractions. You can also opt for an evening sail as part of a romantic escape.
If you would rather enjoy your waterfront experiences from the warm sands, the Jumeirah Beach is among the top Dubai tourist attractions too. It is considered quite upscale and will make for a world-class day of sunbathing or swimming.
Finally, among the top attractions in Dubai is the Jumeirah Mosque. Though it is not dated to antiquity or massive in scale compared to other buildings in the city, it is a must see destination. Medieval in style, it is elegant and magical in its appearance, and is considered a city landmark. Open to non-Muslims, it is also a rare opportunity for world travelers to experience something they may not have a chance to witness anywhere else in the region.
Tour Providers And Tourist Attractions In Dubai
That is just a list of the best and most popular Dubai attractions, and yet you can see that many of them may be better experienced with the help of a knowledgeable tour provider. After all, exploring old neighborhoods may be more enjoyable when you have someone who speaks the language or knows the customs. Visiting the souks may be more productive if you have someone who can help with bargaining. And making your way around such a massive and busy city as Dubai is a lot more enjoyable when you have a seasoned professional doing all of the driving.
Unfortunately, there are not a lot of travel companies offering experienced and knowledgeable visits to this modern destination. That is why many visit EgyptToursPlus to explore their Egypt and Dubai tours. Whether a traveler wants a few days in Dubai before heading to Egypt or to include Dubai in a broader tour of the entire region, there are many different options and packages available. And rest assured, all top Dubai attractions can be included in your tour.
Visitors to Dubai can be easily overwhelmed by the pace, scale, and list of Dubai attractions to visit. Having a well-informed tour guide familiar with the best spots will ensure that a visit to this modern city is truly rewarding and pleasant. You might easily spend an entire holiday in this luxurious city, and even if you have only a few days, you will be able to enjoy unforgettable sights, sounds, scents, and experiences particularly when you travel with a quality tour provider. The mind-blowing Dubai attractions will amaze you!