Is December a Good Time to Visit Egypt?
December is a great time to visit Egypt, but bear in mind that it is the start of the peak tourist season. Everything costs more, but the weather is wonderfully cool and refreshing.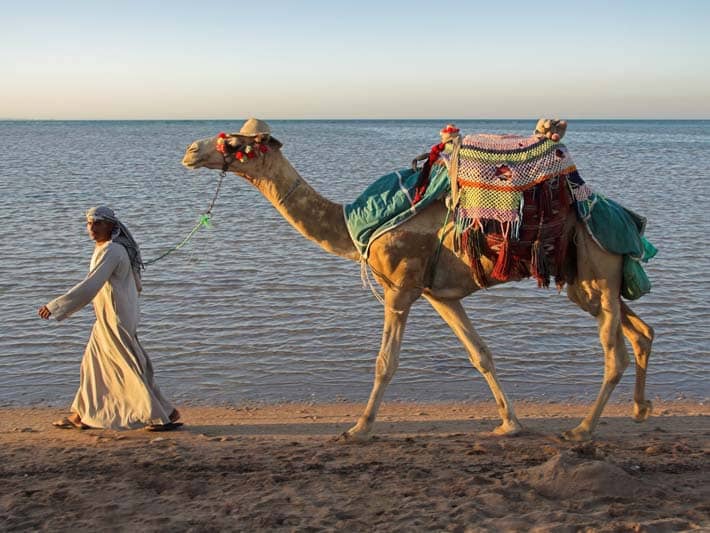 Is December a Good Time to Visit Egypt?
As the peak season approaches, tour operators, hotels, and even Nile cruise operators hike up their prices. If you intend to visit Egypt in December, we strongly suggest that you book your tour and/or make your hotel reservations as far in advance as possible in order to avoid last-minute price increases.
Weather in Egypt in December
December is the second coldest month in Egypt, with January being the coldest. Yes, you read that correctly: Egypt can and does get cold at this time of the year. Be warned, if you are going to visit Egypt in December you had better take some warm clothing with you.
In places like Cairo, average daytime temperatures range from 18 to 22 degrees Celsius (about 66 to 73 degrees Fahrenheit). In the evenings, you can expect temperatures to range from 8 to 12 degrees Celsius (about 48 to 53 degrees Fahrenheit)
If you head further south to desert regions like Luxor, Aswan and Abu Simbel, daytime temperatures are somewhat higher than they are in Cairo, but the evenings are also colder. In these areas you can expect daytime temperatures to range from 22 to 26 degrees Celsius (about 73 to 79 degrees Fahrenheit), while average nighttime temperatures range from 6 to 8 degrees Celsius (about 44 to 48 degrees Fahrenheit)
At Coastal resorts on the Sinai Peninsula, such as Sharm El Sheikh, daytime temperatures range from 22 to 25 degrees Celsius (about 73 to 77 degrees Fahrenheit) although you may also experience lows of around 12 to 15 degrees Celsius (about 55 to 59 degrees Fahrenheit)
December and January are also the wettest months of the year in Egypt. For this reason you might want to consider packing in a light raincoat. On the other hand, you may see no rain at all, and you almost certainly won't experience any heavy storms.
The Cost of Visiting Egypt in December
If you are wondering, is December is a good time to visit Egypt, the answer is yes, but you need to accept the fact that everything costs more. For example, hotel accommodation can cost twice as much in December and January compared to other times of the year. In a nutshell, literally everything cost more in December. As mentioned earlier, you can offset some of these higher costs by booking your vacation well in advance. 
Suggested Reading: How Much does it Cost to Travel to Egypt?
Peak Season Crowds
In December, the tourists start arriving by the thousands. With the cooler weather and the festive season holidays looming, vast numbers of tourists start spilling into the country. Popular archaeological sites such as the Pyramids of Giza can get seriously crowded, with almost every single viewpoint occupied by people snapping selfies. Many of the large Nile River cruise ships also end up being fully booked at this time of the year.
If you want to enjoy a Nile River cruise but without so many fellow passengers, then your best bet would be to book a Dahabiya cruise. Most of these charming river yachts have no more than 6 to 10 cabins.
With all of the above having been said, there is a good reason why so many people choose to visit Egypt in December. Sure, Egypt's most popular ancient sites can be overcrowded but the weather is absolutely perfect for sightseeing, and no matter where about in the country you travel to, there's a wonderful festive atmosphere with lots of special events taking place.
Recommended: When is the Best Time to Go to Egypt?
Where to Visit in December
December is the first of Egypt's three winter months, and average temperatures being so delightfully cool, one can visit almost every part of the country. This is an ideal time to visit some of Egypt's most prized tourist sites which are located in Upper Egypt between the cities of Aswan and Luxor. During the summer months, these attractions are practically deserted, with only the hardiest of travelers braving the blistering heat.
The cooler temperatures in December also make it an excellent time for having a relaxing break at one of the beach resorts on the Sinai Peninsula. The days are warm but not too hot, and the weather is simply perfect for enjoying a swim in the ocean and a lazy day on the beach. Admittedly, popular beach resorts like Sharm El Sheik and Hurghada can get very crowded, but the festive atmosphere is fantastic.
Is December a good time to visit Egypt and to explore the streets of Cairo on foot? Absolutely! If you want to explore the streets of Cairo, and particularly Islamic Cairo with its brilliant architecture, then December is the perfect time to do, so thanks to the cool weather.
Islamic Cairo is an absolutely fascinating part of the city to explore on foot. However, this is almost impossible to do in the heat of summer. Egypt's winter months provide the ideal weather for exploring parts of the capital or any of Egypt's other major cities on foot.
Recommended: Top 6 Best Egypt Tours
Book Your December Holiday in Egypt Today
If you are still wondering, is December a good time to visit Egypt, you can bet your bottom dollar that it is. In fact, it is a perfect time to visit, and at Egypt Tours Plus we have an epic range of high-quality private guided Egypt tours and five-star Nile River Cruises. We also have a classic range of specially-designed Christmas and New Year Egypt tours that are perfect once in a lifetime trip.
Our Egypt tour packages include your own expert tour guide, driver and vehicle, and can be customized to suit your own individual needs and desires, or you can use our user-friendly travel planner to create your own unique Egypt tailor made tour from scratch.
With decades of experience behind us, and with roughly half a million tours sold, lifetime memories are guaranteed!
Contact us now to book a dream holiday to Egypt, or to begin planning your dream vacation in Land of the Pharaohs today.
Design Your Custom Egypt Tour
Explore Egypt your way by selecting only the attractions you want to visit