Is August a Good Time to Visit Egypt?
August is at the tail end of Egypt's summer season so expect very hot days and balmy evenings. If you can tolerate the heat, August is a great time for beach holidays, scuba diving, and Nile cruises.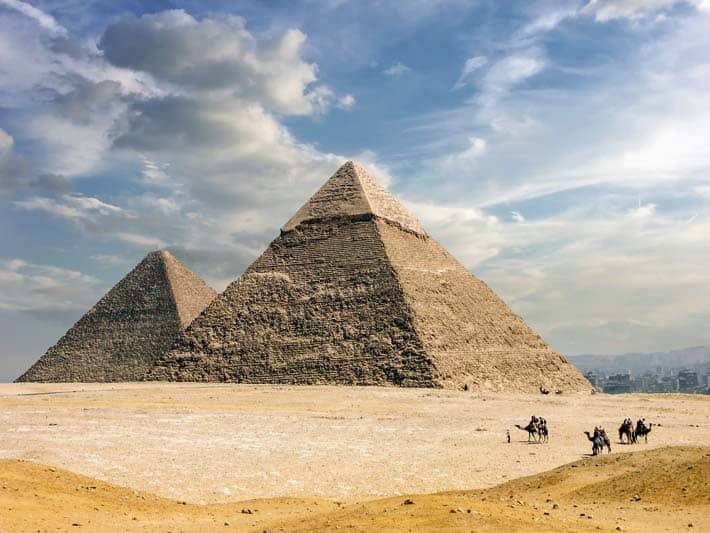 Is August a Good Time to Visit Egypt?
Egypt is one of the world's oldest and most popular tourist destinations, but is August a good time to visit Egypt?
Continue reading to find out everything you need to know about visiting the Land of the Pharaohs in August.
Egypt Weather in August
Visiting Egypt in August is not for everyone because of the scorching heat. With that having been said, if you don't mind very warm weather, August can be a great time to visit the country.
While daytime temperatures tend to fluctuate slightly depending on where about in the country you are, you can expect average daily highs of around 37 to 39 degrees Celsius (98.6 to 102.2 F). Daytime temperatures rarely drop below 30 degrees Celsius (86 F).
In the evenings you can enjoy somewhat cooler temperatures. Average nighttime temperatures hover around 26 degrees Celsius (78.8 F). You can expect 13 daylight hours and 12 hours of sunshine. Water temperatures along Egypt's Red Sea coastline average around 29 degrees Celsius (84.2). Don't expect even occasional rain because rain in August is almost unheard of.
Suggested Reading: When is the Best Time to Visit Egypt?
Sightseeing in August
Is August a good time to visit Egypt to explore the country's many famous historical sites such as the Pyramids of Giza, the Abu Simbel Temples, etc? For many people, the answer would be no, August is not the ideal time to explore Egypt's many historic sites. This is simply because of the very high average summer temperatures. 
With the above having been said, if you book a tour through a reputable Egypt tour operator, sightseeing is possible even during Egypt's hot summer months.
Providing you book your tour or tours through a reputable travel agent, you will be driven from one historical site to the next in air-conditioned vehicles. This means you will only be exposed to the heat for however long you spend at each of the sites you visit. You will also visit the various tourist sites in your chosen itinerary either early in the morning or in the late afternoon, thereby avoiding the hottest hours of the day.
One of the best things about visiting Egypt in August is the absence of crowds at major sites. During the high season, and especially during the peak season, you literally have shoulder your way through crowds of tourists at popular ancient sites. In August this is definitely not the case. You will still encounter other tourists, but certainly not that many.
If you can handle very hot weather, then there is nothing stopping you from exploring Egypt's many famous tourist attractions in August. If, on the other hand, very warm weather is not for you, then August is probably not the best time for you to visit the country for sightseeing purposes.
Nile River Cruises in August
Is August a good time to visit Egypt for a Nile River cruise? Cost-wise, August is a great time to enjoy a Nile River cruise because you will be paying low season rates. Hotels, cruises, and even package tours cost less during the low season.
Standard five-star Nile River cruises cost around $100 to $200 less during the low season. Luxury Nile cruises can cost as much as $1,000 less during the low season than they do during the high season.
On the downside, you will need to contend with the heat of Egypt's summer during your onshore excursions. Nearly all good cruises include visits to several ancient sites located along the banks of the River Nile in Upper Egypt, between Aswan and Luxor. Again, if you are booked onto a good quality cruise, most sightseeing will take place early in the morning and/or in the late afternoon.
Beach Holidays and Water Activities
Surprising as it may seem, daytime temperatures at popular beach resorts along Egypt's coastline are actually warmer than they are in places like Cairo, while nighttime temperatures are somewhat cooler. So, is August a good time to visit Egypt for some fun in the sun and fun in the water?
Even though places like Sharm El Sheikh are warmer than places like Cairo, it doesn't feel that way because there is almost always a bit of a breeze blowing in off the sea. With plenty of different water activities to enjoy, you can have an excellent time on the coast, even in the heat of summer.
You also won't have to share the beach with hoards of other tourists. Last but not least, a Red Sea holiday is it going to cost you less in August than it would during the high season months.
Suggested Reading: Red Sea Holidays
Essential Travel Tips for August
Pack light loose-fitting clothes that are suitable for very hot weather.

Use a good-quality sunscreen at all times, even if you aren't in the sun.

Drink plenty of water, and we mean, lots of water.

Try to avoid being out in the sun during the hottest hours of the day.

Book quality tours that include guides, drivers, and air-conditioned transport.
Recommended: Top 6 Best Egypt Tours
Unforgettable Egypt Tours in August
When you book an Egypt vacation package through Egypt Tours Plus, you are booking your tour through an Egypt tour operator that has already sold roughly half a million tours. The comfort, safety, and well-being of our clients are extremely important to us. You can be sure that every effort is made to ensure you are comfortable, from the moment you arrive to the moment you leave.
Contact us now to begin planning your trip to Egypt or to book one of our epic private guided Egypt tours today.
Design Your Custom Egypt Tour
Explore Egypt your way by selecting only the attractions you want to visit