Marrakech Desert Tours – Enjoying the Ultimate Desert Experience
Dreaming of Marrakech Desert Tours? You will hear that no visit to Morocco is complete without at least a few days in Marrakech. The city meets most travelers' expectations of an exotic, mysterious, and enchanting destination, and yet not all visitors realize that Marrakech is also an ideal gateway to greater adventure. After all, it sits just to the east of the Atlas Mountains and is often part of a trip through those mountains and on to the Sahara Desert on the other side. If the idea of Marrakech desert tours appeals to you, though, you should dedicate a bit of time learning about them.
This is because there are just so many ways that you could arrange Morocco desert tours from Marrakech. You can spend two days or more on your adventure, and you will have to choose the routes and destinations that appeal to you the most.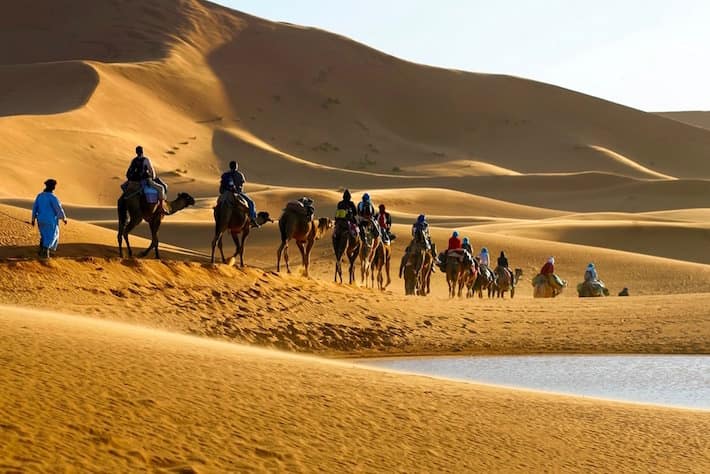 → Click here to start planning your Sahara Desert tour
From Medinas to Dunes – The Joy of a Marrakech Desert Trip
Although you may be so enchanted by Marrakech that you don't wish to leave, it is the perfect place to set out on your journey through the mountains and to the Sahara. You will be able to make your way through the Atlas Mountains and through some of the most stunning scenery imaginable. As you descend to the other side, you will marvel at the Tizi n'Test pass with its switchbacks and amazing views, and then you travel through an open and somewhat uninhabited area before you reach the desert.
For many, the first sight of the desert comes as they reach Ouarzazate. This is close to the famous Zagora Dunes of the Sahara and is the ideal choice for those interested in a two-day and single overnight tour.
In the past, travelers would have to travel the same route to and from the desert. The creation of a highway from Agadir back to Marrakech allows some travelers to plan their Marrakech desert tours as efficient "loops".
As an example, a traveler may head out of Marrakech and into the mountains. If they remain along the Tizi n'Test roadway, they can aim for the city of Taroudant and then head to Agadir where the new road takes them quickly back to Marrakech. In some instances, that may take only two days to accomplish.
Longer Marrakech Desert Tours – 2 and 3 Days
It is when travelers aim for Erg Chebbi that the Morocco desert tours from Marrakech will last a bit longer. The Erg Chebbi is a 28km stretch of sand dunes that tower at heights of over 150m. They are usually entered from Merzouga, and you can opt for camel, ATV, or simply hiking into the towering dunes with a guide.
The Marrakech desert tours to Erg Chebbi tend to be amazing experiences because they allow you to make your way through the mountains and to reach places like Imil, a charming village close to Jbel Toubkal (the highest peak in North Africa) and Ourigane within the Toubkal National Park.
You then descend to Ouarzazate and head onward to the dunes and the Sahara. Along the way, you will be able to interact with authentic Berber villagers, make stops at ancient kasbahs, such as Ait Ben Haddou (a UNESCO World Heritage site). You might also plan visits to some of the stunning gorges, including Todra Gorge or Dades Gorge. Todra is a favorite among hikers and climbers around the globe. Close to the Dades River, it has some of the most spectacular cliffs in the country.
Once you reach the lovely town of Merzouga, you will see why it is the chosen point of entry into the Sahara. Sitting against the dunes of Erg Chebbi, it takes you out on the flat, black hammada (ancient volcanic rock) where an abundance of journeys are yours to choose from.
You may opt to trek into the desert and remain at one of the camps where you enjoy some of the brightest stargazing possible. You should also make a point of rising before the sun in order to enjoy the beauty of the orange and rose-colored sands, and how they interact with the changing light. This sort of journey would be possible with the Marrakech desert tours of two days in length.
If you were eager to have Sahara Desert tour from Marrakech with more time in the desert, you could also depart from the city, following the same popular route through the mountains and down to Merzouga. After that, you might head to such locations as Tazarine, Agdaz and even the Dayet Srji Salt Lake close to Mergouza. This is home to many kinds of birds, reptiles and mammals, and is a popular place to visit while enjoying one of the desert tours.
For those who would like to do more than head into the desert for a short stay, there are Marrakech desert tours three days or longer. Some of them take you on a larger circuit that includes the wonderful drive through the High Atlas, past Ait Ben Haddou, into Ouarzazate and to Merzouga. Such trips may also take more time and give you a chance to stop as you make your way from the city and towards the Sahara.
As an example, if you opt to plan your own Marrakech desert tour, you can make sure to stop in places like the Ounila Valley where you can visit the charming Berber villages. You can plan to spend one night at Skoura, where ancient palm groves create an enchanted landscape. You can then pay a visit to the different kasbahs along the route and head to the Valley of Roses or the Dades Gorge.
You may want to give yourself time for a stop at the ancient city of Tinghir with its amazing scenery, massive palm groves (covering roughly 30 acres) and enjoy a true oasis experience. Making this stop during your Marrakech desert tours lets you also plan time to head into Todra Gorge as well.
This also puts you not far from Erg Chebbi and you can then travel into the Sahara and begin your desert exploration.
What to Expect of a Desert Tour from Marrakech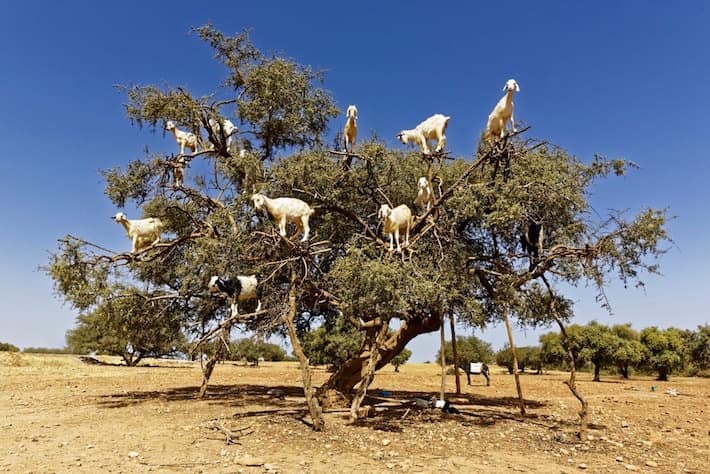 Once in the desert, you may not know what to expect. Fortunately, the list of options is substantial. The first thing to consider about your Marrakech desert tour is whether you will want to ride a camel, ATV, or as a passenger in a vehicle. You may also find guides who will help you to enjoy a trek on foot. You will not have to take your entire tour at once, and can opt to do a day trip and return to your hotel or accommodation.
While in Merzouga, you must be sure to visit the Grand Dune de Merzouga. This is a very distinctive dune and is noted for its size and shape, but also for the tamarisk tree that sits at the base of this massive dune.
As already noted, you will also want to be sure that you rise before the sun at least once during your trip. Over the centuries, poets have tried to describe the experience, painters have tried to recreate it, and even filmmakers have set up their cameras in the hopes of documenting it. However, nothing compares to the sunrise in the desert.
The same can be said of the sunset, and because there are no horizon lights in this region, you will see that the stars seem to shine far brighter than you might have ever encountered before. Many visitors make a point of spending at least one night beneath the stars during Marrakech desert tours.
Travelers enjoying Morocco desert tours from Marrakech can also plan to visit nomadic families in the area, where you can enjoy a meal and interact with authentic natives. You can visit the salt lake as already mentioned, and you will also want to consider a visit to Yasmina Lake too.
Other places to schedule into your Morocco desert tour from Marrakech include the ancient painted stones located near the village of Taouz, the mineral mines of M'Fis, and to look for large herds of camels that locals allow to roam freely. There are several villages near the dunes, and while some of them require a trek, you may enjoy planning a visit to Khamlia or Hassi Labied.
Khamlia is quite literally where the road ends and it is a small and remarkably peaceful place to pay a visit. There several shops, a café, and the impressive surrounding sands. It is only a short distance from Merzouga.
Even nearer to Merzouga, and more modernized to keep up with the influx of tourism, is Hassi Labied. It is actually a fairly common option for those booking Marrakech desert tours. It is a bit quieter, it is less touristy, and it is often described as representative of the Berber way of life.
Marrakech to Fez Desert Tours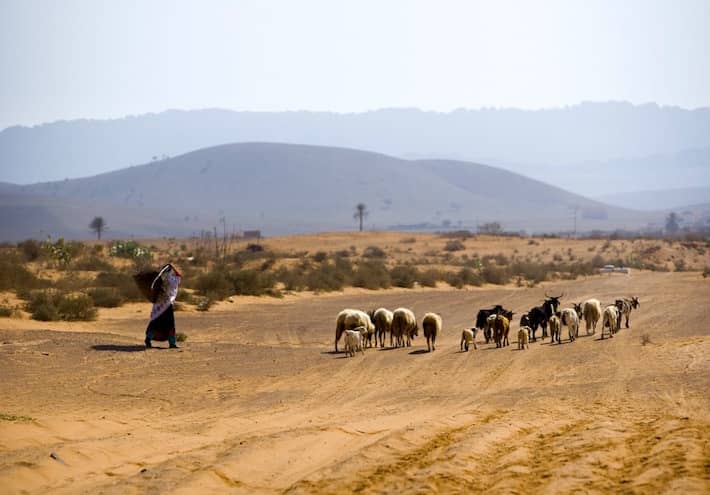 By now, we have reviewed the most common destinations in any Morocco desert tour experience. As you can see, the journey is just as important as the destination. While you want to spend plenty of your time exploring and experiencing the desert, remember that the path that takes you from Marrakech and into the dunes is a remarkable one. It is a path through time as you pass the many ancient kasbahs, the Berber villages dotting the mountains, the herds of camels wandering the sands, and the massive oases and groves that seem to rise like magic from the desert.
There is so much to see that many opt to create their own Marrakech desert tours and choose paths that allow their destinations to be only part of the excitement. It is also why some travelers plan Marrakech to Fez desert tours of 3 days or more.
The Marrakech to Fez desert tours are different from some of the other routes already described. While many of them still take you through the Tizi n'Test and the High Atlas Mountains, and make stops at Ben Haddou and the Roses Valley or Ouarzazate, ending up at Merzouga, they do not return the same route.
To make the journey to Fez, these trips lead you into the Ziz Valley. You reach it by passing through Arfoud and Errachidia. Arfoud is an oasis with a lovely souq. It is popular in many Hollywood films and has many modernized amenities to accommodate the growing tourist demands.
The Cedar Forests of Azrou are also a spot along this route, and these are in the Middle Atlas Mountains. They are the home of the endangered Barbary Apes, and as you make your way through this region you also pass through Ifrane too. This is often compared to a Swiss town for its tidy houses and its location in the groves of cedars, keeping it almost hidden from view. After that you pass the ruins of Ait Seghrouchen kasbah and soon you arrive in the medieval gem of a city that is Fez.
Making Your Choices in Tours
Now you can see that Marrakech desert tours are so much more than desert treks. They allow you a rare chance to witness so much of the Moroccan landscape and culture that it seems impossible not to plan such an adventure. One of the smartest ways of booking tours out of Marrakech and into the Sahara is to work with an experienced guide or driver. While they can handle all of the driving as you do the sightseeing, their knowledge will also provide you with an unforgettable experience.