Are there enough Casablanca attractions to keep you busy for several days when you visit the city or is a shorter stay in order? Read on to find out what this enchanting city has to offer, and then be sure to check out some of our unique Egypt and Morocco tours, all of which can be customized to meet your own exact needs.
Although the name Casablanca always brings to mind memories of the famous 1940s film, this charming city in Morocco definitely deserves a place on any list of must-see Morocco tourist attractions. The city is literally crammed full  of fascinating attractions that will leave you with memories that last a lifetime. In fact, there are so many Casablanca attractions, that a visit to the country could focus entirely on just this one city!
Visiting the Top Casablanca Attractions
Because Casablanca is home to Morocco's main international airport, some consider the city to be a sort of front door or main entrance into the country. It is where many experience their first sights, sounds, smells, and tastes of Morocco. However, this is also why Casablanca is one of Moroccos's more modern cities as well.
Casablanca is less exotic and less ancient in appearance compared to other cities in the country. It has a distinctly eclectic feeling which is due to European influences over the years. In other words, it really is an amazing place to visit!
The Most Famous Places to Visit in Casablanca
If there is one spot that seems to always top visitor's lists of the most beautiful and inspiring of the Casablanca attractions, it would be the magnificent Hassan II Mosque.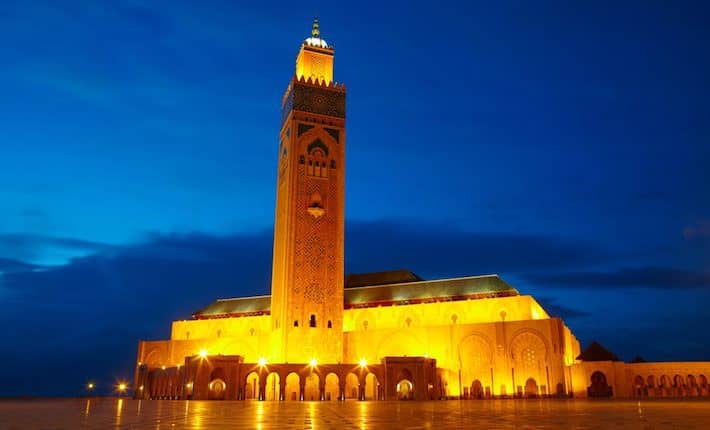 Close to the Old City or Medina of Casablanca, the mosque was completed in the 1990s, but it is a masterpiece of traditional mosaic, tile work, architecture and design. It is the second biggest mosque on the planet, and has a courtyard large enough to fit eighty thousand worshipers at once!
Every inch of the mosque has been elaborately decorated, and it took more than ten thousand skilled artisans to complete it. It is on a bay overlooking the sea as well, making it a stunning spot for all visitors. It is one of the best places to visit in Casablanca, but Non-Muslims will need a guided tour. Not surprisingly, you will see this mosque featured in many of our Egypt and Morocco Tours.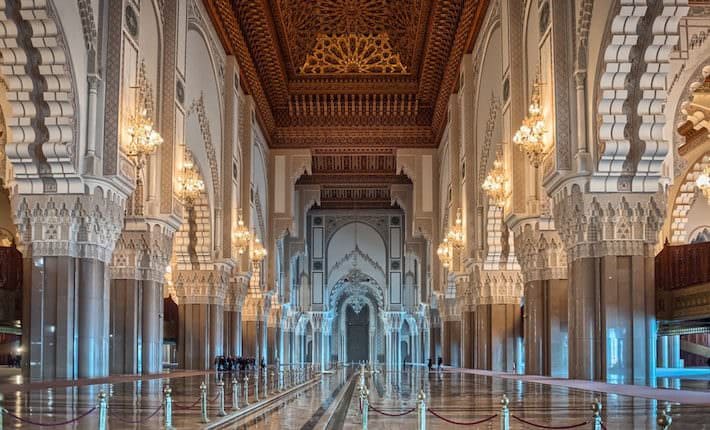 Those interested in all of the religious buildings in the city may want to take a look at the Cathedrals of Sacre Coeur and Notre Dame de Lourdes. The Cathedral of Sacred Heart is less than 100 years old but was built to fit in with the locale. It is in need of restoration, but worthy of a visit. The Notre Dame de Lourdes site has one of the most stunning pieces of stained glass in the country.
Heading Off the Tourist Trail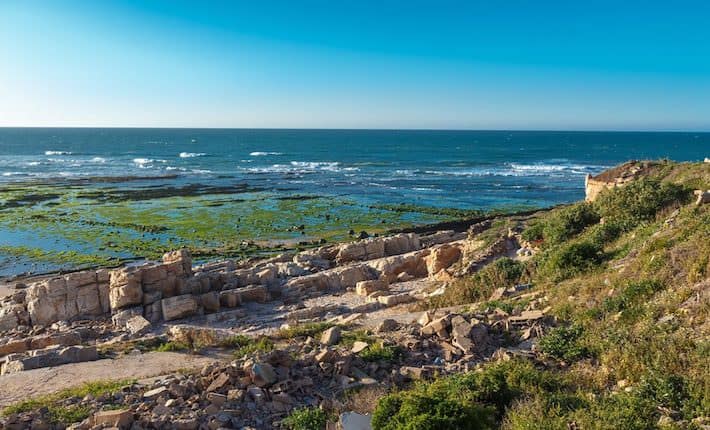 The Medina of any city is usually appealing, and in Casablanca the vibrant old Medina is no different. Among the most scenic and the most appealing of Casablanca attractions, the old city has many narrow walks and authentic vendors where you can see true Moroccans living out their daily lives.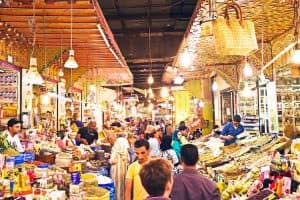 If you were hoping for a real souk or market, the city's central market at Rue Allal Ben Abdallah is a must see among the best tourist attractions in Casablanca.
Set in the heart of the city, you will be shopping alongside everyday Moroccans as well as world travelers. Be sure to purchase a few pairs of classic Moroccan slippers here, as there is a great shoe souk, but don't overlook the fresh fruit and vegetable vendors who make a point to sing or shout their daily specials!
A more modern view of everyday Moroccans can be seen in the Place Mohamed V. This is an administrative area where the post office and many legal offices are located. The Moorish styling of the buildings here is amazing and the gardens and courtyards easily rate as must-see Casablanca attractions.
The more relaxed daily lives of the city's inhabitants can be enjoyed with a stroll or drive along the Corniche. Most coastal cities have a Corniche that runs along a beachfront or waterfront of some kind. This area ranks as one of the key attractions in Casablanca because it is such a hot spot for people watching, sunbathing, and beach strolling.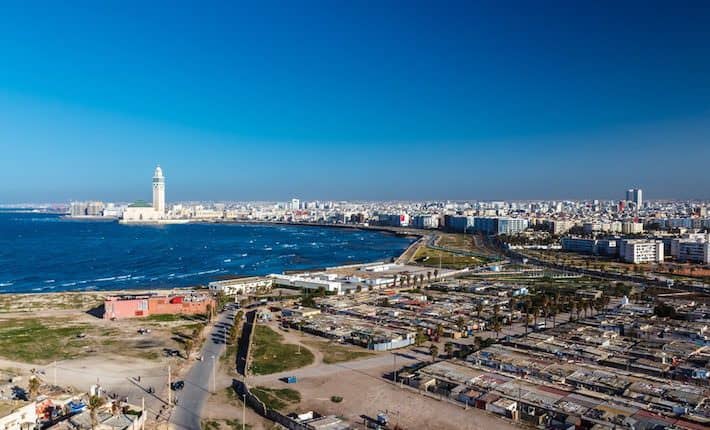 Of course, if you are looking for the best beaches in Casablanca, you need to head just a short drive north of the city. As one of the major Casablanca attractions, the tiny seaside town of Mohammedia has the best beaches in the region. Though it is a large port town as well, it is not at all industrialized and many travelers insist that the Medina is also one of the best.
Other Casablanca and Morocco Tourist Attractions in the Area
A visit to Casablanca makes a visit to Safi very easy, and in just a short time you can visit the remains of an ancient Roman port. Once the Almohade overtook the city, they maintained it and expanded it. The Portuguese did the same, building fortresses and adding on to the kasbah.
Today, only ruins remain, but the city is also the home of the country's ceramics industry. If you want to purchase directly from the makers you can visit the pottery souk and even the National Ceramic Museum in the Medina of Safi.
Even closer to Casablanca is Oualidia. A short drive south brings you to this picturesque village by the sea. It has one of the nicest beaches and many say that the kasbah should be among the top Casablanca area attractions. The town is a major provider of oysters, and there are many oyster beds just offshore. If you are a fan of this shellfish, a visit to some of the town's top cafes would give you a chance to savor some of the freshest seafood imaginable.
Start Turning Your Dream into a Reality
Casablanca has an abundance of fine destinations. You will want to spend more than just one day there, and if you cannot, be sure to look at our tours which can be customized to help you see everything you wish to see.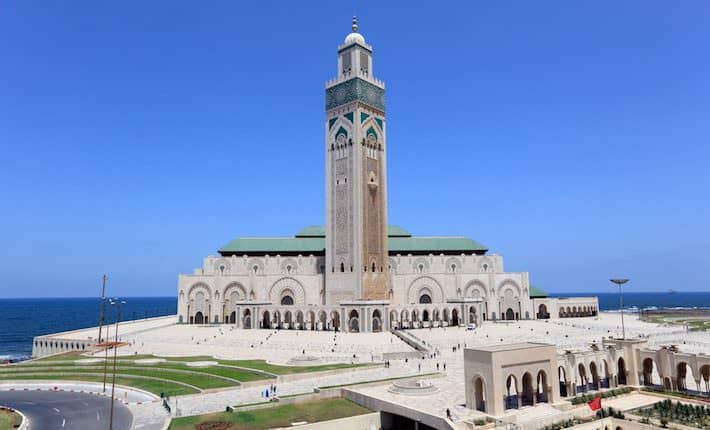 As a top-rated tour operator on Tripadvisor, we offer the highest quality time-tested Egypt and Morocco Tours.