Cruise Down The Nile River – The Best Way To Discover Egypt
Why would you want to cruise down the Nile River in Egypt? Because there is no better way for you to experience the real Egypt. It is hands-down the best way for travelers to visit and explore some of the country's most magnificent historical sites and attractions.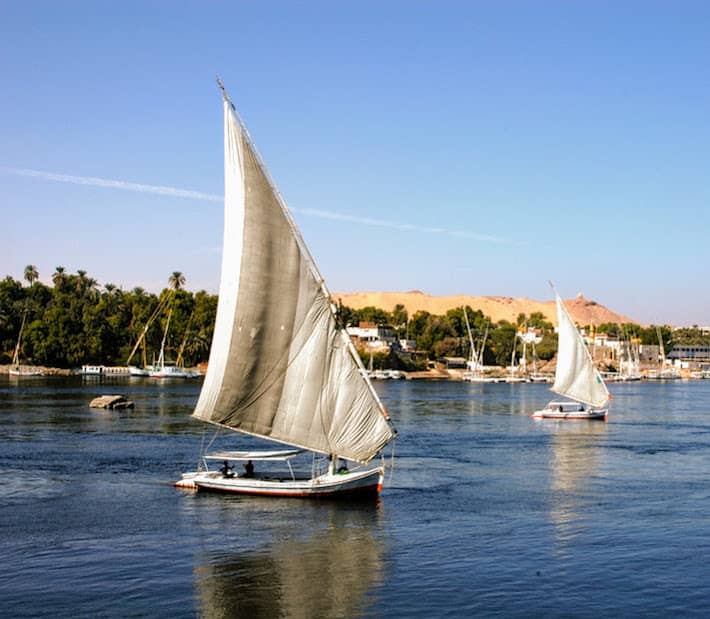 Explore: 35 Wondrous Nile River Tourist Attractions
Journey through Antiquity with a Cruise down the Nile River
Egypt is a fascinating place with a long and colorful history. From their large and varied pantheon of gods and goddesses, to their beautiful artwork, cultural and scientific innovations, the ancient Egyptians were one of the most revered civilizations the world has ever seen.
The blend of cultures in Egypt today is still just as fascinating, and millions of people come to the area every year to experience all that the Land of Pharaohs has to offer.
The best ways to see a significant slice of Egypt is by booking all inclusive Egypt vacations that include a cruise. Many people don't know just how many great reasons there are to take a cruise down the Nile River. The following are just a few of the top reasons:
A Nile River Cruise is Unique
Those who come to Egypt for the first time, as well as those who have been there many times before, will likely want to find a unique way to enjoy their vacation in Egypt, and a unique way see all of the country's most famous ancient sites. A cruise down the Nile River is not only a unique way to see the country, but also a luxurious way.
Many people who come to Egypt venture into the desert in hot caravans, or they spend a lot of times on buses that can become uncomfortable after several days of travel, especially if you are not used to traveling in such a manner.
A cruise down the Nile River on the other hand allows people to have considerably more space and freedom of movement. Keep in mind that overwhelming majority of Nile cruise ships are essentially luxury hotels on water.
Unlike their ocean going cousins that carry thousands of different passengers, the ships that sail along the Nile River are far smaller. This means that you will share the ship with far fewer passengers, and this can provide a closer, more intimate setting for the vacation. This is particularly true in the case of Dahabiya Nile cruises, since these boats typically only have around ten to twelve cabins.
Meticulously Structured Egypt Nile Tours
The best way to experience a cruise down the Nile River is by booking one of our high quality Nile cruise holidays being offered these days. These cruise holiday packages include tours in Cairo; tours in Luxor and Aswan, and guided tours to a number of ancient sites located between Aswan and Luxor. Our tours also include local Expert guides, ensuring that you get to see many of the best attractions in Egypt, while also having a great time doing so.
Fine Dining and 5-Star Luxury Accommodations
You can be assured that your cruise ship will have world class chefs and staff on hand to offer you some of the finest local cuisine and international fare in the country. Everyone will be able to find something to satisfy his or her appetite. You will also enjoy fantastic accommodation, and you can be 100% certain that all cabins are spotlessly clean and exceptionally comfortable. And, for those who want an even greater level of comfort and luxury, our luxury Nile River cruises are the ideal choice
Nile cruises generally last between 4 and 8 days, depending on which type of cruise you opt for. They are also flexible to a certain degree, because while the ship will make a number of sightseeing stops during your cruise down the Nile River, you're under no obligation to take part in any on-shore excursions. If you would prefer stay on the ship while other passengers go and explore, you are welcome to do so.
Cruise Down The Nile River
Regardless of your budget and time constraints, at Egypt Tours Plus we can provide you with the ultimate Nile Cruise Holiday that includes an unforgettable cruise down the Nile River. Contact us today, and let the excitement begin. We also offer a superb range of Egypt and Jordan tours, nearly all of which include a cruise on the Nile.
Design Your Custom Egypt Tour
Explore Egypt your way by selecting only the attractions you want to visit