Are you looking for the ultimate guide to Marrakech tours? If so, you will be delighted to find this trove of information that you can put to use as you begin to plan or research tours in Marrakech. One thing we must tell you as we get started is that Morocco private tours are probably the one way to see all that you hope, and more.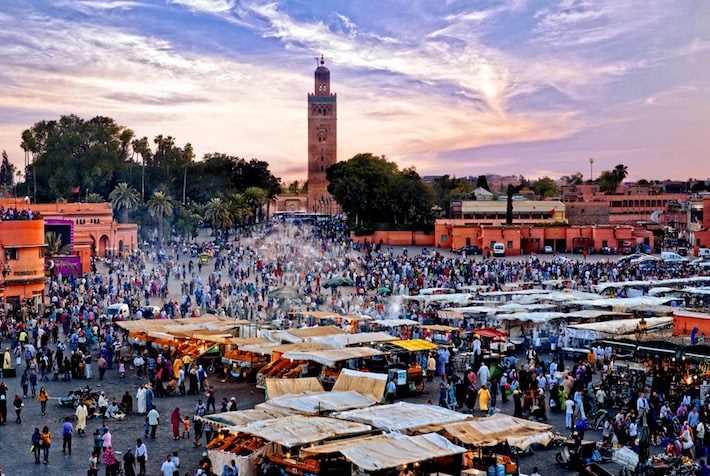 Marrakech is considered one of Morocco's most exotic cities. It has a bustling new city, a fascinating and charming old city or Medina, and one of the most famous markets in the world. It is described as a shopper's paradise and a food lover's dream, it is full of local culture and history, and it has so much to see and do, that you might easily become overwhelmed. Private Marrakech tours, though, ensure you see the sights you have dreamt of seeing, but can provide so much more.
At EgyptToursPlus.com you can enjoy a personalized visit to Morocco, including Marrakech day tours, short breaks, and tour packages!
What to See on Any Marrakech Tours
The first thing to consider when you contemplate what to take in on Marrakech tours is that there is no generic list of places to visit. While there are some of the top rated, once in a lifetime destinations in the city, there are also many gems that remain known mostly to locals and the most experienced guides.
If you want to take in some of the most time-honored and beloved spots during your Marrakech tours, it has to begin with Djemma El Fna. While many people mistakenly call this the souq or the market, it is really the square that sits just outside of the entrance to the Old City or Medina.
[vimeo 12926422 w=710 h=399]
The Djemma El Fna is the truest definition of most people's dreams of a fairy book destination. It quite literally has magicians, snake charmers, fortune tellers, spice and perfume vendors, street performers, painted wagons drawn by horses, and vendors offering a variety of exotic or not-so-exotic goods.
Earlier in the day it is one place, and as night falls, it becomes another. The aroma of varied cuisines mingles with the shouts of the street performers and vendors, and it is a truly remarkable experience. There are many places from which to view the square from above. Your guide on Marrakech tours may even be able to lead you to a rooftop café where you can sip a drink while you gaze down on the spectacle that is Djemma El Fna!
Pass through the square and enter the Medina, and this is where you find the souqs that seem straight out of yet another fairy story. The Medina of Marrakesh is noted for its painted doors and pavements, its winding passages and alleys, and its amazing array of experiences that are delight to the senses. You will find many different souqs within the Old City's walls, including an El-Attarine Souk (which is the spice and perfume market), the Babouche Souk (which is the shoe market) and the Cherratine Souk (the leather market). There are souks for carpentry, clothing, food, carpets and more!
Of course, if you are a photographer, you may also be looking for the famous tanneries. These are at the end of the Rue Bab Debbagh within the Medina. They are not exactly the same as those of the Medina in Fez, but are still remarkably photogenic. Do take heed that Marrakech tours are not always the best smelling, and the tanneries are a prime example of this!
Naturally, not all Marrakech tours are about the hustle and bustle of the markets. There are also many pools of tranquility and peace to be discovered, and Marrakech walking tours can emphasize the stunning architecture that fills the city too.
Landmarks to See During Marrakech Private Tours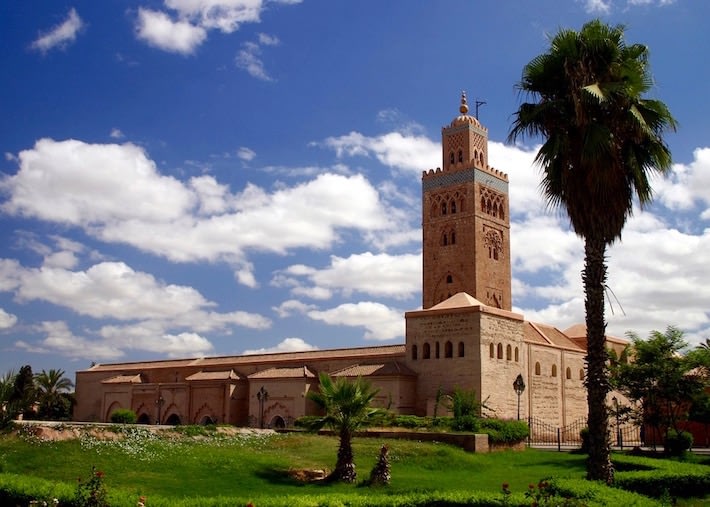 If there is a single landmark that is more famous than the Djemma El Fna, it would have to be the Koutoubia Mosque. Its impressive minaret rises 70 meters above the city, and retains its beautiful tile work even though it was built in the 1100s. Visitors must pay a visit just to gaze at the skill of the builders who constructed this elaborately decorated tower. The prayer hall is not open to non-Muslims, but the structure itself is a true wonder to behold.
Explore: Marrakech Tourist Attractions
If you are interested in more awe-inspiring architecture, and which is as famous as the Koutoubia Mosque, you will need to include Medersa Ben Youssef in your Marrakech tours. To call it stunningly beautiful is an understatement.
A medersa or madrassa is a school of Islamic learning. The Ben Youssef is the largest of its kind in the entire country. It is full of elaborately decorated courtyards full of mosaics, zellige tiles, gazing pools, columns, and inscriptions. It is often described as one of the loveliest buildings in the city, and is easily among the "must see" destinations on any Marrakech tours focused on architecture.
While you are near the Djemma el Fna, you are also close to another of the most important places to visit during any Marrakech sightseeing tours, and that is the Bahia Palace. Originally built for a grand vizier's many wives and concubines, it was once ransacked but managed to retain most of its stunning beauty.
A visit here shows just how Morocco's elite lived in the 19th century, and introduces you to some of the loveliest aspects of that period's architecture and design. Stunning arches, intricate mosaics, latticework, and carved doors greet you at each turn. Shaded walkways make it an ideal place to escape a hot afternoon, but if the Moroccan royal family is in the city, you will be unable to visit as it still a functional palace!
At the far end of the same spectrum is the El Badi Palace. This is mostly ruins but it is still remarkable to behold during any Marrakech tours. It was the Saadian royal palace in the 1500s and still retains some of its former grandeur. Its name translates to the "marvel" and you will agree. There is a columned main hall, an aqueduct, a labyrinth and many artifacts to explore.
Some Marrakech tours and excursions are about the different gardens and grounds instead of simply focusing on palaces and monumental structures. Marrakech actually serves as home to one of the most frequently mentioned gardens in the country – the Majorelle Garden. Originally designed by a French painter, the gardens were purchased by fashion designer Yves Saint Laurent. They are open to the public and will easily serve as one of the most enchanting spots you may ever visit.
On the grounds of the Majorelle Garden is a lovely Islamic Art Museum, and the grounds are just a short walk from the Medina. Also within the Medina is the Marrakech Museum. This tends to be a major stop on many Marrakech tours because it can give visitors such a thorough understanding of Moroccan culture as well as the unique history of the city.
Visitors stopping by the Medersa Ben Youssef should make a point of dedicating time to this museum as well. It too is in an impressive palace built in the 19th century and contains art as well as educational displays. If you would prefer to stick to the gardens, and you are close to the Medina, you can pay a visit to the Majorelle and then head west to Menara Garden.
Much more formal and large, it is a very active place that includes an 1800s pavilion, a working olive grove, and truly remarkable views of the Atlas Mountains in the distance. As you make your way out of the gardens, you can steer a course for the Ville Nouvelle or the "New City".
A trip here is just as it sounds – a transition from the alleys and mysteries of the Medina into the modern world. Broad boulevards lined with bustling cafes, contemporary architecture, boutiques and shops, clubs and the finest hotels in the city. There are many Marrakech tours emphasizing this part of the city too. That is especially true of the Marrakech food tours that pay visits to many of the hottest restaurants and cafes.
Discover: Things to do in Marrakech
Making Plans for Your Tours From Marrakech
Clearly, this is but a brief summary of all that you can see and enjoyed during tours of Marrakech. However, that does not cover the many different tours from Marrakech. It is important to remember that the city is in an ideal location for tours heading east into the Atlas Mountains, and over them into the Sahara.
Many Marrakech tours set out from the city and bring travelers on day trips up into the Atlas Mountains and the famous Tizi n'Test pass, known to be one of Morocco's most challenging and remarkably scenic roads, and to an array of possible destinations.
The journey passes many different fortifications or kasbah, authentic Berber villages, and is described as a remarkably and surprisingly beautiful experience. A visit may include stops at lovely locations such as the villages Imlil and Taroudant, the historic Ait Ben Haddou, and other destinations before returning to the city. Some continue onward towards the dunes of Erg Chebbi and then a bit of desert trekking.
Imlil is among the most common destinations chosen by those who want to see the beauty and nature of rural Morocco. Tours from Marrakech reach this village in a short period of time, and many head into the Toubkal National Park nearby. Some tours also opt to just spend time in Imlil with its fortress and friendly residents.
Many tours opt to continue past Imlil with Taroudant as the final destination. They do this in order to take the visitors down the astonishing Tizi n'Test Pass. It is quite literally an impossible road full of switchbacks and winding curves. It is a sight to behold, and many people enjoy the scenery as well as the excitement of this particular stretch of road.
Taroudant may be quite a distance from Marrakech, but many tours depart from the city with this historic destination in mind. Massive terra cotta walls surround the entire, historic town. There is one of the most enjoyable and comprehensive souqs inside the walls too! A day of sightseeing and shopping is easily done by taking tour from Marrakech to Taroudant and back again!

Of course, some Marrakech tours go only a few miles from the city too. For example, the Palmery is both a place and a region outside of the city. You may hear of many riads and neighborhoods in the "Palmerie", but the actual Palmery of Marrakech has more than 150,000 palm trees spread out over a massive 12k hectare plain. Many visitors like to escape the heat and hustle of the city to enjoy some time in this lush and green place.
Begin Planning Your Trip Today
– Marrakech Day Tours, Short Breaks, and Tour Packages
A visit to Morocco can be a dream holiday. There are so many sights, attractions and activities. You could easily make a full journey just to spend all of your time in Marrakech and its surroundings. You could have a day of touring specifically to sample all of the best foods and restaurants. You could dedicate a day to the different museums, gardens, shopping opportunities, historic buildings and more!
Naturally, it is best to enjoy your stay in Morocco with the help of a knowledgeable guide and driver who can ensure you see the best sights and get the best deals! After all, your guide can take you into the different souqs and help to negotiate the best prices for all of your goods!
If the idea of Marrakech tours appeals to you, choose EgyptToursPlus.com for a superior experience of Morocco. With private guides and drivers, you can create any tour package imaginable.