Morocco Tour Packages from Dubai
As a top-rated tour operator on Tripadvisor, we believe that we are the best choice if you are looking for Morocco tour packages from Dubai. Every year we turn dreams into reality for countless people in Dubai, and a large percentage of those people come back to us time and time again for their dream vacations.
→ Tell us about your dream trip and we will customize your itinerary to fit your exact needs and wants ←
Amazing Morocco and Egypt Tour Packages
Customized Morocco Tour Packages from Dubai
Our many years of experience has taught us what the average person in Dubai expects when they travel to Morocco, and it is this priceless knowledge that has made it possible for us to offer some of the most enchanting Morocco tour packages from Dubai.
Our custom tours quite literally put you, our valued client, in the driver's seat where you have full control over your tour itinerary. You decide how long you want to be in Morocco for, and what cities, towns, and attractions you want to see. Our team of highly trained tour representatives will then design your ideal itinerary for you.
Alternatively, if you like one of our existing package tours, but you would like a few changes to be made, just let us know and we will be happy to oblige.
Weather in Morocco
Most people who book Morocco tour packages from Dubai will find the weather in Morocco to be very pleasant indeed since much of the country enjoys mild weather all year round. As is to be expected, the further inland you go, the warmer the weather becomes. This is particularly true when visiting areas in or near to the Sahara Desert.
Passport and Visa Information for People with UAE Issued Passports
Any person traveling to Morocco on a UAE passport is free to enter Morocco without a visa. However, your stay in the country is limited to a period not exceeding 90 days. For stays exceeding 90 days, a residence permit needs to be obtained from the police department in Morocco. Your application for a residency permit must be made at the police department closest to the area where you are staying at the time of your application.
If you intend traveling to Morocco from Dubai on a non-UAE passport, you will need to check the visa requirements pertaining to your country of residence. The citizens of several countries can enter Morocco for 90 days without a visa, but many nationalities do require a visa. If you do require a visa, it is worth noting that visas are typically only be issued in your country of residence.
Staying Safe in Morocco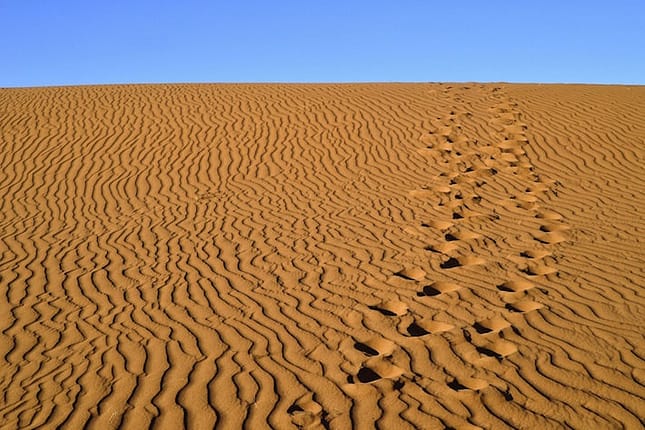 At the time of writing this guide, there were no local or international travel warnings in place for Morocco. Nonetheless, travelers are advised to remain vigilant in very crowded areas such as popular tourist attractions. Visitors should also never venture into the desert without a knowledgeable guide.
If you intend exploring the famous medina in Marrakech (highly recommended), be aware of scammers and illegal touts who won't think twice about conning you. If you get lost or you need assistance, it is always best to approach shopkeepers or elderly people, rather than young people who will often send you off in the wrong direction, or try to charge you a fee.
NOTE: All of our multi-country tours and private Morocco tour packages from Dubai include a private guide and driver.