North Africa Tours – Egypt, Morocco, Kenya and More
At Egypt Tours Plus, our epic North Africa Tours have been meticulously crafted and structured to ensure that our clients get exactly what they deserve – the Best of the Best; unforgettable journeys which have been designed to thrill and excite, from the moment you arrive, to the very last minute when we have to bid you farewell.
Whether you want to spend your days visiting and exploring the many ancient wonders of Egypt and immersing yourself in the magic of Morocco, or even travel through a third country, you are bound to find a North Africa travel package which is a perfect match.
Why Book Northern Africa Trips with Us?
One of main reasons why so many people come to us for North Africa tours is because we are one of the most well-established northern Africa and Middle East tour operators in the world. In fact, we have been making people's travel dreams come alive ever since 1955 when we first started welcoming travelers to Egypt. With such a vast amount of experience behind us, you can be certain that your holiday dreams are in good hands. And, if you are still having doubts, then here are 7 more reasons why you should consider booking your vacation in the north of Africa through us:
1. Every Client is a Valued Client
Regardless of what tour you book, or how much money you spend, you will always be treated like a valued guest, because in our books, every client is a valued client. Our standard of hospitality is well and truly second to none, and it begins from the very minute you arrive.
2. We Have Your Back Covered
When you travel with us, you will never walk alone. We will meet you at the airport; we will escort you to your hotel; and our reputable guides and drivers will always be with you during all your tours and excursions. The only times you will be on your own are in the evenings and on free days which have been reserved for leisure and relaxation.
3. Professional Guided Tours
Our guides are dependable, trustworthy, reliable, and incredibly experienced. If they cannot answer your questions regarding the various sites you visit during your North Africa tour, then nobody can. Their knowledge of the sites they accompany you to is quite simply exceptional.
Learn more about our Egypt tours here:
4. Comfortable Travel at its Best
The primary reason why people book North Africa tours is because they want to see unforgettable things and amazing places. At Egypt Tours Plus, we realize this, but we also believe our clients should be able to do so in comfort and style. To this end, all transfers throughout your stay are done in modern air-conditioned vehicles. We also only book our clients into 4-Star or 5-Star hotels and resorts unless there simply aren't any in a particular area, and if your North Africa trip includes a Nile River cruise in Egypt, you can be certain that it will be aboard a 5-Star cruise ship unless you opt for a more traditional Dahabiya cruise.
5. Exceptional Value for Money
At Egypt Tours Plus, you will find that our North Africa tours generally cost 15% less than the industry standard. We also offer group discounts which can save you even more money if you are traveling with a group of friends or like-minded people.
6. Fully Customizable Tours
We believe that we have private tours and small group tours to suit all tastes and budgets, but we also appreciate the fact that everyone is a very unique person with their own unique needs and requirements. We want your vacation to be everything you want it to be and more, so if you would like us to customize one of our North Africa tour packages for you, just let us know, and one of our travel specialists will work with you in order to ensure your tour is a perfect fit. We are also always happy to work with people to build their dream tours from scratch.
7. Experience and Passion
When you book you dream vacation through us; you are booking through a company which has been offering high quality tours ever since 1955. With such a vast amount of experience behind us, we don't believe there are any other tour operators who are better equipped than we are to provide you with the most unforgettable North Africa tour imaginable. Don't forget, we are travelers too.
Top Attractions to See on Our North Africa Tours
Our North Africa tours are ideal for anyone who is longing to experience the best of Egypt or the best of Morocco. Some tours only feature Egypt and Morocco, while others also feature Jordan, Dubai and/or Kenya. The great news is that no matter which tour package you choose, you can be sure that we will be taking you to see the very best attractions in each of the areas you visit. Here are 4 attractions which we believe are amongst the best there are in North Africa:
The Great Pyramids of Giza and the Sphinx, Egypt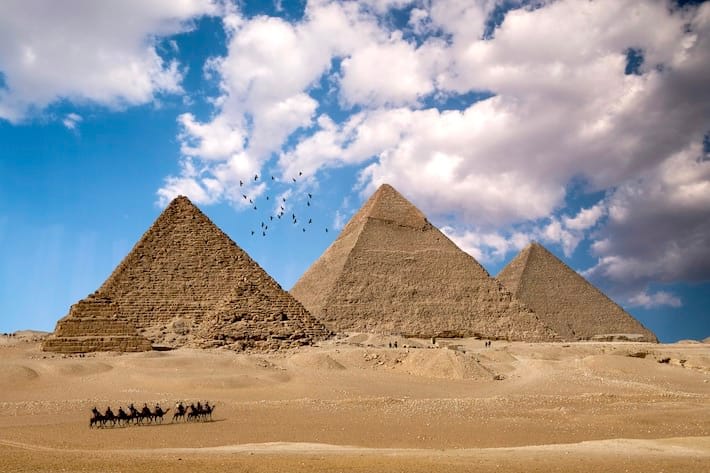 The Giza Pyramids and the Sphinx are Egypt's most instantly recognizable ancient monuments, and the great news is that one doesn't even need to travel very far from Cairo in order to visit this spectacular site. While there is a lot to see at the Giza necropolis, most visitors head here to see the three main pyramid complexes and the sphinx.
The biggest of these is the Pyramid of Cheops or Khufu which was built between 2560 and 2540 BC. This pyramid was declared one on the 7 Wonders of the Ancient World, and it is now the only one which still exists. The second largest pyramid at this site is the Pyramid of Khafre, while the third and also the smallest one is the pyramid of Menkaure.
The iconic Sphinx statue is located just a few hundred meters away from these three pyramids, as is the Valley Temple and a host of other interesting sites. It is also worth noting that while tourists are almost always able to go inside the pyramid of Khufu, one of the other two will usually closed to the public for the sake of maintenance and restoration. As such, it is generally only possible to go inside two of the three pyramids on any given day. Be warned, the interior of the pyramids can be very warm and humid, and probably not the sort of spaces you want to be in if you are claustrophobic.
Nile River Cruises, Egypt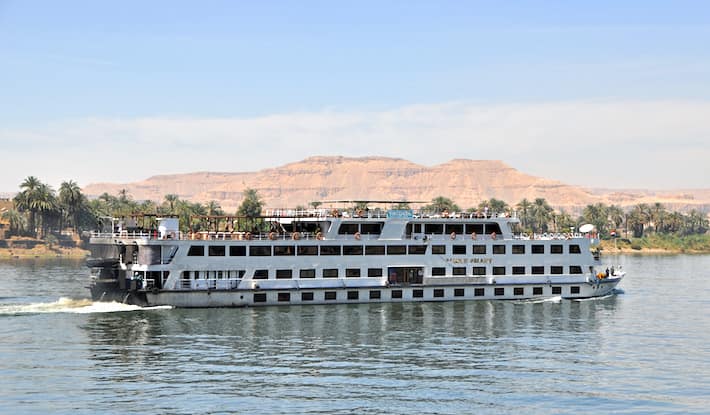 While one could argue that a Nile River cruise is an experience rather than an attraction, we definitely believe it deserves a spot on any list of top attractions in the region. After all, millions of tourists visit Egypt each year specifically for the sake of enjoying a Nile River cruise. Most Nile cruises take place between Luxor and Aswan, although there are a number of cruises that also run to and from Cairo.
All of our North Africa tours are amazing, but those which include a Nile River cruise are quite simply in a league of their own, and at Egypt Tours Plus, we believe there is no better way to explore the best ancient monuments of the Nile River Valley. Our Nile cruises really are a perfect blend of luxury, relaxation, and incredible sightseeing.
When you board a Nile cruise with us, you will be boarding a 5-Star cruise ship on which you will be able to enjoy all that you would enjoy at any good 5-Star hotel, including luxurious accommodation, world-class cuisine, and a wide range of excellent amenities.
Sightseeing during your cruise will typically include visiting the top historical attractions in both Aswan and Luxor, as we as some magnificent ancient attractions at Kom Ombo and Edfu, and of course, the longer your cruise lasts for, the more attractions you are likely to see.
The High Atlas Mountains, Morocco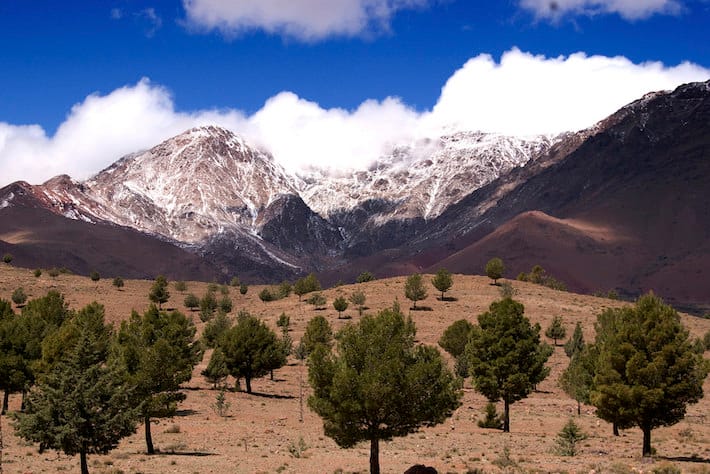 Morocco has been a favorite tourist destination for many decades already, and for anyone who has been, it is easy to understand why. Because Morocco has so many wonderful attractions, and because all people are different, it would be virtually impossible to say which attractions are the best attractions. Instead, we've decided to list two of the country's top features, one of which is the High Atlas Mountains.
With this in mind, we highly recommend looking for one of our North Africa tours which include a scenic drive through the mountains. A trip like this will typically see you visiting some traditional villages; beautiful cedar forests, and breathtaking mountain gorges as you make your way along the country's most notorious mountain pass which is famous for its countless hairpin bends.
The 4 Imperial Cities of Morocco
Morocco is home to 4 imperial cities: Fez, Meknes, Marrakech, and Rabat. Because all four of these cities are well and truly fascinating, and because they each have many fabulous attractions, we believe it is best to list them collectively as one of Morocco's top attractions. After all, many of our North Africa tours that feature Morocco also feature all four of these cities.
While Rabat is the current capital of Morocco, it is interesting to note that the other three imperial cities have all also been the country's capital at one time or another. Each of these four cities are very unique from each other, but they do have a number of things in common. All of them have beautiful botanical gardens where you can go if you need to enjoy some peace and quiet; they all have no shortage of museums and art galleries, and of course, they all have souks where you can literally spend hours walking around. Last but not least, they all have their fair share of fascinating historical monuments.
When is the Best Time to Travel North Africa?
If you are contemplating booking a North Africa tour, then it only stands to reason that you will obviously want to find out when out when is the best time for you to travel. The truth is that the answer you are looking for will depend on a number of things, including your available budget, and also on what you want from your tour; what aspects or features of your preferred tour are most important to you.
If your preferred tour only features Egypt, then you will have the option of choosing between High Season and Low Season. The High Season refers to the cooler months of the year and runs from October to May, while the Low Season coincides with the warmest months of the year, and runs from June to September.
As is to be expected, tours cost more during the High Season than they do during the Low Season. In fact, the difference can be quite significant, depending on which tour package you choose, and on how many people you are traveling with. This increase in prices is completely beyond the control of tour operators, including us. Things such as hotel tariffs and cruise ship services all cost more during the High Season, so it would be impossible for us to charge a flat rate throughout the year for tours in Egypt, or for multi-country tours that feature Egypt.
If on the other hand, your preferred North Africa tour only features Morocco for example, then you will find that there is generally no high season or low season. This is purely due to the fact that Morocco does not attract nearly as many tourists as Egypt does, and added to that is the fact that Morocco's weather is somewhat different to Egypt's. With all that having been said, many travelers feel that Morocco is best visited during spring, from the middle of March to the May, and also during the autumn months which are September and October.
Last but not least, always remember that at Egypt Tours Plus, we are never more than a phone call away, and one of our travel specialists will be more than happy to help you decide on the best time to visit.
How to Stay Safe during Your North Africa Tour?
First and foremost, we need to stress that at Egypt Tours Plus, we take the personal safety and wellbeing of our clients very seriously, so much so that our existing range of North Africa Tours do not include trips to any countries which we believe would put your safety at risk. With that having been said, it is impossible for us, or any other tour operator for that matter, to guarantee 100% risk free tours.
No matter where about you are, be it at home in your own country, or be it in some exotic destination, there is always some element of risk. When you book North Africa tours through us, you can be sure that we will be watching your back from the moment you arrive, until the moment you board your flight back home.
You will almost always be in the company of experienced local guides and drivers. Our guides and drivers are friendly, reliable, knowledgeable, experienced, and 100% trustworthy. In short, they are more than just guides; they are also guardians who are acutely aware of the responsibility they have to keep you out of harm's way.
Of course, we also need our clients to act responsibly regarding their own personal safety. For example, if you are enjoying a safari in Kenya and your guide asks you to remain inside the vehicle you are traveling in, please understand that you are being asked to stay inside the vehicle for a good reason. Under no circumstances should you ever try to approach wild animals in any national park.
Last but not least, it is always best to leave all non-essential valuables at you hotel when visiting very touristy areas, just as it is always best to avoid walking alone at night in very quiet dimly lit areas, and even more so if you are a woman.
How to Stay Healthy During North Africa Tours?
The most common health related complaints during North Africa tours tend to involve minor problems such as stomach bugs and dehydration. Avoiding deserted restaurants and/or food stalls that get very few customers can go a long way in helping you to avoid stomach problems. Remember, if the locals don't favor a particular venue, then they probably have good reasons and it would be wise for you to follow their example.
The risk of becoming dehydrated is very real when traveling in warm countries such as Egypt and Morocco and etc. Under no circumstances should you assume that your body is adequately hydrated just because you don't feel thirsty. At Egypt Tours Plus, we strongly recommend that you carry a bottle of fresh drinking water with you at all times, and that you sip on it throughout the day, particularly when you are outside during tours and excursions. Also, you should only ever drink fresh bottled water, with the only exception being if water pitchers are provided at the hotel/s where you are staying.
We also recommend that all travelers consult a physician prior to embarking on a North Africa tour in order to establish if they should receive any vaccines before they travel. It is also a good idea to discuss the risk of Malaria with your physician.
Lastly, in the unlikely event that you start feeling unwell during your North Africa tour, it is best to seek medical advice as soon as possible, regardless of how mild you symptoms might be. If you need to contact a doctor or you feel you should visit a hospital, please inform your guide and/or someone at the hotel where you are staying. Remember, it is always better to be safe rather than sorry, so whatever you do, don't wait for a problem to get worse before seeking help.