What Is The Best Way To Travel In Egypt?
The best way to travel to Egypt is by means of a professionally designed Egypt tour package that includes accommodation, your own private guides and drivers, and admission to Egypt's top attractions.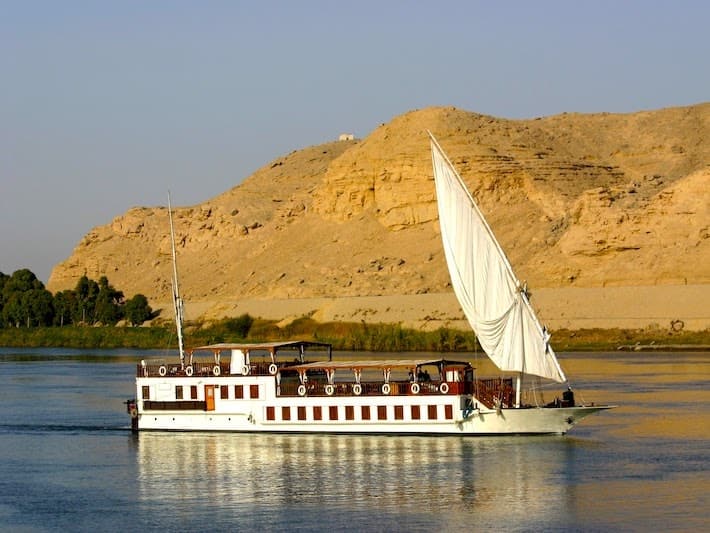 Design Your Custom Egypt Tour
Explore Egypt your way by selecting only the attractions you want to visit
What Is The Best Way To Travel In Egypt?
Private guided Egypt tours and Nile River cruises are by far the best way to experience the wonders of Ancient Egypt. Without a guide to accompany you to all the tourist sites you want to see, you will really miss out on so much. In order for your trip to be as rewarding as it possibly can be, having a professional local guide by your side is essential.
Besides sharing their knowledge of Egyptian history with you, guides also help you to bridge the language barrier, bearing in mind that very few Egyptians speak English, even in major cities like Cairo, Alexandria, Luxor and Aswan.
Getting Around When you Are In Egypt
What is the best way to travel in Egypt? It really depends on your travel style and your budget. If you are traveling on a very tight budget, you have the option of using public transportation, including ordinary state-owned buses which are the cheapest mode of transport. However, very few foreigners do this largely because of the language barrier, and also because the want to enjoy a bit more comfort.
With the above having been said, coach travel is very popular among foreigners, and particularly those traveling on a budget. If you are going to be using coaches to travel between different cities, we would recommend using GoBus. These coaches are all modern air-conditioned vehicles with reclining seats so you can sit back and relax or even take a nap while you are on the road.
Train travel is another option for traveling between major cities. If you are going to be traveling by train, don't go for the cheapest option. When it comes to train travel in Egypt, you really do get what you pay for. For a few extra dollars, you can travel in comfort on air-conditioned trains. If you plan on taking an overnight train, be sure to book your train ticket at least a day or two in advance.
Overnight trains are a great choice as well, and if you are willing to pay a bit more, you can even have your own private compartment. Besides, taxis, buses and trains, you can also fly from one city to the next. Domestic flights with a local airline like EgyptAir are surprisingly affordable.
So, what is the best way to travel in Egypt? Flying would be our top recommendation, with train travel in second place, and coach travel in third place.
What is the best way to travel in Egypt when you only need to cover short distances, such as getting from one place to the next in Cairo? We would recommend using taxis because they are very affordable, and possibly the most convenient mode of transport for short journeys. Always insist that the driver turns the meter on, or negotiate a price before you get in the vehicle.
Recommended Reading:
Private Egypt Travel Packages
If you ask us what is the best way to travel in Egypt, our answer would be: private guided tours that include private drivers. With this option, you won't even have to think about things like transport. You are picked up at Cairo International airport when you arrive and then you are driven to your hotel.
In the mornings you are picked up from your hotel and you are driven to the various tourist attractions listed in your travel itinerary, before being driven back to your hotel after the day's sightseeing. Good tour packages should also include domestic flights or a berth on an overnight train if your chosen itinerary requires you travel from Cairo to one of Egypt other cities, such as Aswan, Luxor, Sharm El-Sheikh, etc.
Recommended Tours: Nile Cruise Holiday Packages
Nile River Cruises
If you ask people who have been to Egypt and experienced a Nile cruise, what is the best way to travel to Egypt, they will almost certainly tell you that a luxury Nile cruise is the best way to explore many of Egypt's top ancient sites. Many of Egypt's most famed sites are located along the banks of the Nile River in Upper Egypt, between Luxor and Aswan.
Archaeological sites you can expect to visit during a Nile River cruise include places like Philae Temple, Luxor Temple, Karnak Temple, and Valley of the Kings, to name only a few.
What is the Best Way to Travel in Egypt if you are Disabled?
Unfortunately, Egypt's cities and towns are nowhere near being wheelchair friendly. If you rely on a wheelchair for getting around, and you desperately want to visit Egypt, you should really consider booking a private guided tour that includes all transport.
Some Nile cruise boats are wheelchair friendly, but not many. When you inquire about booking a tour and/or cruise, you should let your chosen tour operator know you are disabled and have to rely on a wheelchair. This will allow your chosen travel company to make arrangements accordingly.
If for some reason you can't or don't want to book an all-inclusive Egypt tour and Nile cruise package lasting several days, then just look for short 1-day or 2-day tours that feature the archaeological sites that you are most interested in, but look for an Egypt tour operator that is able to facilitate the needs of disabled travelers.
A Dream Vacation is only a Few Mouse Clicks Away
Many people long to visit Egypt, and for many, it has been their lifelong dream. At Egypt Tour Plus, we make these dreams come true. And, with more than 250,000 tours already sold you can book your dream trip to Egypt with 100% confidence.
From budget Egypt tours to luxury Egypt tour packages, we really do have something for everyone who is longing to visit the Land of the Pharaohs.
We offer high quality flexible travel packages that can be customized to meet your needs exactly, or we can work with you to design your own tailor made tour from scratch.
Design Your Custom Egypt Tour
Explore Egypt and the Middle East your way by selecting only the attractions you want to visit