What To See Along The Nile River – Watch History Unravel
What to see along the Nile River? Nile cruises in Egypt take passengers not only along the Nile, but instead, they take passengers on a voyage through thousands of years of history. Don't forget, there is a reason why many historians refer to Egypt as being the Cradle of Human Civilization.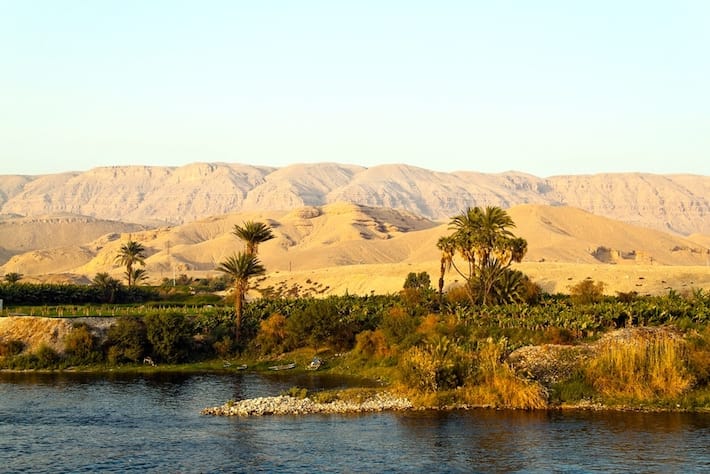 → Click here to explore all Nile River Tourist Attractions
Nile Cruises in Egypt
The Nile River is the lifeblood of Egypt, and for thousands of years, it has provided arable lands for the people along its banks, and in turn, their agricultural efforts have sustained empires. It is a beautiful expanse of water, commonly regarded as the longest river in the world.
What to See Along the Nile River – Luxor and Aswan
Luxor and Aswan are both incredibly popular tourist destinations, and both of the cities serve as points of departure and arrival for Nile River cruises. Regardless of which starting point you choose, the magic starts immediately.
If your cruise starts in Luxor, you'll begin your adventure with a visit to the Luxor Temple and the Karnak Temple complex. These ancient buildings once had powerful religious significance for the ancient Egyptians, and many still feel a sense of awe when they visit these sites, particularly Karnak since this is the largest place of worship ever built throughout the history of the world.
The Valley of the Kings is also located on the outskirts of Luxor, and a visit to the site is included in nearly all Nile cruise vacations.. This is the legendary resting place of many of Egypt's most famous rulers, including King Tutankhamen.
Interestingly, Tutankhamen's mummy once again lies resting in his ancient tomb, and visitors are often able to enter his tomb during a visit to the site. However, an additional ticket must be purchased on-site, in person, and it is worth noting that there are restrictions in place regarding the number of people entering his tomb each day.
What to see along the Nile River after departing from Luxor? As you progress along the route, you will find that your cruise ship makes a number of stops. During these stops passengers can disembark and enjoy the most incredible tours of places such as Kom Ombo, Edfu and the Temple of Hatpshepsut, Egypt's longest living female Pharaoh.
When your cruise ship reaches Aswan, you will once again be taken to see all the historical sites and attractions in the region, and depending on what Egypt tour package you have chosen, you might also be taken to visit Abu Simbel, where you can explore two massive rock-cut temples constructed during the reign of Ramesses the Great. This site is one of the top attractions in Egypt, so a visit is highly recommended.
Design Your Custom Egypt Tour
Explore Egypt your way by selecting only the attractions you want to visit
Nile Cruise Holidays – Modern but Traditional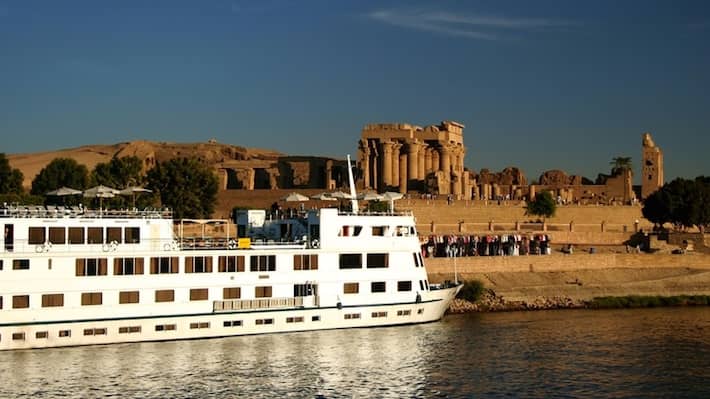 The Ancient World, however, is not all that one is privileged to see during luxury Nile cruises or Dahabiya Nile cruises. Modern Egyptians still work these lands, plowing their fields along the shore, sometimes with animal-powered equipment which almost has the effect of making one feel as if one is seeing a scene of an ancient world long passed from our own.
Of course, these are modern people but in Egypt the modern and the traditional still live side by side, whether it be astounding ancient temples near modern cities, or fishermen and farmers working the Nile and its land as they have done for thousands of years while tour boats cruise by.
Nile cruises will of course, also take you through the many ecosystems that exist along this riparian treasure. Palm trees are frequently seen along the shore and the rich band of fertile soil separates the river by the thinnest measure from the endless expanses of desert.
To see Egypt, there are few better ways than taking advantage of one of the many Nile cruise holidays available. What to see along the Nile River really does depend on what you want to see. Some tourists are happy to spend all their time on board the ship throughout the cruise, while other like to be out in the fresh air, taking in the sights, and partaking in all the excursion. The most important thing of all is that you have the vacation of a lifetime.
So if you are still wondering what to see along the Nile River – contact us today, and allow us to turn your dream into a living reality. When you book Egypt package tours or Middle East vacation packages with us, you are booking your dream vacation with a company that has been making travel dreams come true for decades already.
Find and Book Your Dream Nile River Cruise Today
Design Your Custom Egypt Tour
Explore Egypt your way by selecting only the attractions you want to visit