Egypt Tours from Edinburgh
If you have landed on this page, you are almost certainly looking for information about booking Egypt tours from Edinburgh? The good news is that you should be able to find the answers to any questions you may have about Egypt tours from UK right here on this page. And, if you don't find the answers you are looking for, just send us an email and you will typically get a response with 24 hours or less. You can also contact us via Live Chat or by calling a toll-free number.
Top 6 Egypt Tours from Edinburgh
FREQUENTLY ASKED QUESTIONS
What to See In Egypt?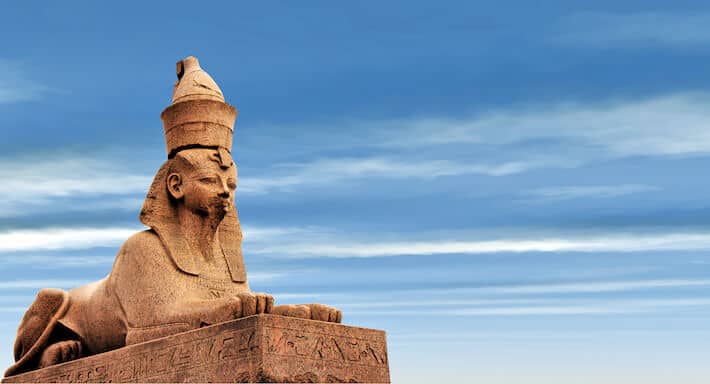 When people think about Egypt tourist attractions, monuments such as the Giza Pyramids, the Sphinx, and the Abu Simbel rock temples are often the first things that come to mind. In reality, however, there are so many other amazing attractions as well, some manmade and some created by Mother Nature. Places like the White Desert are enough to leave any traveler speechless. Nowhere else on earth will you find a comparable desert landscape.
Nile River cruises are also one of Egypt's main tourist attractions. There is nothing quite like sailing along the Nile, moving from one ancient site to the next. Many tourists are aware of the Giza pyramids and perhaps the Step Pyramid of Djozer, but there are also others located in an ancient necropolis about 40 kilometers from Cairo. These are collectively called the Dashur Pyramids, all of which are far older than those at Giza. To find out more about Egypt's astonishing number of attractions, you can click on the link provided above.
Top 5 Attractions to See in Egypt
What to Pack for Egypt?
If you are looking for  some advice about what to pack for Egypt, our recommendation would be that you should try to avoid packing any stuff which you most likely not need or use. For example, there is no need for you to pack in a lot of warm clothing. One pair of long pants and perhaps a lightweight jacket that you can wear in the evenings should be adequate. If you happen to book one of our Egypt – Jordan tours or any tour that includes overnighting in the desert, then a somewhat thicker jacket would be recommended.
Other essential items would include things like sunscreen lotion; a wide-brimmed hat; a pair of sunglasses; some lightweight cotton tops, and a comfortable pair of shoes. Don't forget to also pack in some swim suitable swimwear.
Distance and Flight Time from Edinburgh to Egypt
The shortest flight distance from Edinburgh to Cairo in Egypt is approximately 2,460 miles, with an estimated flight time of approximately 5 hours and 10 minutes. These figures are based on direct flights from Edinburgh to Cairo.
How to Obtain a Tourist Visa for Egypt?
British citizens and those in possession of a British passport can book and enjoy Egypt tours from Edinburgh without any need to visit an Egyptian embassy or consulate in the United Kingdom for an Egyptian tourist visa. They can apply online for an Egypt e-Visa prior to traveling to Egypt, or they can get a Visa-on-Arrival at Cairo International Airport or at any other international airport in the country.
Is It Safe To Visit Egypt?
Egypt is very safe for tourists. However, we do recommend against carrying unnecessary valuable around with you when you visit popular tourist attractions. We also advise against walking around alone at night in areas that look deserted and/or are poorly lit. It is also a good idea to not get involved in political or religious debates, and under no circumstances should you insult any religion or religious institution.
Anyone who has concerns about the current situation in Egypt can check the latest Egypt Travel Advisory issued by the British government prior to booking any Egypt tours from Edinburgh.
Tailor Made Egypt Tour Packages from Edinburgh, UK
Explore Egypt your way by selecting only your favorite attractions. Click here to design your personal Egypt trip package from Edinburgh.