The Temple of Hibis is the most well preserved temple found at the Kharga Oasis, home to many interesting and well-preserved sites during your vacation in Egypt. This oasis is located along a major caravan route, meaning it has been well-populated for a very long time.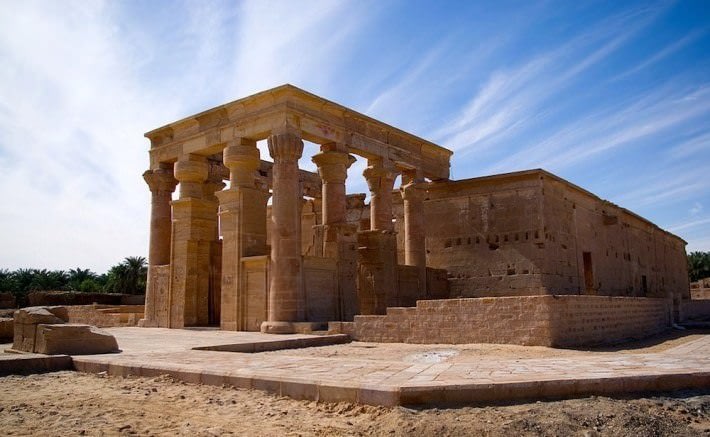 There are two temples in the oasis that are well known for being popular tourist attractions: the Temple of Qasr Dush and the Temple of Hibis. Often just referred to as Hibis or the Hibis Temple, this building was constructed from limestone that was quarried in the area. The temple dates back to the 6th century BC.
Interestingly, the temple was built on top of other ruins. It is believed that beneath the temple are the ruins of Saites, a settlement built in the 18th dynasty. Another interesting fact regarding this temple is that it remained almost completely buried beneath ground that was being used for farming. It was only in 1909 that the structure was discovered and subsequently excavated and restored.
A Well Preserved Treasure
The main reason why the Temple of Hibis is interesting for tourists would be the fact that it is quite well-preserved.
When you visit the temple, you will be able to walk between an avenue of Sphinxes that lead the way to a pavilion where all eight original columns still stand. When you arrive at the inside area of the temple, you will be able to stand within a grand hall as well as a church sanctuary.
The temple was originally built by the Persian ruler, Darius the First, and it was built in honor of Amun, the Egyptian fertility god. As far as can be told, the Temple of Hibis is, by far the largest of all the temples that were built in Egypt during Persian rule.
A Temple Awaiting Relocation
At this time, the temple is located about a mile and a quarter from the city of Kharga. However, this may change. Groundwater in the area is causing the temple to sink and deteriorate. In order to preserve it, the temple will be moved to more solid ground. Before you plan your visit, you will need to verify its location and whether or not the temple is currently open to visitors.
Getting There
Because several of the important sites in Kharga are close together, it is easy to view all of them in a single excursion.
The Temple of Hibis is close to the Temple of Qasr Dush and you can easily find Egypt desert tours that will take you to both sites. If driving a vehicle (not recommended), the Temple of Hibis can be reached in any standard vehicle by following the caravan road.
Having a tour guide with you can make your visit to the Temple of Hibis so much more enjoyable; another reason to book your Egypt tour packages through Egypt Tours Plus since all our tours include a personal tour and driver.