Egypt Tours from Las Vegas
Egypt tours from Las Vegas can be pleasantly affordable providing you book your tour with a reputable Egypt tour operator. A trip to Egypt can be totally unforgettable, and especially if you choose Egypt tour packages from America that include a Nile cruise. When you tour that includes a cruise, you are guaranteed to see some of the most famous sites in and around Cairo, such as the Giza Pyramids and the Sphinx.
During your cruise you will get to enjoy even more excellent sightseeing, including sites like the ancient Karnak Temple complex; the Valley of Kings; Temple of Philae in Aswan and many more. Nile cruise and stay vacations are the best way to get the most out of a trip to Egypt. For those travelers who have an even bigger appetite for adventure, our range of private guided Egypt and Jordan tours from USA never fail to amaze.
Top 6 Egypt Tours from Las Vegas
FREQUENTLY ASKED QUESTIONS
What to See In Egypt?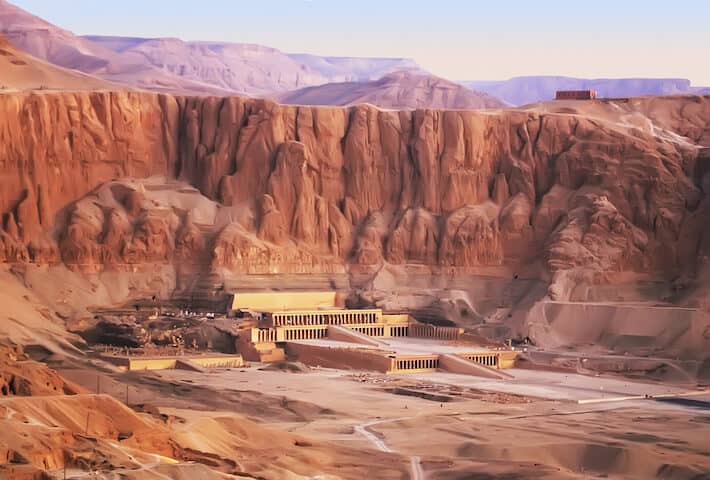 While there are countless leisure activities and an almost infinite number of entertainment opportunities available in Egypt, most people visit the country to see its many ancient sites. From the iconic Giza Pyramids and the Sphinx in Cairo, to the many royal tombs in the Valley of Kings in Luxor, there is certainly no shortage of things to see.
With Egypt tours from Las Vegas, you can visit and explore many of the very best Egypt tourist attractions, and even enjoy a truly unforgettable five star Nile River cruise.
Top 5 Attractions to See In Egypt
What to Pack for Egypt?
When people decide to book Egypt tours from Las Vegas, one of the first things they think about is what to pack for Egypt. For the most part, this all depends on the individual. Some people like to pack in a lot of stuff, while others prefer to travel light. There are, however, a few essentials which everyone should pack for a trip to Egypt.
Essential items to pack would include a comfortable pair of shoes; a wide-brimmed hat; sunglasses; sunscreen lotion, and a few white lightweight cotton shirts. It is also advisable to pack in at least one pair of trousers and a warm top because certain parts of the country can get quite cool in the evenings.
Distance and Flight Time from Las Vegas to Egypt
The distance from Las Vegas McCarran International Airport to Cairo International Airport in Egypt is approximately 7,390 miles, with flight duration of roughly 14 hours and 30 minutes. These figures are based on a direct  non-stop flight between the two cities.
How to Obtain a Tourist Visa for Egypt?
People who are in possession of a valid American passport have 3 options available to them. They can apply for a tourist visa in person at their nearest Egyptian embassy or consulate. They can also apply online for an Egypt e-Visa, or simply get a Visa-on-Arrival when they land at any international airport in Egypt.
Is It Safe To Visit Egypt?
Yes, Egypt is a very safe place to visit as a tourist, but as is the case with all holiday destinations, it is always a good idea to apply a bit of common sense. For example, it you are traveling alone, then you should try to avoid being on foot in very quiet and/or poorly lit areas at night. If people have any concerns about the current situation in Egypt, they can check the latest Egypt Travel Advisory issued by the American government prior to booking Egypt tours from Las Vegas.
Tailor Made Egypt Tours from Las Vegas, USA
Explore Egypt your way by selecting only your favorite attractions. Click here to craft your own tailor made Egypt trip from Las Vegas.
Design Your Custom Egypt Tour
Explore Egypt your way by selecting only the attractions you want to visit