4 Days in Egypt – What to see in Egypt in 4 Days
If you are only able to spend 4 days in Egypt, you should seriously consider booking a tour package that includes a professional guide, a driver, and your own vehicle for transfers and tours. So, what to see in Egypt in 4 days? It really depends on whether you are only going to be in the country for 4 days or whether you're going to have 4 full days available for sightseeing.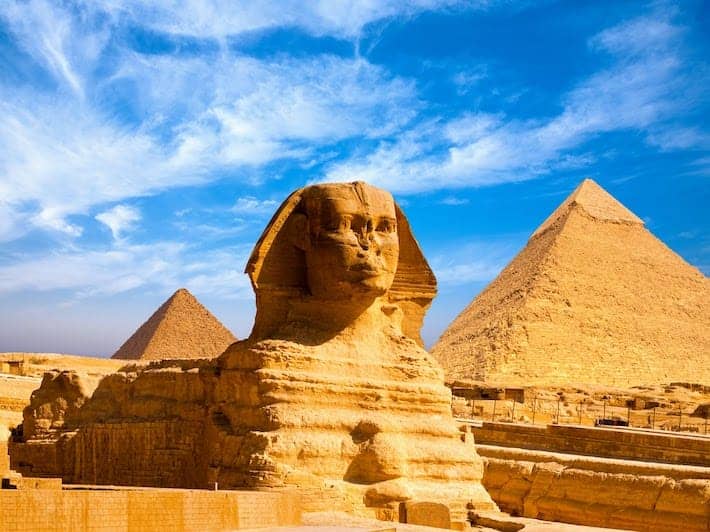 4 Days in Egypt – What to see in Egypt in 4 Days
If you are only going to be in the country for 4 days, then you should try to book a flight that lands quite early in the morning. This would then allow you time to get to your hotel, check in, freshen up, and head out to see one or two attractions such as the Giza Pyramids and the Egyptian Museum. These are the two top tourist attractions in Cairo, Egypt's bustling capital city. If you still have time left in the afternoon or in the early evening, then be sure to visit the city's notorious, Khan El Khalili bazaar.
Next, we would recommend that you book a domestic flight to Luxor since this is where many of Egypt's most famous ancient attractions are located. If, on the other hand, you're going to have an uninterrupted 4 days in Egypt, then you should make a Nile River Cruise your top priority.
4 Days in Egypt with a Nile River Cruise
4-Day Nile Cruises between Aswan and Luxor
With only four days to spare, you will have to settle for a 4-day and 3-night cruise between Aswan and Luxor. With these short Nile River Cruises, your days will begin early and you will spend most of your time visiting various attractions, meaning you won't have very much time for relaxing. Nonetheless, if the main reason for visiting Egypt is to see its ancient wonders, then this is by far and away your best option when you only have 4 days in Egypt.
With a 3-night Nile River cruise you will get to see many of the country's most cherished ancient attractions, including places like:
Providing you book a decent cruise, the price should include not only your accommodation, but also admission tickets to all the archaeological sites you visit, as well as all your meals. We have been in this game for several decades, and we would not recommend that you book a three or four star cruise. Do yourself a favor, spend a little bit more, and book a five-star cruise. With a five-star cruise you will have superb accommodation and excellent meals which are usually a combination of international cuisine as well as authentic Egyptian food.
Your Nile cruise will also include an expert guide who will accompany you to the different ancient sites you visit during your cruise. Not only will you get to see all these magnificent historical sites, but you will also get to learn a great deal about ancient Egyptian history.
Some Nile River cruise itineraries will also include an optional visit to the absolutely breathtaking Abu Simbel Temples. These rock-hewn ancient Egyptian masterpieces were constructed during the reign of Pharaoh Ramses II to serve as lasting monuments to the Pharaoh and his beloved wife Queen Nefertari. Unfortunately, a visit to the Abu Simbel temples is not really possible with a 3-night three / 4-day Nile cruise. Instead, you would need to book a Lake Nasser Cruise, but then you would not get to see all the other sites which have been mentioned above.
Recommended: 4-Day Nile Cruises
What to See in Egypt in 4 Days without a Nile Cruise
4-Day Egypt Tours Packages
If you are only going to have a total of 4 days in Egypt, it won't be possible to book an immersive Nile cruise. However, this certainly doesn't mean you can't have an unforgettable time. You just need to plan your 4-day Egypt tour thoroughly, based on your arrival and departure times.
We would also highly recommend that you contact an experience and reputable Egypt tour operator. If they know that you are only going to have 4 days in Egypt, they will be able to create an itinerary that will allow you to make the most of what little time you have in this fascinating country. You can start planning your trip in 3 easy steps here.
So, what to see in Egypt in 4 days if your schedule does not allow for a Nile cruise? If you ask us, we would say you should try to devote one or two days to sightseeing in Cairo, and if at all possible, devote one day for sightseeing in Luxor.
There is a whole lot more to Cairo than only the Giza Pyramids and the Egyptian Museum. As mentioned earlier, a visit to the centuries-old, Khan El Khalili market is also definitely recommended. 
Giza Pyramids and Downtown Cairo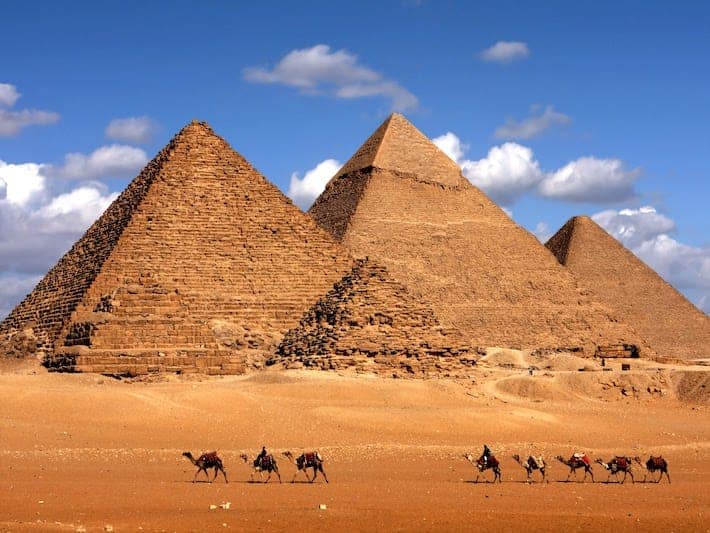 On your first day in Cairo, you could visit the Giza Pyramids in the morning, the Egyptian Museum after lunch, and then round off your day with a stroll around the Khan El Khalili Bazaar. Visiting these three attractions will almost certainly take up most of your day.
Plan on spending at least two or three hours at the pyramids. Add on an extra 30 minutes if you intend going for a camel ride. If you intend entering any of the three pyramids, you should add on another 30 minutes for each pyramid you intend entering.
Depending on what time you finish at the Khan El Khalili bazaar, you could also consider visiting Cairo Tower for some spectacular views of the city and maybe to enjoy a delicious meal. Alternatively, you could go for a short sunset felucca cruise or treat yourself to a mouth-watering Nile River dinner cruise.
Saqqara and the Dahshur Pyramids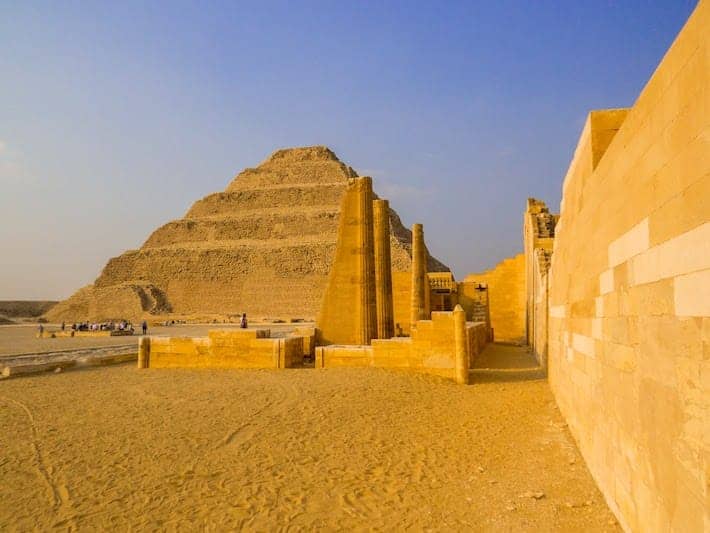 On your second day you could visit the Great Step Pyramid of Pharaoh Djozer at Saqqara which is only about 10 miles from Cairo. This was the very first pyramid ever built by the ancient Egyptians. After having been closed to the public for roughly 14 years due to ongoing restoration work, the pyramid is once again open to members of the public.
Believe us when we say that the interior of the Step Pyramid is far more interesting and fascinating than any of the Giza Pyramids, and entry to the pyramid is included in your admission ticket for the site. 
After visiting the Great Step Pyramid which is the world's oldest major stone structure, you could then visit the ancient Dashur necropolis to see The Red Pyramid and the Bent Pyramid. Both of these huge ancient pyramids are older than the Pyramids at Giza.
While the Giza Pyramids always tend to steal the limelight, the two pyramids at Dahshur are equally as impressive, and their interiors are also far more impressive than the Giza Pyramids. As is the case with the Step Pyramid, your admission ticket for the site includes entry to both of these pyramids.
Day Trip to Luxor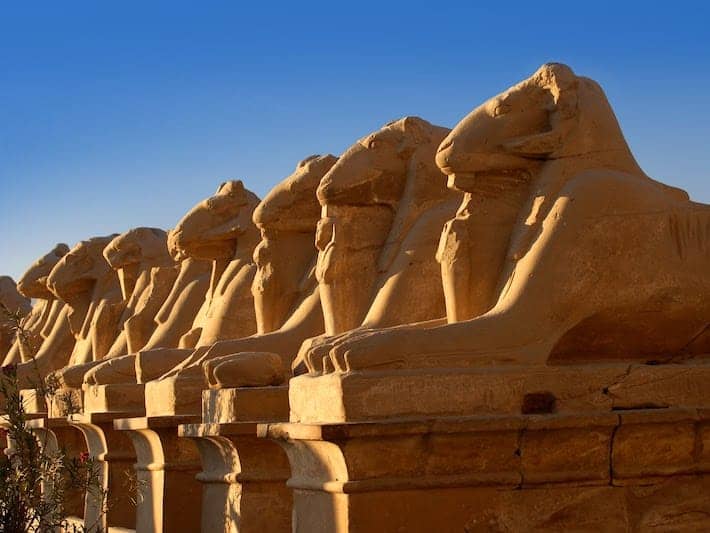 Even if you only have 4 days in Egypt, you should do your absolute best to visit Luxor, and especially if you have an interest in Egypt's ancient monuments, including those mentioned further up the page. If you have spent the first two of your 4 days in Egypt exploring the attractions in and around Cairo, and now you want to go sightseeing in Luxor, you generally have two options:
Your first option would be to take the overnight sleeper train from Cairo to Luxor. This takes care of your accommodation needs for one night, and your ticket will usually include dinner and breakfast. We recommend booking either single or double berth private compartment. In this case, dinner and breakfast will be served in your compartment. If this seems like something you would enjoy, just be sure to make your reservation well in advance.
Your second option would be to take advantage of domestic flights. It really is a matter of personal choice. If you choose to fly, book an early morning flight from Cairo to Luxor so that you have ample time to visit the main attractions on Luxor's East Bank and West Bank before flying back to Cairo in the late afternoon or early evening.
If you can afford it, you should seriously consider booking your Luxor day trip through a professional tour operator so that you don't have to worry about things like making travel arrangements and etc.  
Red Sea Scuba Diving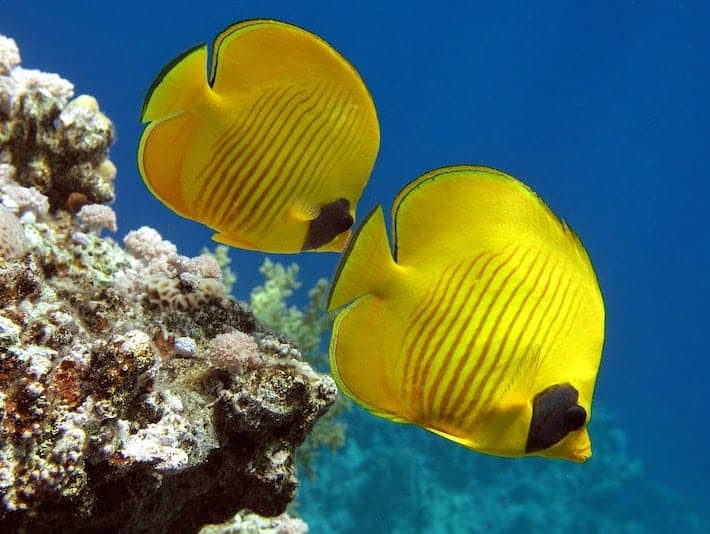 If you ask most people what to see in Egypt in 4 days, they will probably all recommend Egypt's famous ancient sites and other historical attractions such as those mentioned in this post. However, if you are a scuba diving or snorkeling enthusiast, then you may want to skip the main tourist trail and head to the Red Sea coast instead.
Egypt has some of the world's finest scuba diving sites, and nearly all of these are located in close proximity to the country's charming coastal resorts such as Hurghada and Sharm El Sheikh. Of course, with only 4 days in Egypt, you won't have time to do everything you would like to do so you will need to decide what's most important to you.
Making the Most of Your Last Day in Egypt
When you are only able to spend 4 days in Egypt, you will want to make every minute count. Just because your last day has arrived, it doesn't mean that you can't visit a few more sites before you leave, especially if your flight out of Egypt is only later in the day.
You could head back to the Khan El Khalili market or the immensely popular Al-Muizz Street for some last-minute shopping, or alternatively, you could visit a few of the city's other historical sites such as the Cairo Citadel and the beautiful Muhammad Ali Alabaster Mosque.
You could also head to a part of the city known as Coptic Cairo to see places like the famous Hanging Church, and the Coptic Museum. As you may well imagine, 4 days in Egypt really isn't much time at all, and this is why we highly recommend that you get in touch with an experienced Egypt tour operator before you arrive in the country.
4 Days in Egypt with Egypt Tours Plus
At Egypt Tours Plus, we want your 4 days in Egypt to be an amazing trip, with lifelong memories and guaranteed. We also believe that no other tour operator is better equipped than we are to ensure that your 4 days in Egypt will be everything you want them to be, and more.
Find all the information you need on our site about what to see in Egypt in 4 days, or check out our private guided 4-day Egypt tours and/or our 5-Star Nile and Lake Nasser cruises. Alternatively, just let us know what all you want to see and do and we will create a tailor-made tour that fits your needs exactly.
Contact us now to begin planning your 4 days in Egypt, or to book your dream 4-day vacation today.
Design Your Custom Egypt Tour
Explore Egypt your way by selecting only the attractions you want to visit