At Egypt Tours Plus, our 4 Day Egypt Tours have been meticulously planned and crafted specifically for those people who have a burning desire to visit the Land of the Pharaohs, but who only have a very limited amount of time to spare. When you only have a few days to enjoy this incredible country, we can appreciate just how valuable your time is, and how important it is for you that your Egypt short break includes the most interesting and most memorable Egypt tourist attractions during your 4 days in Egypt.
4 Day Egypt Tour Packages
4 Day Egypt Nile Cruises Including Sightseeing Tours
Click here to learn more about our 4 day Egypt tours.
Amazing 4 Day Egypt Tours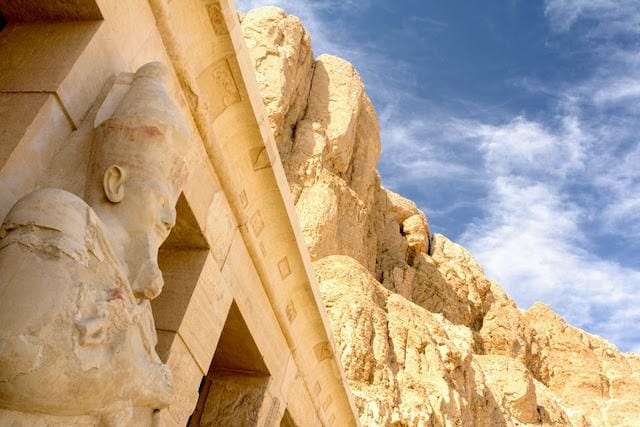 When you book 4 Day Egypt tours and/or cruises through us, you are booking your holiday adventure with an Egypt tour operator that has been offering epic tours of Egypt and beyond for several decades already. With so much experience behind us, we believe that no other tour operator is better equipped than we are to provide you with a 4 day tour in Egypt which you will never forget.
Enjoy Your Egyptian Short Break Your Way
While every effort has been made to ensure that our 4 day Egypt tours feature some of the very best attractions in the country, we also appreciate the fact that every person is unique, and that different people have different needs and requirements. For this reason, all of our Egypt short breaks can be customized to meet the exact needs of our clients.
Alternatively, if you don't see a tour which suits your needs perfectly, we can work with you to create a unique and personalized tour from scratch.
4 Day Egypt Trips: High Quality, Affordable Travel
When you travel to Egypt with us, you can look forward to exceptional quality and unrivaled customer service, from the moment you arrive, to the moment you leave.
Whether you are looking to explore the ancient sites in and around Cairo, or whether you opt for one of our magical Nile River cruises, you can expect 5-Star service every step of the way and the great news is that our Egypt tour packages typically cost around 15% less than the industry standard.
Discover the Best of Cairo and Beyond in 4 Days
When people think of Cairo, they quite often think of a crazy and chaotic city with endless traffic jams and unbearable heat and humidity, but the truth is Cairo and its surroundings has so much to offer, including the world's most iconic ancient monuments, the Great Pyramids and the Sphinx.
While the famous Giza pyramids are usually at the top of everyone's list of must-see attractions, there are other amazing sites just a short distance away, including the fantastic Egyptian Museum which houses the world's largest collection of ancient Egyptian artifacts representing more than 5,000 years of history.
The Egyptian Museum is of course also home to all the treasures and artifacts which were recovered from the tomb of King Tutankhamen when it was discovered in the early 20th century in the Valley of the Kings, an ancient royal necropolis located in Luxor. All these artifacts are part of a permanent exhibition in the museum's Treasures Room, and if that's not enough to whet your appetite, then be sure to visit the museum's Mummies Room as well where you can see real life mummies which are thousands of years old.
Other nearby attractions to include in your 4 day Egypt tour include the famous Hanging Church of Cairo; the Ben Ezra Synagogue; the vast and imposing Cairo Citadel; the Muhammad Ali Alabaster Mosque, and one of Cairo's most charismatic sites, the Khan El Khalili Bazaar which has been open ever since the 14th century.
Moving just a short distance away from Cairo, even more gems are waiting to be explored during your Egypt short break, including Memphis which was the capital of the Old Kingdom, and Saqqara, an ancient burial ground which is home to the first pyramid ever built, the step pyramid of Pharaoh Djoser.
Explore: Cairo Tourist Attractions
Unforgettable 4 Day Nile Cruise Tours
For those who have seen everything there is to see in Cairo, or for those who are looking for a more relaxing type of Egypt short break, a Nile River cruise is guaranteed to be a magical experience. Our 4 day Nile cruises typically run between Luxor and Aswan, and because we only partner with the very best cruise ship operators, you can be sure that you will be cruising the Nile in 5-Star style. With full board and lodging and world-class amenities, a Nile River cruise will leave you with memories you will be able to cherish forever.
In addition to being a thoroughly relaxing experience, our cruises will also see you visiting some of Egypt's most famous sites, including places such as the ancient Temple of Philae in Aswan; the Temple of Sobek and Horus at Kom Ombo; the Temple of Haeroris at Edfu; the sprawling rock-cut mortuary temple of Queen Hatshepsut, and the mystifying Valley of the Kings, an ancient royal necropolis where pharaohs and nobles were laid to rest during the New Kingdom era, including King Ramesses and King Tutankhamen.
Explore:
4 Day Egypt Tours for Everyone
No matter what your preferences are, you will almost certainly find a 4 day Egypt trip that meets your needs perfectly, but if you don't, just let us know and we will tailor an amazing Egypt short break just for you, and when you travel with us, our friendly Expert guides and our highly skilled drivers will be by your side to ensure your trip is as memorable as it possibly can be.
No matter how you look at it, our 4 day trips are an ideal solution if you only have a few days to spare in the country.
FAQ: 4 day Egypt Tours
What to See In Egypt in 4 Days?
For a 4-day stay in Egypt, we would recommend visiting the Giza Pyramids, the Egyptian Museum, and the Step Pyramid at Saqqara, along with a 1-day tour in Luxor for valley of the Kings and Karnak.
Is 4 Days Enough in Egypt?
If you only have 4 days to spare in Egypt, then we would highly recommend booking a 3-night/4-day Nile River cruise from Aswan to Luxor that includes daily guided sightseeing excursions.
Design Your Custom Egypt Tour
Explore Egypt your way by selecting only the attractions you want to visit