Is January a Good Time to visit Egypt?
January is part of the peak tourist season, and also one of the winter months, with wonderfully cool weather, making it an excellent time for exploring the country's archaeological attractions.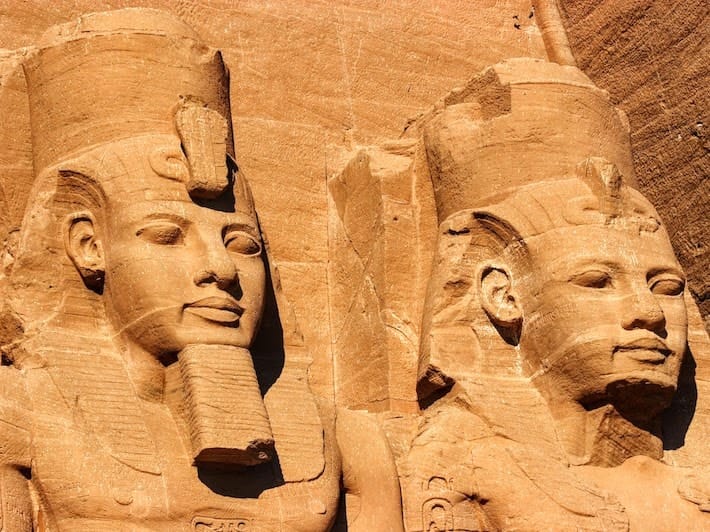 Is January a Good Time to visit Egypt?
With January being in the peak tourist season, you can expect to encounter plenty of other tourists, and especially at major attractions like the Giza Pyramids, Queen Hatshepsut Temple, Valley of the Kings, and the rock-hewn temples of Ramses II at Abu Simbel. These are among Egypt's most popular and most visited archaeological sites and they can get very crowded once the tour buses start to arrive. Despite this, many people still feel that January is one of the best times to visit Egypt.
Recommended: When to visit Egypt?
Egypt Weather in January
Is January a good time to visit Egypt in terms of the weather? As touched on earlier, January is part of Egypt's winter season. It is noted as being Egypt's coldest month and wettest month, but don't expect to encounter any rain unless you visit Alexandria on Egypt's northern coast. The weather, and particularly in Cairo and the Nile Delta region, is typically surprisingly cool. In fact, some people may even find it almost too cool.
In Cairo and most of the Nile Delta region, average daytime temperatures hover around 66°F (about 18.8 °C), while average temperatures in the evenings hover around 46°F (about 7.7 °C). If you head further south, the weather becomes notably warmer, with places like Hurghada and Luxor having average daytime highs of around 70 to 73°F (about 21 to 22.7 °C). While daytime temperatures are higher in this part of the country, the evenings are also cooler than they are in places like Cairo.
If you plan on visiting Egypt in January you should definitely pack in some warm clothing. Light jackets are usually sufficient for during the day, while warm jackets are usually needed in the evenings. You may also want to pack in a hat and a scarf to wear in the evenings.
Despite January being Egypt's wettest month, there is no need to pack in a rain jacket. As mentioned earlier, you may experience occasional rain if you visit Alexandria in the north, but if you do, you can just purchase a cheap poncho while you are there rather than carting around extra luggage which you'll most likely not need.
Occasionally, you do also have storms, and even flooding in Sharm El-Sheikh in Egypt's South Sinai region, but this is quite rare and certainly does not happen every year.
Last but not least, you may well need and/or want heating in your hotel room/s. Many hotels on Egypt's southern coasts don't have any interior heating, so this is something you should inquire about before making any bookings. Again, with delightfully cooler temperatures, January is a great time to visit Egypt.
Design Your Custom Egypt Tour
Explore Egypt your way by selecting only the attractions you want to visit
Costs of a January Holiday in Egypt
With January being in the peak tourist season, it is one of the busiest times in terms of tourist numbers, and everything tends to cost more. Expect to pay peak season rates for everything, including hotel accommodation, private Egypt tours, Nile River cruises, and even flight tickets to and from Egypt.
If you choose to visit in January, don't expect to find the same discounted deals that you would find if you visit during the low season, and especially if you were to visit during the hot summer months. Hotels, and particularly high-end hotels at beach resorts like Hurghada and Sharm El-Sheikh tend to charge significantly higher rates during the peak season, and especially during the Christmas and New Year holiday period.
Again, January is a perfect time to visit Egypt, but it is not the cheapest time to visit. If you are planning to visit Egypt in January and you want to avoid inflated prices, it is imperative that you book flights, tours, and/or Nile River cruises well in advance.
Most Egypt tour operators will accept reservations several months in advance, but reservations are only formalized once you pay the stipulated deposit. Most of the bigger and more well-established tour operators require a deposit equivalent to 25% of the total tour price, especially during the Christmas and New Year holiday period. Once this deposit has been paid, you are effectively shielded from any future price increases.
Again, anyone looking to visit Egypt in December or January should book their flights and tours, and pay the required deposits well in advance in order to secure the best possible deals
Tourist Crowds
As mentioned briefly before, many people see January as being an ideal time to visit the Land of the Pharaohs. This means you are likely to encounter sizeable crowds of tourist, especially at major tourist attractions like the Giza Pyramids, Karnak Temple, Luxor Temple, Hatshepsut Temple, Valley of the Kings, and at the Abu Simbel Temple complex. This is not necessarily a bad thing because it is a great opportunity for people-watching, and also for meeting new people.
By contrast, most of Egypt's most popular historical sites are more or less deserted during the hottest months of the year, but the heat can be almost unbearable, and the overall atmosphere is nowhere near as lively as it is in January. If crowds aren't your thing, just try to visit the most popular tourist sites early in the morning before the tour buses start arriving, or later in the afternoon after most of the tour buses have left.
Where to Go and what to Do In January
Is January a good time to visit Egypt if you want to explore all parts of the country? Yes, definitely. In January, the entire country enjoys cool and pleasant weather with average daytime highs ranging from 60 to 70°F. This is ideal for exploring Egypt's many ancient sites and for enjoying some leisure and relaxation at one of Egypt's southern coastal resorts like Hurghada or Sharm El-Sheikh.
Abu Simbel, Hurghada, Sharm El-Sheikh and Dahab are all great places to visit in January thanks to the comfortable temperatures at this time of the year. The cooler weather at this time of the year is also perfect for enjoying outdoor activities such as camel trekking and/or quad bike rides in the desert.
Book Your Once in a Lifetime Trip to Egypt Today
Is January a good time to visit Egypt? It absolutely is, and if you are thinking about visiting this fascinating country in January, we have a wide range of private guided Egypt tour packages that feature all of the country's top archaeological sites and more. We also have an excellent selection of high quality Christmas and New Year Egypt holidays with affordable prices, and lifelong memories guaranteed.
With roughly half a million tours already sold, you can book your vacation and travel with complete confidence and total peace of mind.
Design Your Custom Egypt Tour
Explore Egypt and the Middle East your way by selecting only the attractions you want to visit