A fast growing Red Sea Resort town, Hurghada, Egypt is popular with locals, especially those from Cairo, and international tourists alike. It is now one of the most visited Red Sea resort towns in Egypt. It should come as no surprise then that Hurghada now features in several of our pre-packaged Egypt tour packages.
Hurghada is very much a family-friendly destination because it has lots to see and do for people of all ages. It is also incredibly popular among scuba diving enthusiasts thanks to its many world-class dive sites and diving facilities. All round, it's a great place to visit, and especially after you have enjoyed a few days cruising down the Nile.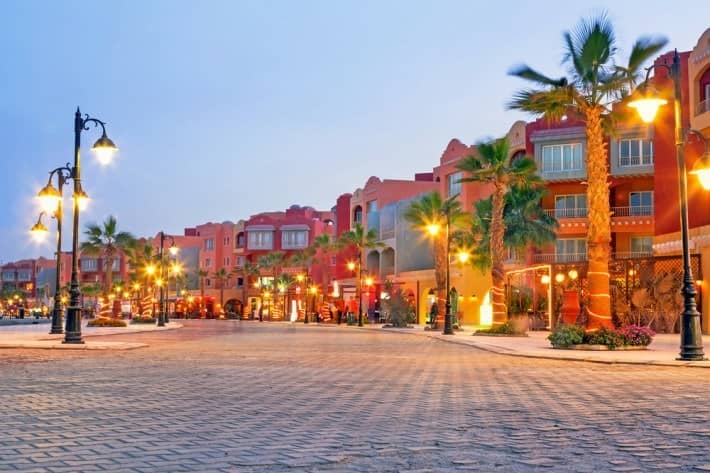 → Click here to find the ultimate guide to Egypt vacations
Activities in Hurghada, Egypt
Hurghada in Egypt, the foremost tourist destination on the Red Sea Riviera, was until only a few years ago nothing but another small fishing village. Now it is an international hub for all kinds of water sports. Whatever your preference in aquatic activities, you will find it here, including:
windsurfing
sailing
deep-sea fishing
swimming
and, above all, snorkeling and diving
In Hurghdada, Egypt you will find many comfortable and unique accomodation options, all offering efficient, personal service. There are also several wonderful reataurants, all located along the main thoroughfare.
Most important, the waters are always warm and crystal clear, ideal for observing the many varieties of rare fish and coral reefs. Whether snorkling, scuba diving or just gazing through the clear panel of a glass bottomed boat, the sights never cease to amaze. And, just a short trip offshore lie some of the most beautiful and unique underwater gardens in the world.
If you'd rather not venture into the water, you can check out places like the local aquarium and museum. They feature complete collections representing all the local Red Sea plants and animals.
Design Your Custom Egypt Tour
Explore Egypt your way by selecting only the attractions you want to visit
Hurghada, Egypt by Night
And there's more. Do you like to party? Well, the locals (and others) will confirm that life really begins after dark in Hurghada Egypt. It has become a real "party town."
Young people are the primary clientele of the many clubs to be found there, but whatever your age there is plenty of entertainment available. You might very well see visitors from a particular tour group have taken over the action at any given bar. And, there is no problem finding the clubs – they are right along the same main street as all the hotels. Nightlife in Hurghada is raving.
The Beach Resorts
Thousands of Europeans return again and again to enjoy the sun and private resort beaches with their families. In fact, some of the more exclusive resorts are all-inclusive. Many of these hotels offer so many amenities and activities that you may never want to leave the resort itself. These amenities can include playgrounds, discos, bars, a number of pools, small theaters, and even zoos.
Even with all their tourist amenities, Hurghada Egypt is a city still very much under development. Construction of many new hotels is under way, and I expect we will be treated to some great new hotels, restaurants, and other facilities in the near future.
Generally speaking, the Hurghada area is one of the busiest in the Red Sea region. Safaga is just to the south of Hurghada Egypt, and Soma Bay (with its gorgeous Sheraton Hotel) is even closer to the south. To the north is El Gouna, another highly organized and beautiful resort community.
Combined, these resorts and communities offer virtually everything a visitor could want, from wild, swinging parties to isolated scuba diving, with the options of a round of golf, bowling, or fishing in between. Another choice is to take a day trip to the Red Sea Mountains. You can opt to travel by jeep or camel.
If you want to see and explore some of the most famous historical tourist attractions in Egypt during your trip, we suggest doing it before you visit Hurghada. The best way to do this is by way of a Nile cruise, or better still, a dahabiya Nile cruise.
Islands near Hurghada, Egypt
Islands near Hurghada offer all kinds of fun and excitement.
How does a little snorkeling followed by a fresh fish barbecue dinner sound? Take a day trip to Giftun Island. Or, how about viewing the Red Sea from a submarine!? And, when you're not in or on the sea, you can shop the boutiques, relax in the luxury holiday villages, or visit the Roman Mons Porphyrites (mountain of porphyry) remains at nearby Gebel Abu Dukhan (Father of Smoke).
Other nearby islands and destinations include:
The Shadwan Island (diving, snorkeling, fishing, but no swimming)
Shaab Abu Shiban (diving, snorkeling, and swimming)
Shaab el-Erg (diving, fishing, and snorkeling)
Umm Gammar Island (diving and snorkeling)
Shasb Saghir Umm Gammae (diving)
Careless Reef (diving)
Abu Ramada Island (diving)
Shaab Abu Ramada (fishing)
Dishet el-Dhaba (beaches and swimming)
Shaab Abu Hashish (beaches, diving, snorkeling, swimming, and fishing)
Sharm el-Arab (diving, swimming, and fishing)
Abu Minqar Island (beaches and swimming).
All are well worth your time. Enjoy!
Amazing Ancient Egypt Tours
Explore the best of Egypt. Find and book your dream Egypt guided tour today.
Design Your Custom Egypt Tour
Explore Egypt your way by selecting only the attractions you want to visit
Country Specific Egypt Tour Information
Looking for more information before you decide? We have a specific international guide covering the most important points you need to be aware of before traveling to Egypt.