Sharm El Sheikh, Egypt is the premier resort town in Egypt. Great diving and wonderful Sharm El Sheikh Tours are always available right here on our site, along with a fantastic variety of other high quality Egypt tour packages  and epic Nile cruise holidays.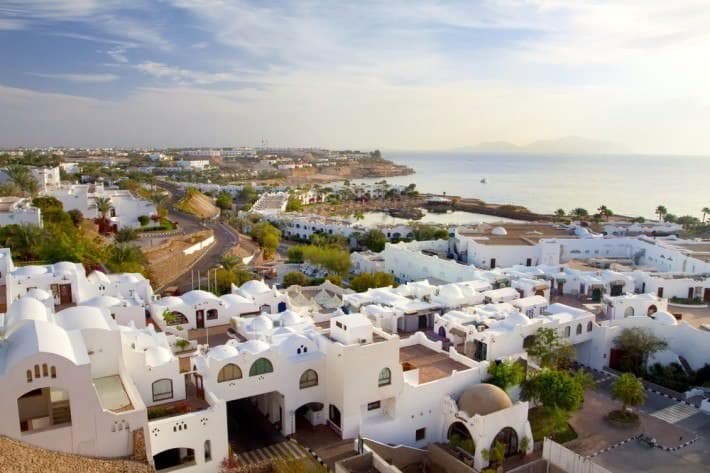 Sharm El Sheikh, Egypt
If you had visited Sharm El Sheikh in Egypt anytime prior to about 1968, all you would have found was peaceful, little fishing village. Now it is one of Egypt's most popular beach resorts. In fact, Sharm is the number one tourist destination in all the Sinai.
Design Your Custom Egypt Tour
Explore Egypt your way by selecting only the attractions you want to visit
Why is Sharm so Popular?
First, it can be enjoyed year-round. Yes, it can get a bit hot in the summer time, but it is also quite warm and pleasant for the rest of the year. Also, Sharm El Sheikh Egypt boasts an international airport that handles many international charters as well as private filghts.
Next, you can find some of the most beautiful and amazing underwater scenery anywhere in the world. Beneath the crystal clear waters at the tip of the Sinai between Ras Mohammed Park and Tiran Island, swim an incredible variety of exotic fish, surrounded by some of the most gorgeous coral reefs anywhere.
Best of all, you can see much of this undersea beauty with merely a snorkle and a set of flippers. If you'd prefer to really immerse yourself in the scene, you will also have access to some of the most popular dive sites in the Red Sea. In fact, just to the south of Sharm is one of Egypt's most beautiful and oldest underwater protectorates, Ras Mohammed.
Sharm El Sheikh Egypt is a diver's paradise. You will find top-notch dive shops, centers, and charters, along with every other possible amenity, most operated by Europeans and offering excellent instruction.
Plus, Sharm El Sheikh Egypt offers all the natural beauty of the Sinai itself. There are many towering mountains and deep valleys dotting its national park system. In the area you will also find more traditional tourist attractions such as a major shopping mall and St. Catherine's Monastery.
Explore: Sinai Attractions
More than Beaches, Sea, and Landscape
But there is much more to Sharm El Sheikh Egypt than just the beaches, sea, and landscape.
The area is very well developed; its refined facilities seem more European than Egyptian. Accommodations run the gamut from five-star hotels to more budget-oriented. In fact, Sharm is a very popular destination for budget-conscious Europeans, being quite an inexpensive alternative to other, more costly beach resorts found elsewhere.
It's small wonder the area is so popular. One can find just about every vacation activity a person might want. Virtually every water sport known to man can be found here. You can also go horseback riding or take a spin in a four-wheeler in the neighboring desert. You can golf, bowl, and bungee jump and even go ice skating! And don't worry about your children. Sharm provides endless activities to keep them busily occupied and happy.
The evening is when Sharm really shines. With its wide variety of floorshows and other entertainment all along the boardwalk between the hotels and the sea, you will almost think you're in Las Vegas. During the course of an evening stroll, you will hear people speaking languages from all over the world.
Sharm El Sheikh Tours
The Three Main Areas
Sharm el-Sheikh Egypt consists of three main areas:
The old town Sharm el Maya (Moya), and its bay
A number of other bays, where most of the tourist facilities are located (though in fact some very fine resorts are located elsewhere)
El Hadaba, with its vacation villas, apartments, condominiums, and a few hotels
Sharm's downtown area is extremely popular. Though not that large an area, there are many restaurants and nightspots to be found, among them a Hard Rock Café and several of the more well-known fast food outlets. There are banks and other facilities as well as three hospitals. It is also here that you will find the local bazaar (suq). This is also where the main marina is located, with its diving and fishing boat jetties.
Finally, the only problem is how to adequately describe all the intellectual and sensory delights to be found at Sharm el-Sheikh. There is extravagant entertainment, as noted, and also numerous natural wonders, as well as the fascinating historic sites of the Sinai. Sharm is a purely a tourist town, with scant other raison d'ete.
Sharm El Sheikh Egypt really is one of those places where wonderful memories are made, and your dreams just might come true.
Design Your Custom Egypt Tour
Explore Egypt your way by selecting only the attractions you want to visit
Amazing Ancient Egypt Tours
Explore the best of Egypt. Find and book your dream trip today.
Country Specific Egypt Tour Information
Looking for more information before you decide? We have a specific international guide covering the most important points you need to be aware of before traveling to Egypt.