Black Desert Tours – Discover The Isolation Of Naked Egypt
Black Desert Tours allow you to experience naked Egypt and a mysterious sense of perfect isolation where even the sound of your thoughts can be deafening. Travelers will also experience some incredible scenery in this remarkable region surrounded by pale desert sands.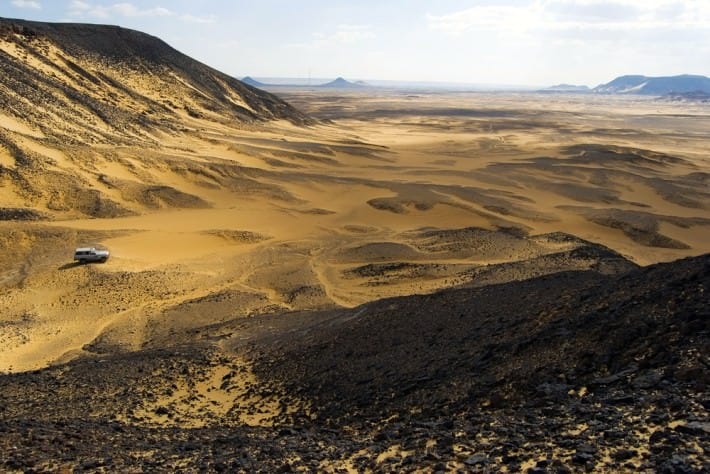 Though the land of Egypt is usually viewed as a "desert" country, full of sand and sun, in fact it is a far more colorful location than most believe. There is the "red land" of Egypt, named by the ancients and referring to the deserts that surrounded them.
There is also the "black land" of Egypt, named for the fertile soil deposits that the precious Nile River yields each year. There is the Red Sea, the White Desert and the Black Desert as well.
Black Desert Tours, Egypt
The Black Desert lays near the popular Bahariya and Farafra Oases and is frequently included on many Egypt desert tours. The area is not as it sounds however, for the Black Desert, Egypt is an otherworldly landscape of volcanic cones of orange sand seemingly frosted by several layers of black stone.
Black Desert tours are especially popular among photographers who love the contrasts of the Black Desert, especially because the sandy surface is not hard and compacted like other dune areas, but soft and rounded. This provides them with some remarkable contours and effects in light and shadow to capture during their visit.
Arrange Black Desert Tours Carefully
Black Desert tours must be carefully arranged because the entire region is very isolated and totally uninhabited. Most visitors will depart from one of the two nearby oases as part of a longer day trip, which can also include the White Desert or Crystal Mountain which are also in the same region.
Additionally, it is a good idea to arrange a visit to the Black Desert with a knowledgeable local guide or service if you are travelling with a company that doesn't supply a profession personal guide. The area can be confusing to someone unfamiliar with the terrain, and a sturdy vehicle and ample supplies are necessary for the trip.
It is also important to remember that all visitors who go on Black Desert tours are encouraged to be ever mindful of what they bring into and take away from the area. Guides are usually incredibly vigilant about leaving behind no traces of a visit to this fascinating, unique and beautiful area. Reserve your Egypt desert tour adventure right now, and explore the unspoiled beauty that awaits you.
Design Your Custom Egypt Tour
Explore Egypt your way by selecting only the attractions you want to visit