8 Days in Egypt – What to see in Egypt in 8 Days
If you are only going to have 8 days in Egypt, you won't be able to see all of the country's historical sites, but you will be able to see many of the best and most famous archaeological attractions. However, you should seriously consider booking a professionally designed 8-day Egypt tour package that includes professional guides, drivers and transport. If your budget allows for it, you should also consider booking a Nile River cruise or a tour package that includes a cruise. 
8 Days in Egypt: What to see in Egypt in 8 Days
Since you are only going to be in the country for a relatively short time, you're probably wondering what to see in Egypt in 8 days. The truth is, if you plan your trip carefully or if you book a good package tour, you can see an awful lot during your 8 days in Egypt.
Read on to learn everything you need to know.
Arriving in Egypt
Most tour operators don't include any sightseeing on the day you arrive in Egypt. Many people are simply not interested in sightseeing after spending hours on an airplane, while others arrive too late in the day. However, most good tour operators are more than happy to customize their travel itineraries based on your individual circumstances. 
If you are going to be arriving in Cairo early in the morning, it would be a shame to waste the entire day sitting around at your hotel when you could instead to be out sightseeing. If on the other hand you are only going to be arriving Cairo International Airport in the afternoon, then it would be better for you to postpone sightseeing until the following day after you have had a good night's rest.
What to See in Cairo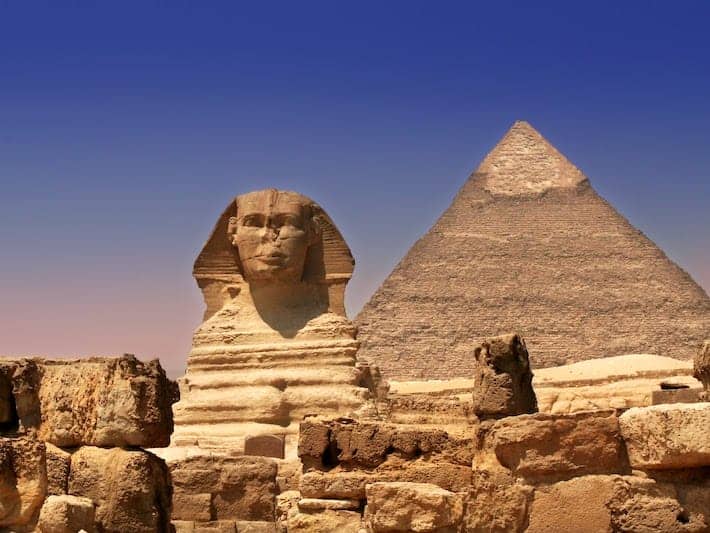 There is so much to see and do in Cairo, but when you only have 8 days in Egypt, you will want to focus on the best attractions only, such as the legendary Giza Pyramids and the Sphinx. The Egyptian Museum and the Khan el Khalili Bazaar are two more attractions which you should definitely try to visit while you are in Cairo. You will find these three attractions featured in many Egypt tour packages, including most of our own  8 day Egypt tours.
Some 8-day itineraries also include a visit to the Step Pyramid. This was the very first pyramid built by the ancient Egyptians, and it is located at the Saqqara necropolis, only a short drive from Cairo. As is the case with the Giza Pyramids, the Step Pyramid is also open to the public, meaning that you can actually go inside.
What to See if your 8 days in Egypt include a Nile Cruise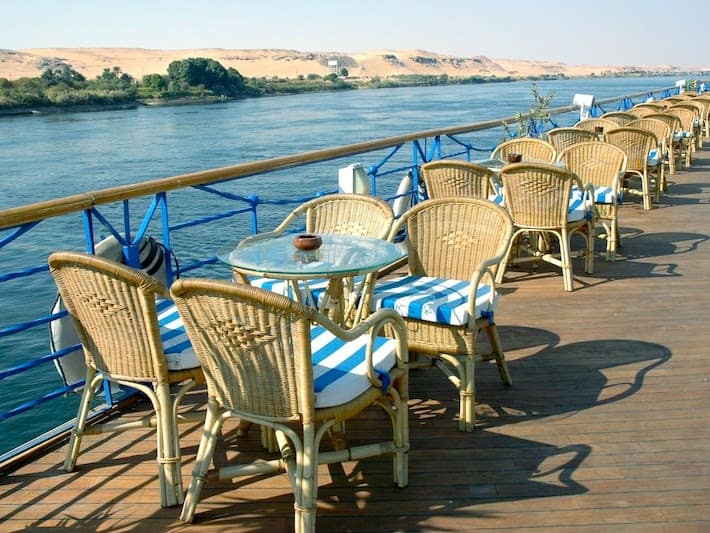 If your budget allows for it, we would highly recommend that you look for a good Cairo & Nile cruise tour package, such as our 8-day Cairo to Abu Simbel Tour with Nile Cruise package. Most of the large Nile River cruise boats follow the same route, but most Nile cruises do not include a visit to the Abu Simbel Temples. These two massive rock-hewn temples were constructed during the reign of Pharaoh Ramses II. 
If you were only going to be in Egypt for 3 or 4 days then we probably wouldn't recommend a visit to the temples of Ramses II because you need to set aside at least 8 to 10 hours to visit the site from Aswan. However, if you have 8 days in Egypt then this is one site which you really don't want to miss. 
With the tour package we've referenced above, you will spend the first two nights of your vacation in Cairo. On your second day you will be taken to see the sites we've already mentioned, and then on the third day you will board an early morning flight to Aswan. Shortly after you arrive, you will enjoy a private guided tour to three of the area's most popular attractions: the Aswan High Dam, the Unfinished Obelisk, and the breathtaking Philae Temple.
With a typical Aswan to Luxor Nile cruise, you would visit the above mentioned attractions shortly after boarding your cruise. However, because the above referenced tour package includes a visit to the magnificent Abu Simbel temples; we take you to see these sites on the day you arrive in Aswan. While most of the other passengers on your Nile Cruise are visiting the sites in Aswan the following day, you will be visiting the Abu Simbel temples instead. It is only when you return from Abu Simbel that we take you to board your five star Nile Cruise. You then have the remainder of the day to relax on board the cruise ship.
Kom Ombo Sightseeing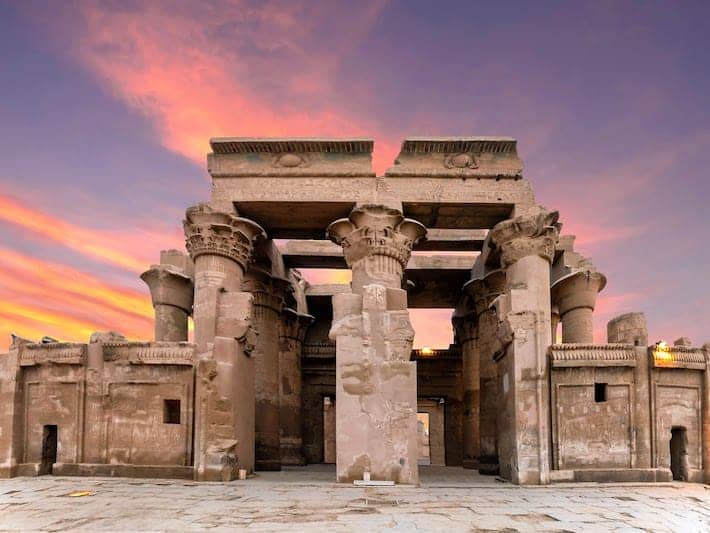 As we have already said, providing your book your tour package through a reputable tour operator, you won't even need to worry about what to see in Egypt in eight days. Trust us, you will be seeing many of the country's most famous and most cherished ancient monuments.
Once your cruise ship departs from Aswan, your next stop will be at Kom Ombo to see an ancient twin temple complex. This is the only twin temple complex ever discovered in Egypt. They are literally two identical temples with one being a mirror image of the other. The reason for this was because the site was dedicated to two different Egyptian gods. Both structures had to be identical so as not to offend either one of these two gods.
Edfu Sightseeing
When you only have 8 days in Egypt you want every day to be an unforgettable day, and today is going to be exactly that. Once your cruise ship docks at Edfu, your Egyptologist guide is going to take you and a small group of other passengers to see the absolutely amazing Edfu Temple. Also known as the Temple of Horus, this is Egypt's best preserved temple. The level of preservation is absolutely staggering.
Depending on what Nile cruise itinerary you have chosen, you may be taken to see this temple on a horse-drawn carriage that picks you up from your cruise ship and drops you off again afterwards. This is a great way to see traditional village life and also to interact with some of the locals.
Luxor Sightseeing
Anyone who is wondering what to see in Egypt in 8 days need look no further than Luxor. Even if you have no intention of going for a Nile River cruise during your 8 days in Egypt, you really need to visit Luxor. The area is home to many of Egypt most amazing ancient monuments.
Most regular five-star Nile cruises will see you visiting at least five ancient sites, accompanied by an Egyptologist guide. Depending on your chosen cruise itinerary, you may visit the East Bank and the West Bank on the same day. However, with many itineraries you will visit the East Bank one day and the West Bank the following day.
Luxor East Bank
During your guided tour to the East Bank, you will typically visit Luxor Temple and the sprawling Karnak Temple complex. Luxor Temple and Karnak Temple are within easy walking distance from each other so you can stroll from one to the other via the now fully restored Avenue of the Sphinxes.
Karnak Temple was constructed over a period spanning more than 2,000 years, and it was the largest place of worship ever built by mankind. It is the second most visited ancient site In Egypt, second only to the Pyramids of Giza. You could literally spend a few days exploring this vast site, but when you only have 8 days in Egypt, this is not really an option.
Luxor West Bank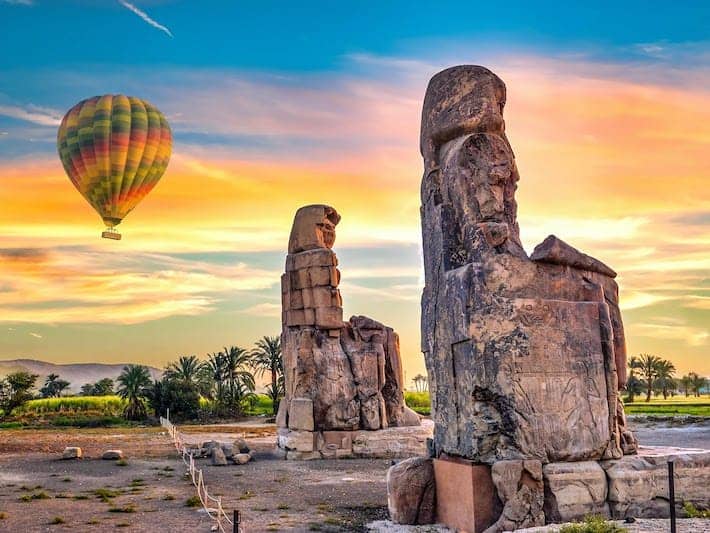 Most mainstream 5-star cruises will include a visit to three historical monuments on the West Bank in Luxor: Valley of Kings, Hatshepsut Temple, and the Colossi of Memnon. The Valley of Kings and the mortuary temple of Queen Hatshepsut in particular should be high up on everyone's list of must see attractions even if they don't want to go for a cruise on the River Nile.
The Mortuary Temple of Queen Hatshepsut is considered to be one of the "Incomparable Monuments of Ancient Egypt". It is usually the Valley of the Kings that steals the show, not least because it is home to more than 60 royal tombs, including the tomb of King Tutankhamun. Many of these tombs are open to the public although additional tickets are required in order to enter some of them.
What to See in Egypt in 8 Days without a Nile Cruise
You can visit all the same fascinating sites which have been mentioned in this post even without a Nile river cruise. If your budget does not allow for a cruise, or you simply don't want to go for it cruise, but you want to see all the same great sites which we have already mentioned, be sure to check out our 8 Day Cairo, Luxor, Aswan, Abu Simbel Tour.
The above mentioned tour is a private tour that includes your own private guides, drivers, deluxe air condition vehicles and excellent hotel accommodation. It also includes two overnight train journeys and an optional day tour to Alexandria. If overnight train journeys are not your thing, you can also upgrade to domestic flights.
We also have a number of other eight-day itineraries listed on our website along with several 8-day Nile River cruises. All of our tour itineraries can be customized to suit your individual needs, but for obvious reasons, Nile cruise itineraries cannot be customized.
Why Book a Tour for Your 8 Days in Egypt
If you are wondering what to see in Egypt in 8 days, you may also be wondering why it's even necessary to book a professionally designed tour package. Since we are in the business of selling package tours, our opinion is obviously going to be somewhat biased. However, as millions of people will attest to, Egypt is not the sort of country where you can just wing it on your own, and especially not if you want to get the most out of your 8 days in Egypt.
Sure, you can visit all of the attractions mentioned in this post by road, making use of public transport and taxis. However, this can be very time consuming and in all likelihood you will not be able to visit all of the sites mentioned in this post during your 8 days in Egypt if you relying on public transport and taxis.
Independent travel in Egypt can also be extremely frustrating, and even more so if you cannot speak Arabic, bearing in mind that very few Egyptians can speak English. Getting on the wrong bus because you weren't able to communicate with any of the locals could end up costing you half a day or more of your time. Tipping and constant haggling can also leave you feeling absolutely exhausted by the end of each day.
Do yourself a favor and book a good quality Cairo & Nile Cruise tour package. Alternatively, you can book multiple tours. For example, you could book a private guided tour in Cairo, another private guided tour in Luxor, etc. Believe us when we say that each and every ancient site throughout Egypt is so much more fun and so much more enjoyable when you have an expert tour guide with you.
In our opinion, you should at the very least book a Nile River Cruise if your budget allows for it. A good quality five star cruise is hands down the very best way to truly experience the wonders of ancient Egypt. Not only will you have a truly amazing experience, but you will also leave Egypt with lifelong memories, guaranteed!
A Short Beach Holiday on the Red Sea Coast
Is 8 days in Egypt enough time to also be able to enjoy a few days on the beach? Absolutely! You could spend one or two days sightseeing in Cairo before traveling to Aswan for a three night Nile river cruise, after which you could spend one or two days relaxing on the Red Sea coast at a place like Sharm El Sheikh. You could even squeeze in some scuba diving at some of the world's finest dive sites.
While all of this is possible with 8 days in agent, they are probably not going to be the most relaxing 8 days of your life. What to see in Egypt in 8 days really depends on your personal travel style, but sometimes it is best not to try and cram too much into your schedule. 
Visit Egypt with Absolute Peace of Mind
At Egypt Tours Plus, we believe that nobody is as well-equipped as we are to make travel dreams come true. As proud recipients of Tripadvisor's "Travelers' Choice Award" 2020, 2021, and 2022, and with nearly half a million tours already sold, you can book your trip to the Land of the Pharaohs with absolute confidence and total peace of mind.
Contact us now to find out more about what to see in Egypt in 8 days, or to book your dream 8 days in Egypt vacation today.
Design Your Custom Egypt Tour
Explore Egypt your way by selecting only the attractions you want to visit