New Library Of Alexandria – More Than A Stunning World Of Books
While the New Library of Alexandria will be never be able to well and truly replace the original Royal Library of Alexandria, it is definitely a place worth visiting.
The Bibliotheca Alexandrina, also known as the New Library of Alexandria is located very close to where the original Royal Library of Alexandria once stood before being totally destroyed. The new library is without question a fitting tribute to what was once the world's most valuable library.
When the world lost the old library, we quite literally lost a huge chunk of history since the library was home to most of the world's oldest manuscripts; books dating back thousands of years. There are many theories and much speculation as to how and/or why the original library burned down, but no real evidence to support any of the theories.
→ Click here to explore ALL 127 Egypt tourist attractions
New Library Of Alexandria – An Educational Goliath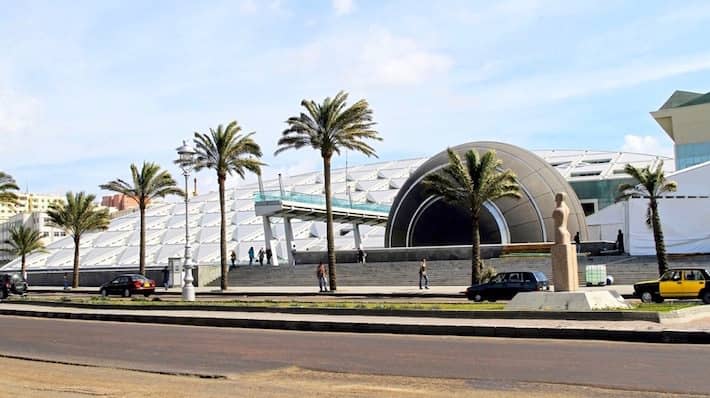 Construction of the new library began in 1995 and it was officially opened seven years later in 2002. The building as it stands today is well and truly a masterpiece, and definitely worth a visit even if you have no interest in reading any books. The library has received countless donations in the form of books, manuscripts and other forms of valuable historical records.
The library which was designed to hold around eight million books is essentially home to several individual libraries, along with a conference center, lecture rooms and etc. The main reading room alone covers an area of 70,000.
There is also a special library for the blind and a separate library for children. In addition to all this, the New Library of Alexandria is also home to four art galleries for temporary exhibitions; fifteen permanent exhibitions; a planetarium and a sophisticated laboratory for repairing manuscripts.
New Library Of Alexandria – An Architectural Masterpiece
From an architectural point of view, the New Library of Alexandria is truly a striking four story building. The roof of the building also has a large glass paneled section representing a sundial which has a diameter of 160 meters. This glass sundial is located directly over the library's main reading room, 32 meters below.
The walls are made from gray Aswan granite and feature carvings representing 120 different scripts. No amount of words can accurately describe the New Library in Alexandria, so anyone visiting the city should seriously try to visit the venue in person.
The Bibliotheca Alexandrina is a great source of pride for Egypt, and it's been recognized internationally as a place educational excellence. It should come as no surprise that the library even has a "book print on demand" facility which can be used by those visiting the library. You can explore their website here.
Since the New Library of Alexandria is not one of Egypt's famous ancient attractions, it is often not included in Egypt tour packages. As such, if you would like to visit the library during your stay in Alexandria, it's definitely advisable to discuss this with a consultant when you book your tour.
Design Your Custom Egypt Tour
Explore Egypt your way by selecting only the attractions you want to visit
Amazing Ancient Egypt Tours
Explore the best of Alexandria and Egypt. Find and book your dream trip today.
Country Specific Egypt Tour Information
Looking for more Egypt travel information before you decide? We have a specific international guide covering the most important points you need to be aware of before traveling to Egypt.