Do You Need a Visa to Travel to Egypt?
The citizens of nearly every country in the world are required to have a valid visa for entering Egypt. In addition to a visa, you need a valid passport with at least six months validity remaining.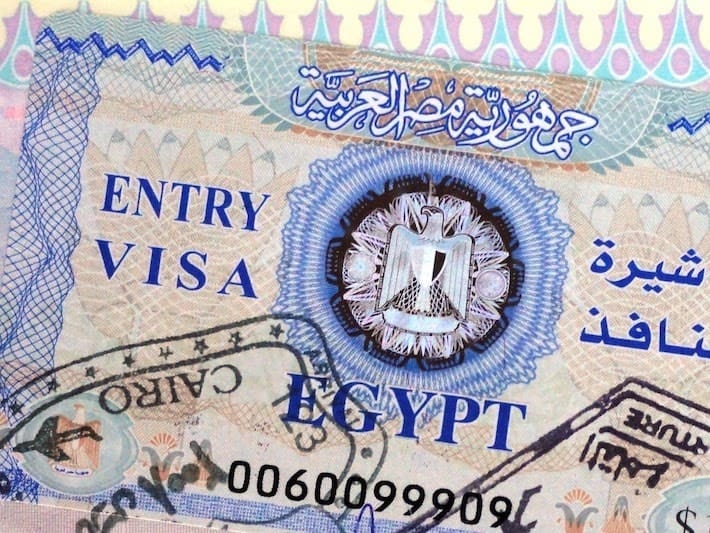 Do You Need a Visa to Travel to Egypt?
In this post, we will be looking at Egypt's entry requirements, and the process for obtaining entry visas for Egypt. We will also look at which nationalities don't need an Egyptian visa and if there are any specific conditions that apply.
Who can Visit Egypt without a Visa?
There are only 10 countries and territories that have a special visa arrangement with Egypt. This special arrangement allows their citizens to visit Egypt without a visa, but in some cases, special conditions may apply. Citizens from the following 10 countries and territories can visit without a visa, with most being allowed to enter the country for up to 90 days:
Bahrain
Hong Kong
Israel (14 days and only to Sinai Resorts)
Kuwait
Lebanon
Macao
Oman
Saudi Arabia
United Arab Emirates
Malaysia (14 days)
So, do you need a visa to travel to Egypt? If you are not a citizen of one of the above mentioned countries or territories, then yes, you need a visa if you want to visit the Land of the Pharaohs.
3 Ways to Obtain your Egypt Visa
There are three ways you can obtain your visa for Egypt: 
You can apply for a visa at an Egyptian embassy or consular office
You can apply for a visa on arrival at any international airport in the country
You can apply online prior to travelling to Egypt.

 
However, not all nationalities are eligible for an Egypt visa on arrival or an online e-Visa, in which case they will need to apply for their visa at an Egyptian embassy.
1. Applying at an Egyptian Embassy or Consular Office
This is by far the least convenient way of applying for Egypt visa. Unfortunately, the citizens of around 130 countries must get an Egypt visa in advance, prior to visiting the country. All non-tourist visas must also be applied for at an Egyptian embassy.
In addition to a valid passport, those applying for a visa through an embassy will need to provide additional documentation. The type of documentation needed varies, depending of a number of different factors, including your nationality, the purpose of your visit, and the duration of your planned stay.
For some nationalities, the amount of additional travel documents may seem excessive, but don't blame the embassy personnel. They are just doing their jobs and following the rules.
Last but not least, if you need to obtain your visa through an embassy, we highly recommend submitting your application well in advance of your planned departure date. Keep in mind that it can take several weeks for your application to be processed.
2. Applying for a Visa-on-Arrival
The citizens of around 70 different countries and territories can get a valid visitor visa on arrival at any of Egypt's international airports. Theoretically, you should be able to get an entry visa on arrival at any international port or border crossing, but in reality, this simply isn't the case.
To obtain your visa on arrival at the airport, join the queue at a bank kiosk before you reach the immigration desks. You will need to show your passport with at least two blank pages, and complete a visa application form. You may also be asked to show one or two other travel documents, such as proof of onward travel.
Once your application has been approved you will be given a sticker which you then hand to an officer at one of the immigration desks. The sticker will be stuck to one of the blank pages in your passport and you will then be free to enter Egypt.
It should be noted that a visa on arrival is a single-entry tourist visa that allows you to remain in the country for up to 30 days. The visa fee must be paid in cash. Credit card and debit card payments are not accepted. As of the time of writing, a visa-on-arrival cost $25.
Be warned, the queues at the bank kiosks can be very long, especially during the peak tourist season from December to February. Also note that if for some reason you are denied a visa, you will not be allowed into the country, and you will either need to have your return flight date amended or you will need to purchase a new flight ticket.
3. Applying for an Online E-Visa
Citizens who are eligible for a visa-on-arrival are also eligible for an Egypt online e-Visa. If you are going to be traveling to Egypt for tourism purposes, this is the most convenient way to obtain your visa.
Simply visit the official Egypt e-Visa Portal and set up an account. Once done, log into your account apply for your visa following the on-screen instructions. It really is that easy. Once you have submitted your application and you have paid the visa fee, your application will typically be processed in less than 7 days, and sometimes even on the same day.
If your application is successful you will then be able to download and print your visa. When you land in Egypt, just head directly to the immigration desks and you hand your printed visa to one of the officers. Single-Entry and Multi-Entry tourist visas are available, and cost $25 and $60 respectively.
Design Your Custom Egypt Tour
Explore Egypt your way by selecting only the attractions you want to visit
Sharm El Sheikh and Sinai Resorts
Do you need a visa to travel to Egypt if you are only going to be staying in Sharm El-Sheikh in South Sinai? The citizens of all European Union countries, the UK, the USA, and Israel can visit the Sinai Peninsular for up to 15 days without a visa. Instead of a visa, they can get a free Sinai Entry stamp at Sharm El-Sheikh International Airport or at the Taba border crossing.
The free Sinai entry stamp only allows travel to Sharm el Sheikh, Dahab, Nuweiba and Taba resorts. If you want to visit tourist attractions outside of these areas you will need a proper tourist visa.
It is worth noting that sometimes only Israelis can obtain these stamps at the Taba border. Other nationalities are advised to fly to Sharm El-Sheikh and get their stamp at the airport.
Most Western governments and even the Egyptian government advises against all travel in North Sinai, and all non-essential travel in South Sinai. Traveling overland from the Taba border to Sinai resorts is best avoided due to the unpredictable security situation.
These stamps are great for people who just want a relaxing break on the coast, but they aren't much good for anyone who is hoping to visit Egypt's many famous archaeological sites.
The Best of Egypt with a Bespoke Package Tour
Do you need a visa to travel to Egypt as part of an Egypt tour package? Yes, but as we have shown above, obtaining a visa is typically very easy and very straightforward for most people who want to visit.
At Egypt Tours Plus we can, in some cases, even apply for your e-Visa on your behalf, so what are you waiting for? We have some of the best private Egypt tours and Nile River cruises that money can buy. High quality private tours that are guaranteed to leave you with lifelong memories.
Start planning your dream trip to Egypt today.
Design Your Custom Egypt Tour
Explore Egypt and the Middle East your way by selecting only the attractions you want to visit