8 Day Egypt Holiday Tour – Cairo and Nile Cruise [By Train]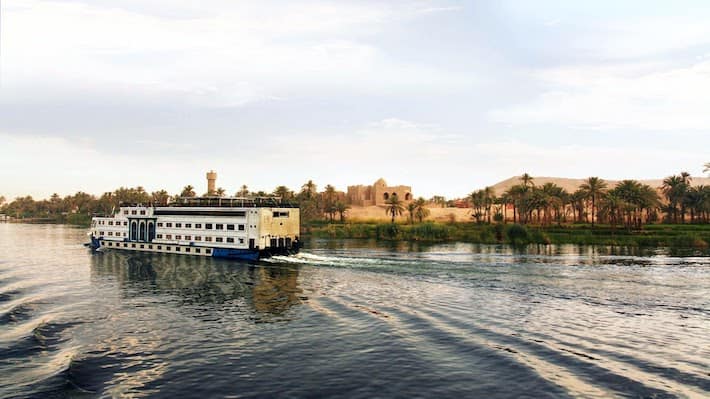 Treat yourself to a truly remarkable Egypt Holiday Tour with one of our top budget Egypt tours. Enjoy a journey of discovery with one of our delightfully affordable Egypt pyramid tour packages. Explore the only remaining one of the 7 Wonders of the Ancient World, the Great Giza pyramid, and then visit the fabulous Egyptian Museum, home to wonderfully preserved mummies. Take a trip to Aswan and board a luxury Nile River cruise to Luxor; stop along the way; take in the sights of Edfu then set sail for Esna.
Savor the moment as you stroll through the ruins of Karnak at Luxor, an ancient Egyptian temple complex that took 2000 years to complete; marvel at the splendor of Luxor Temple and much more before you return to Cairo, the Egyptian capital, for your flight out of Egypt.
These 8-day Holidays in Egypt run every Saturday, Monday and Wednesday.
Inquire
8 Day Egypt Holiday Tour
Unforgettable Journeys with Cairo and Nile River Cruise
Itinerary
Day 1: Egypt Tour Begins – Arrive in Cairo, the Bustling Capital of Egypt
When you book a tour in Egypt through us you are never alone, so when you arrive in Cairo for your Egypt Holiday Tour, one of our representatives will meet you at Cairo International Airport. You will then be driven to the hotel where you'll be spending your first night in Cairo, the fascinating Egyptian capital.
Once at your Cairo hotel, you'll be assisted with check-in and your tour manager will discuss your trip itinerary with you. You'll have the rest of the day to yourself. Relax at your hotel, or head out and get your first taste of the Cairo.
Day 2: First Egypt Tours – Giza Pyramids & Egyptian Museum
After breakfast at your hotel, enjoy a fascinating private guided tour that begins with a trip to the Egyptian Museum, home to thousands of ancient Egyptian relics. After the Egyptian Museum, you will be driven to Giza to see the legendary Pyramids of Giza; the great Sphinx and the Valley Temple. Marvel at one of the seven wonders of the ancient world, the Great Pyramid of Giza. While at Giza you will also have the opportunity to enjoy a camel ride before you head off for a tasty lunch in a local restaurant.
Once the sun dips below the horizon, transfer to the Giza railway station for your trip on an overnight sleeper train to Aswan. Dinner will be served shortly after your train departs from Cairo and you will spend this night of your trip in your private berth on the train.
Day 3: Arrive in Aswan and Board your Egypt Nile Cruise
Begin the 3rd day of your Egypt Holiday Tour with some breakfast on the train shortly before you arrive in Aswan. One of our tour managers will be at Aswan station when you arrive, and you'll be taken to the appropriate port in Aswan to check-in on board your Nile cruise ship for your trip to Luxor. Enjoy your first lunch on the River Nile shortly after boarding and then you'll be taken for a tour in Aswan to visit the world famous Aswan High Dam and the ancient Egyptian Temple of Philae which was devoted to the two goddesses: Isis and Hathor.
End your Aswan sightseeing at the largest known ancient obelisk located in the northern region of the stone quarries of ancient Egypt: the Unfinished Obelisk. Enjoy a fabulous dinner on board the ship, and enjoy a peaceful night's sleep on the Nile at Aswan.
Day 4: Let the Sailing Begin – Experience the Spirit of Egypt on the Nile
Wake up and enjoy breakfast on the Nile while you sail to Kom Ombo to visit the amazing Kom Ombo Temple. This is one of the most unique ancient Egyptian temple complexes ever discovered Egypt. After visiting the temple, you will head back to the cruise ship and it will then set sail for Edfu. Enjoy lunch on board and then visit the best-preserved Egyptian cult temple in all of Egypt: the Temple of Horus in Edfu. Sip on afternoon tea as you sail to Esna and enjoy a fine dinner on the Nile at Esna. You will spend this night of your Egypt adventure on the Nile at Esna.
Day 5: Luxor, Egypt West Bank Tour
Have breakfast on board while you sail to Luxor. Luxor is one to the popular travel destinations in Egypt because of all the ancients sites that are located in the area. Your time in Luxor will unforgettable. Start your sightseeing with a trip to the royal cemetery for 62 Pharaohs: Valley of the Kings. After Valley of the Kings, visit another top Luxor attraction, the awe-inspiring mortuary temple of Queen Hatshepsut which is located near the Valley of Kings.
The Valley of the Kings and Queen Hatshepsut Temple are two of top attractions, not only in Luxor, but it all of Egypt. In fact, Hatshepsut Temple is considered to be one of the Incomparable Monuments of Ancient Egypt.
Next, you will enjoy a brief stop at the Colossi of Memnon before returning to your cruise ship. Enjoy lunch; afternoon tea and dinner on the Nile, and have another good night's sleep on the quiet waters of the Nile at Luxor.
Day 6: Luxor, Egypt East Bank Tour
Enjoy one last breakfast on the Nile and then it will be time to for you to check-out and disembark. Once you have disembarked, you will be accompanied by your guide to visit the ancient Karnak Temple complex and Luxor Temple, both of which are located on the East Bank of the River Nile in Luxor. The ruins of Karnak are the second-most visited ancient site in Egypt. It is also believed to be the biggest place of worship ever constructed, not only in Egypt, but in the entire world.
Following your Luxor East Bank tour, you will have some time for yourself and then you will be transferred to Luxor railway station to board the sleeper train for your trip back to Cairo. Have your dinner and a good night's rest on board the sleeper train (private compartment with twin beds).
Day 7: Enjoy your Last Full Day in Egypt in the Egyptian Capital
When you arrive in Cairo on day 7 of your Egypt holiday tour you will be met at the station, and then taken to your Cairo hotel where you will be staying for your last night in Egypt. After check-in, your tour manager will leave, and you will have the rest of the day to yourself. Relax in the hotel; swim in the pool, or go out and explore the fascinating city of Cairo on your own.
Alternatively, if you would like to see a bit more of Cairo but you don't want to do it on your own, we have a good selection Cairo day tours. These are private trips with one of our guides and a driver, and of course we can tailor any and all of our day trips according to your own personal preferences.
And, ff you are looking for something to do to make the last night of your Egypt adventure extra special, you may want to consider attending a really excellent Sound and Lights Show at the Giza Pyramids in the evening. Alternatively, we can also recommend going for a Nile River dinner cruise. The view of Cairo is very different when seen from the river, and particularly at night.
Day 8: Goodbye Egypt – Final Departure
Like all good things, your Egypt Holiday Tour must end too, but before you say goodbye to Cairo and Egypt, first enjoy a nice breakfast at your hotel. At the appropriate time, your tour manager and one of our drivers will collect you and then take you to Cairo International Airport in time for your flight out of Egypt. Thank you sincerely for trusting us to deliver your dream Egypt adventure, and we wish you a safe trip back home.
What is Included
Inclusions – What is included in our 8-day Egypt holidays:
Meet and assist with arrivals and departures throughout your stay in Egypt
All transfers to/from airport, station, hotel & cruise
Hotel accommodation for 2 nights in Cairo (bed and breakfast)
2 nights on an overnight sleeper train. (half board)
Accommodation on 5-Star Nile cruise (full board)
Rail travel on sleeper train from Cairo to Aswan and from Luxor to Aswan on half-board basis.
All sightseeing tours mentioned in the travel itinerary
Lunch during Cairo tour
An English Expert guide (other languages also available) during all sightseeing trips
Entrance fees to all attraction mentioned in the travel itinerary
All transfers in modern air-conditioned vehicles, including private driver
Portage when needed
Exclusions – What is not included in your Egypt Travel Package:
International airfare
Entry visa for Egypt
Tipping kitty
Any optional tours or trips not mentioned in the Egypt Holiday Tour itinerary
Drinks and any personal expenses
Note: Sleeper trains in Egypt are designed and equipped to meet Egyptian Railway Authority standards, rather than international standards. The average travel time from Cairo to Aswan on a sleeper train takes about 14 hours. As an alternative, visitors can opt for domestic flights  from Cairo to Aswan and back to Cairo from Luxor which involves a supplement fee.
Price
Accommodation (Gold)
Cairo Pyramids Hotel
Crown Emperor or Empress Nile Cruise
| Price per 1 person | May to September | October to April |
| --- | --- | --- |
| Triple Room (min. 3 pax) | $1125 | $1215 |
| Double (min. 2 pax) | $1180 | $1285 |
| Solo (1 pax only) | $1985 | $2135 |
Accommodation (Diamond)
Le Méridien Pyramids Hotel & Spa
MS Salacia Nile Cruise
| Price per 1 person | May to September | October to April |
| --- | --- | --- |
| Triple Room (min. 3 pax) | $1265 | $1415 |
| Double (min. 2 pax) | $1299 | $1470 |
| Solo (1 pax only) | $2145 | $2415 |
Prices for our 8-Day Egypt holidays are quoted per person in US$ and are valid until the 30th of April 2024, except during the Christmas, New Year, and Easter holidays.
Egypt Travel Packages with Nile Cruise
Didn't find the budget Egypt holiday you were looking for? See other 8-day Egypt itineraries here or find more Egypt Holiday Tour alternatives below.
Design Your Custom Egypt Tour
Explore Egypt your way by selecting only the attractions you want to visit