7 Day Oberoi Philae Cruise [Aswan to Luxor]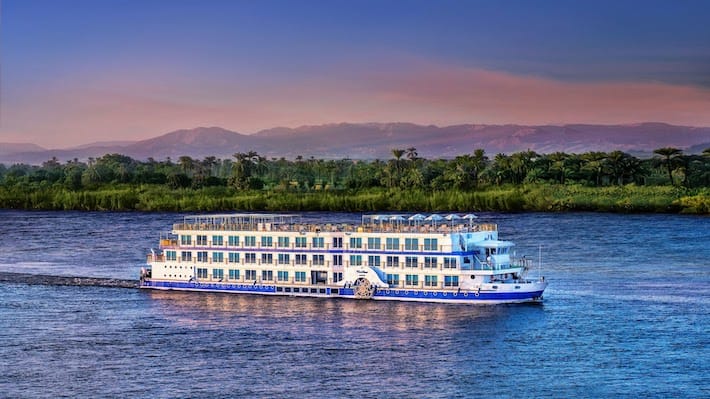 7 Day Oberoi Philae Nile Cruise from Aswan to Luxor
When you board the Oberoi Philae, you will be boarding one of the most sought after luxury Nile cruises currently operating on the majestic Nile River. From luxuriously comfortable cabins, to fine cuisine and 5-Star amenities, you can be sure that every minute you spend on board the Oberoi Philae will be special in a way you will never forget.
Spend 7 days exploring the best ancient sites of the Nile River Valley. Visit the tomb of King Tutankhamen; explore the ancient world's best preserved temple in Edfu; stroll through the magnificent twin temples in Kom Ombo and the indescribable rock-cut Temple of Queen Hatshepsut in Luxor. Enjoy the best of Ancient Egypt, and do it in the lap of luxury with one of our flawless Nile cruises.
NOTE: Selected Departures Only.
Inquire
7 Day Oberoi Philae Nile Cruise from Aswan to Luxor
Itinerary
Day 1 – Aswan Arrival, Oberoi Philae Embarkation, and Aswan Excursion
When you arrive in Aswan, we will have one of our friendly tour representatives standing by to meet you and to assist you in any way they can. You will then be driven, in air-conditioned comfort, to the Oberoi Philae's private docking area for embarkation which is scheduled for 12h00.
After you have boarded and you have put your belongings in your luxury cabin, you will be served a good lunch in the vessel's beautifully decorated dining area. After lunch, you will have a few hours free to settle into your new home on the Nile, and then at 16h00 you will disembark, and you will board a motor boat that will whisk you away to visit the fascinating Nubian Museum. This is only a small museum, so you should be back on board the Oberoi Philae by about 17h00, after which you can enjoy some more quality leisure time.
At 19h00 there will be a short "Cocktail Reception" party, along with some very pleasant entertainment, and then at 19h30 the crew will begin serving dinner. Once you have finished enjoying your dinner, the rest of the evening is yours to enjoy as you wish, and you will be spending your first night in your luxurious cabin on the water in Aswan.
Meals Included: Lunch and Dinner
Day 2 – Kom Ombo Cruise and Aswan Sightseeing
Today, the Oberoi Philae will leave Aswan Port at 06h00, and it will sail to Kom Ombo, with a lovely onboard breakfast being served between 07h00 and 09h00. On arrival at Kom Ombo, you will visit and explore the famous twin temples of Kom Ombo that were built to honor two different gods: Horus the falcon God and Sobek the crocodile God.
At 10h30, you will begin sailing back to Aswan, and you will have free time to enjoy the boat's many world-class amenities until lunch which will be served at 13h00. After lunch, at 14h00, you will visit the marvelous Temple of Philae which was very nearly lost forever to the rising waters of Lake Nasser following the construction of the Aswan High Dam which you will also visit during this excursion. When you see this magnificent ancient temple, it is hard to believe it was moved in entirety from its original location. Today, it is a UNESCO World Heritage Site and one which features in nearly all high-quality Nile River cruises.
From 17h00 to 19h00 has been set aside for personal leisure and relaxation, and then you will enjoy another pleasant cocktail reception before sitting down to a wonderful onboard dinner of your choice at 19h30. Spend the rest of the evening doing whatever you want, and enjoy another good night's rest on the water in Aswan.
Meals Included: Breakfast, Lunch, and Dinner
Day 3 – Cruise to Edfu and on to Esna
Wake up and prepare yourself for another unforgettable day on board the luxurious 5-Star Oberoi Philae. Today the boat will depart from Aswan at 07h00, and it will cruise towards Edfu, with a good appetizing breakfast being served along the way. Once you have finished enjoying your meal, you will have the rest of the morning free, to enjoy as you wish.
At 13h00, lunch will be served, and at 14h00 you will disembark in Edfu for an excursion to the ancient Temple of Edfu. It is believed that construction of this temple began in 237BC, and continued for more than 25 years. Like several other ancient temples in Egypt, this one was built to honor Horus the Falcon God. What makes this one so special, however, is the fact that it lay buried beneath the sand for more than 2,000 years, and as a result, it is the best-preserved temple of the ancient world.
After you have had enough time to explore the temple, you will return to the Oberoi Philae, which will depart from Edfu at 15h00, and begin the journey to Esna. Enjoy another fine onboard dinner, and a good night's sleep in the comfort of your cabin on the water in Esna.
Meals Included: Breakfast, Lunch, and Dinner
4 – Early Cruise to Luxor and East Bank Sightseeing
The Oberoi Philae gets off to another early start today, departing from Esna at 06h00, and sailing towards Luxor. Enjoy a leisurely breakfast from 07h00 to 09h00, followed by plenty of free time to enjoy on board this spectacular river cruiser. Lunch will once again be served at 12h30, and then at 14h00 you will disembark for an excursion to Luxor's East Bank, where you will visit the ruins of the massive Karnak temple complex.
After spending some time exploring this ancient site, you will head to the lovely Luxor Museum before finally making your way back to the Oberoi Philae for some leisure time before sitting down to another good dinner which will be served from 19h30. Enjoy tonight on the water in Luxor.
Meals Included: Breakfast, Lunch, and Dinner
Day 5 – Luxor West Bank and Cruise to Qena
With a busy day ahead, today begins early, with breakfast being served between 06h00 and 07h00. After breakfast, everyone will disembark, and you will head off to explore the West Bank of ancient Thebes. Here you will visit the infamous Valley of the Kings, home to more than 60 royal tombs, including those of King Ramses the 6th and King Tutankhamen.
Later you will visit the astonishing Temple of Medinet Habu, Dier El Madina, and finally the great Colossi of Memnon as you make your way back to the Oberoi Philae for lunch and for the cruise to Qena.
Lunch will be served along the way, and you will have time to relax and unwind until you 18h00 when you will disembark for a visit to the ancient Temple of Dendara that was built to honor Hathor, the God of music, love, and joy. Finally, you will return to the cruise liner at 19h30 for another excellent dinner and a good night's sleep on the water in Qena.
Meals Included: Breakfast, Lunch, and Dinner
Day 6 – Sightseeing and Cruise to Luxor
Enjoy another early breakfast on board, followed by a 07h00 visit to the Temple of Abydos. After you have had ample time to explore this ancient site, you will return to the Oberoi for some leisure time. The ship will then depart at 12h00, and begin making its way to Luxor, with lunch being served along the way, starting from 12h30.
At 17h00 you will disembark in Luxor and you will be taken to see the amazing Luxor Temple before returning to the boat for a delightful 20h00 onboard dinner. Tonight will be spent on the water in Luxor.
Meals Included: Breakfast, Lunch, and Dinner
Day 7 – Final Disembarkation
Wake up and enjoy one last breakfast on board the splendid Oberoi Philae river cruiser, and then sadly, it will be time for to get your bags and disembark. Once again, one of our friendly tour representatives will be standing by to assist you, and to escort you to the airport or railway station in a modern air-conditioned vehicle for you onward journey.
Meals Included: Breakfast
What is Included
What is
included

in your Oberoi Philae Nile Cruise holiday:
Meet and Greet Service – One of our tour representatives will meet you on arrival in Aswan, and another one will be there to bid you farewell when you depart from Luxor.
Full Personal Assistance – Our team of tour professionals will be available to offer assistance throughout the duration of your cruise in the unlikely event that something goes wrong.
All Transfers – All transfers are done in modern air-conditioned vehicles and are included in the price of your cruise.
Full Board – Your 7-Day Aswan to Luxor Nile cruise includes full board and lodging on board the luxury 5-Star Oberoi Philae Nile cruise.
All Excursions – All excursions mentioned in the itinerary are included in the tour price.
Entrance Fees – Any and all entrance fees to the various sites visited are included.
English Speaking Guide – A fully certified English-speaking Expert guide will accompany you on all excursions. Our guides are extremely knowledgeable, and visitors are encouraged to ask question during excursions.
All Service Charges and Taxes – The price of your cruise is inclusive of all taxes, services charges, and etc. With us, there are NO hidden charges along the way.
What is
not included

in your Oberoi Philae Nile Cruise holiday:
Pre-Arrival and Post-Departure Travel – Tour price does not include travel to Aswan or onward travel from Luxor.
Tipping – Tour price does not include money for tipping guides, waitresses, waiters, and etc. Tipping is not required or expected, but always appreciated if you feel it is well-deserved.
Price
Accommodation Plan
Oberoi Philae Nile Cruise
| Price per 1 person | May to September | October to April |
| --- | --- | --- |
| Double Cabin | $3,135 | $4,469 |
| Single Cabin | $4,715 | $6,695 |
Prices are quoted per person in US$ and valid until the 30th of September 2023, except during Easter, Christmas and New Year holidays.
Note: The Oberoi Philae Nile Cruise is unable to accommodate children under the age of seven (7) as the ship is not designed for very young children.
There could be safety concerns for very young children. Parents and guardians are responsible for monitoring the actions of their children at all times.
Children under the age of twelve (12) must occupy a separate cabin which will be charged at the normal rate.
Nile River Cruises
Didn't find the Luxury Nile Cruise you were looking for? See Oberoi Philae Nile Cruise alternatives below or find a different 7-day Nile cruise here.
Design Your Custom Egypt Tour
Explore Egypt your way by selecting only the attractions you want to visit