Can Canadians Travel To Egypt?
As is the case for citizens from all foreign countries, Canadians are welcome to visit Egypt as long as they have a valid passport and a valid visa which is very easy to obtain as a Canadian citizen.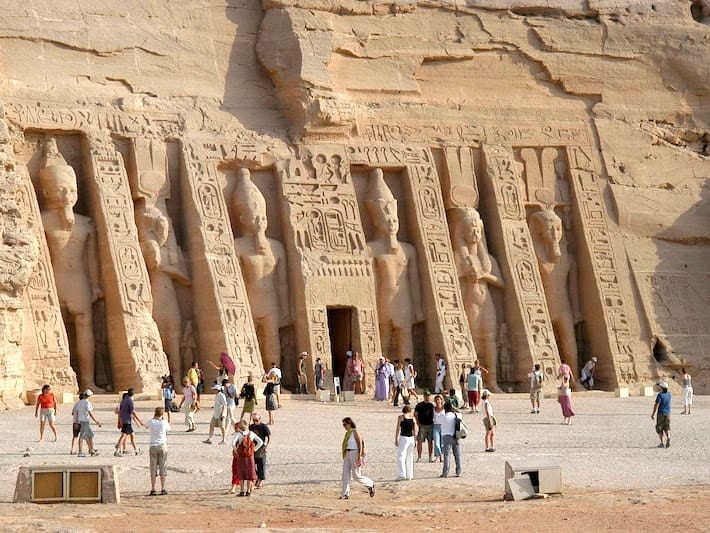 Design Your Custom Egypt Tour
Explore Egypt your way by selecting only the attractions you want to visit
Can Canadians Travel To Egypt?
Having a valid passport with at least six months validity remaining and a valid visa are the only two entry requirements for Canadian citizens and/or people traveling on a Canadian passport. Your Canadian passport should also have at least one blank page.
Recommended Reading: Egypt Tours from Canada
As already mentioned, obtaining an entry visa for Egypt is really easy for Canadians, with three different options available to you which we will look at now.
Applying for your Egypt Tourist Visa
Like all foreign nationals, people traveling on a Canadian passport can get a valid visitor visa by applying for one at an Egyptian embassy. The approval process is a lengthy process which can take up to two weeks or more. We don't recommend going down this road if you only want a regular tourist visa. However, if you want a business visa, then you will have to apply for your visa at an Egyptian Embassy.
Canadians can also get a valid visitor visa on arrival at any international airport in Egypt, including Cairo Airport, Sharm El-Sheikh Airport and Hurghada Airport. If you go with this option, you will be granted a 30-day single entry tourist visa at a cost of US$25. Be warned, there are usually long queues at the bank kiosks in the airport that issue these visas.
Your third option, and by far your best option, would be to apply online for an electronic visa, also known as an Egypt E-Visa. To do this, you will first need to set up an account on the official Egypt e-Visa Portal. Once your account has been confirmed, you can then complete the relevant visa application form and pay the visa fee using a credit card or debit card. The application process is very streamlined and very straightforward.
Once your visa has been approved you will receive an email notification letting you know. You can now log into your e-Visa account to download and print your visa. When you land at Cairo Airport or one of the country's other international airports, you can make your way directly to immigration and hand your passport and your printed visa to an immigration officer.
An Egypt E-Visa is available in single-entry format and multi-entry format. Single-entry tourist visas cost US$25, while multi-entry tourist visas cost US$60. The approval process for an Egypt E-Visa usually takes 3 to 7 business days, although sometimes applications are processed within 48 hours, or even on the same day. To see a list of countries whose citizens qualify for an Egypt e-Visa, click on the Egypt E-Visa portal link further up this page.
Can Canadians Travel to Egypt without a Visa?
Yes, Canadians can travel to Egypt without a valid visitor visa, but travel will then be restricted to Egypt's Sinai Peninsula. It is worth noting that the government of Canada advises against all non-essential travel in the South Sinai region, although South Sinai coastal resorts like Sharm El-Sheikh are deemed to be safe.
The Government of Canada also advises against all travel in North Sinai due to the risk of terrorist attacks, and the presence of armed groups or bandits. Canadian citizens who only want to visit one or more South Sinai beach resorts should book flights directly to Sharm El-Sheikh or Hurghada, in which case they can obtain a free entry stamp or admission stamp which allows them to stay in Egypt (Sinai only) for up to 14 days.
NOTE: If you enter Egypt with the free entry stamp for the Sinai Peninsula, and you get caught outside of the Sinai, you will be charged with being in the country illegally. This includes boat trips to nearby islands.
Design Your Custom Egypt Tour
Explore Egypt your way by selecting only the attractions you want to visit
Egyptian Government and Covid-19
Do Canadian travelers have to spend time in quarantine when they arrive in Egypt, and can Canadians travel to Egypt regardless of their Covid-19 vaccination status? There are no longer any quarantine requirements for people arriving in Egypt, and both vaccinated travelers and non-vaccinated travelers are welcome to visit. Foreign nationals no longer have to show proof of vaccination, and Covid-19 testing is also no longer required.
In June 2022, the Egyptian government lifted the last remaining Covid-19 travel restrictions. As such, Egypt is 100% open for international travel.
In-Depth Reading: Do You Need Covid Vaccine to Travel to Egypt?
Can Canadians Travel to Egypt without Vaccinations and Health Insurance?
Egypt has no mandatory requirement in relation to health insurance and immunization. Unvaccinated travelers and those without medical insurance are welcome to visit Egypt, but they do so at their own risk.
At the very least, foreign nationals, including Canadians, should consider getting vaccinated against Hepatitis A, Hepatitis B, and Typhoid. Hepatitis A immunization is especially recommended. Hepatitis A is spread through contaminated food and/or contaminated water.
Foreign nationals are at risk of contracting Hepatitis A regardless of where they stay or where they eat during their stay in Egypt. Under no circumstances should you drink tap water during your stay in Egypt. Instead, only drink bottled water.
Visitors who believe they will be in close contact with animals should also consider Rabies immunization.
As far as health insurance is concerned, Egypt Tours Plus recommends that all travelers get good health insurance before visiting Egypt, or any other destination, for that matter. Like nearly all foreign nationals, Canadian travelers cannot rely on Canadian consular services to cover the cost of medical treatment and/or emergency medical evacuation, should it be necessary.
In-Depth Reading: What Vaccines Are Required To Travel To Egypt?
Can Canadians Travel to Egypt from Israel?
Some Middle East countries will deny you entry if your passport contains evidence of you having visited Israel. So, can Canadians travel to Egypt after visiting Israel? Yes, because Israel is aware of this, and as a result, the Israeli authorities no long stamp your passport, and neither do the stick a visa in your passport. If you exit Israel via a land border crossing, your passport may be stamped, but you can avoid this happening to you if you mention your concern to the immigration officials at the border.
Even if your passport does show evidence of you having visited Israel, this will not be held against you when you arrive in Egypt. Many Israelis visit Egypt, so Canadians have nothing to worry about even if they have just spent some time in Israel.
Best-Selling Egypt, Jordan and Jerusalem Tours
Travel Egypt in the Lap of Luxury
At Egypt Tours Plus, you will find the best and biggest selection of private expert-guided Egypt vacation packages and Nile River cruises. Whether you are searching for the ultimate Christmas and New Year holiday, a private Egypt tour in the shadow of ancient pyramids, temples and tombs, we can turn your dream vacation into a reality.
Can Canadians travel to Egypt? Yes they can, so contact us now to begin planning a once in a lifetime trip, or to book your dream Egypt holiday today.
Design Your Custom Egypt Tour
Explore Egypt and the Middle East your way by selecting only the attractions you want to visit