How to travel from Egypt to Israel
The quickest and most convenient way to travel from Egypt to Israel is to fly direct from Cairo to Tel Aviv. You can also travel by road and cross from Egypt into Israel at the Taba border crossing.
Lots of people who visit Egypt also visit Israel as a second destination before returning to their home countries. Jerusalem in particular is a very popular second destination among people traveling to Egypt.
In this post, we are going to look at how to travel from Egypt to Israel by different means.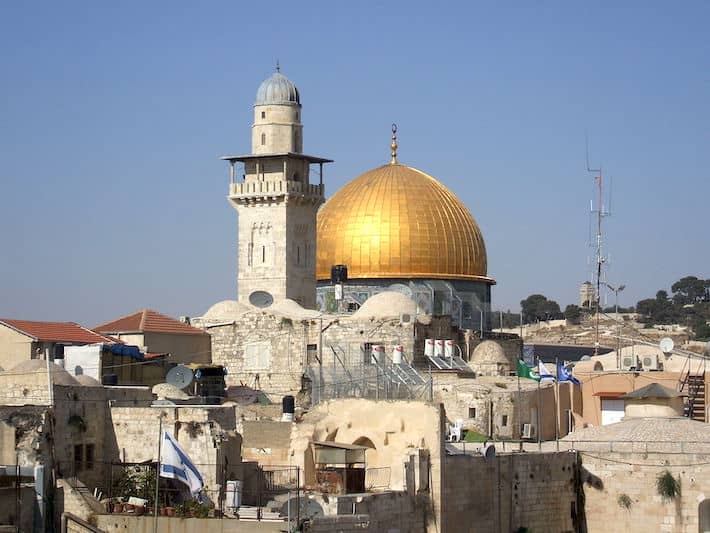 Design Your Custom Egypt Tour
Explore Egypt your way by selecting only the attractions you want to visit
How to Travel from Egypt to Israel by Air
Flying is a fast and convenient means of travel, but it's not the cheapest means for one to get from Egypt to Israel, but if you don't have a lot of time to spare, and you can afford to fly, then this is your best option.
As of the time of writing, EgyptAir was the only airline company offering direct flights between the two countries, from Cairo International Airport in Egypt, to Ben Gurion Airport in Tel Aviv, Israel. A direct flight between Cairo to Tel Aviv takes about 1h 25m.
If you are going to be flying to Israel from one of Egypt's other international airports, such as Luxor Airport or Sharm El-Sheikh Airport, you will have to make do with indirect flights that typically make a short stop in Cairo. Whatever option you choose, you should book your airline tickets well in advance. The price of airline tickets can vary wildly, and you will hardly ever find a bargain if you leave booking your tickets to the last minute.
Combined Egypt, Jordan and Israel Tours
How to Travel from Egypt to Israel by Road
The only land border crossing that is consistently open for visitors wanting to cross from Egypt into Israel, is the Egyptian border crossing near to the popular Taba Red Sea resort. Taba is within easy driving distance of other popular coastal resorts, including Sharm El Sheikh, Dahab, Nuweiba, all of which are located on Egypt's South Sinai Peninsula.
Most people, and especially locals and visiting backpackers use public transport or coaches to get to Taba and then either take a taxi to the nearby border crossing, or they cover the short distance to the Egyptian border and cross into Israel on foot.
At the time of this post being written, the American government, the government of Canada, and most other Western governments were advising their citizens to avoid all non-essential travel in South Sinai, and to avoid all travel in North Sinai. These warnings were issued due to concerns about possible terrorist attacks and the overall security situation. However, the South Sinai resorts mentioned earlier are deemed to be safe for tourists, and are very popular weekend getaway destinations among Israeli tourists.
At the time of writing, a bus tickets from Cairo to Taba cost between US$4 and US$8, depending on which bus service you use. The journey from Cairo to Taba by bus takes around 8h 45m. Considering you will be on the road for this amount of time, we don't recommend catching the cheapest bus you can find.
If you are going to be traveling from Sharm El-Sheikh to Israel, your cheapest option for getting to the Taba border crossing would be to travel by bus, at a cost of around US$5. The journey only takes about 3h and 15m.
While there is nothing wrong with bus travel, if you want a more comfortable experience and a more rewarding experience, you should consider booking a private guided Egypt and Israel tour or an Egypt and Jerusalem travel package if you only want to visit Israel's most famous religious sites.
Health Insurance and Covid-19 Travel Restrictions
Any travel guide that aims to provide information on how to travel from Egypt to Israel should point out two important differences between Egypt's entry requirements and Israel's entry requirements.
In Egypt, travel insurance is not mandatory for tourists, and as of June 2022, there were no longer any Covid-19 travel restrictions in places. Both vaccinated and unvaccinated tourists were welcome to visit Egypt. The Egyptian government has declared Egypt and all of it famous archaeological sites 100% open for international tourism.
In Israel, things are somewhat different. To begin with, travel health insurance is mandatory for all foreign nationals, and your insurance must also cover Covid-19 treatment. You will need to show proof of this before you will be allowed to enter the country. You will also need to show proof of your Covid-19 vaccination status or proof of Covid-19 recovery. This was the case at the time this post was written, and the Covid-19 entry requirements could change at any time.
Of course, it goes without saying that all foreign nationals need to be in possession of a valid passport and a valid visa in order to enter both Egypt and Israel. Both countries also require that your passport has at least six months validity remaining as from the date of your arrival.
At Egypt Tours Plus, we recommend that all foreign nationals have proper travel health insurance, regardless of which country they are visiting.
Exit Fees when Leaving Egypt and/or Israel
As of the time of writing, Egypt was not charging an exit fee for tourists leaving the country. However, all travellers leaving Cairo via Cairo International Airport had to pay a departure tax equivalent to around US$4.
In Israel, the departure tax was higher, at around US$65. This has to be paid by anyone and everyone leaving Israel, regardless of whether they were leaving the country by air or via a land border crossing.
It should be noted that some travel agents include these fees in the cost of their tours, but many do not, so it is the client's responsibility to pay any mandatory departure taxes. Departure taxes have become one of the exit requirements in many popular tourist destinations.
Travel to Israel with an Egyptian Visa in your Passport
How to travel from Egypt to Israel if you have an Egyptian visa in your passport is a question many travelers ask. The good news is, an Egyptian visa and/or Egyptian stamps in your passport will not prevent you from entering Israel. As long as you meet Israel's visa requirements, and as long as you are able to obtain a tourist visa, you can visit Israel regardless of whether you have visited Egypt or not.
Can you visit Egypt after you visit Israel? Yes, the Egyptian authorities don't care if you have been to Israel or not. Thousands of Israelis visit Egypt, and besides, Israel no longer puts Israeli visas or Israeli stamps in passports.
An Unforgettable Vacation Awaits!
No other country in the world can compete with Egypt in terms of breathtaking archaeological sites, and very few countries can compete with Israel in terms of famous religious sites. At Egypt Tours Plus, you can find epic Egypt and Jordan tour packages that include the very best of Egypt, with the very best of Israel, as well as Jordan.
With more than 250,000 tours already sold, no other tour operator is better equipped than we are to provide a Middle Eastern adventure with lifelong memories guaranteed.
Contact us now to find your holiday of a lifetime, or to begin planning your dream trip to Egypt and beyond today.
Design Your Custom Egypt Tour
Explore Egypt and the Middle East your way by selecting only the attractions you want to visit