Is July a Good Time to Visit Egypt?
July is Egypt's hottest month and sightseeing in the sweltering heat of Egypt's summer months is not for everyone, but it is a good time for beach holidays and for finding excellent deals.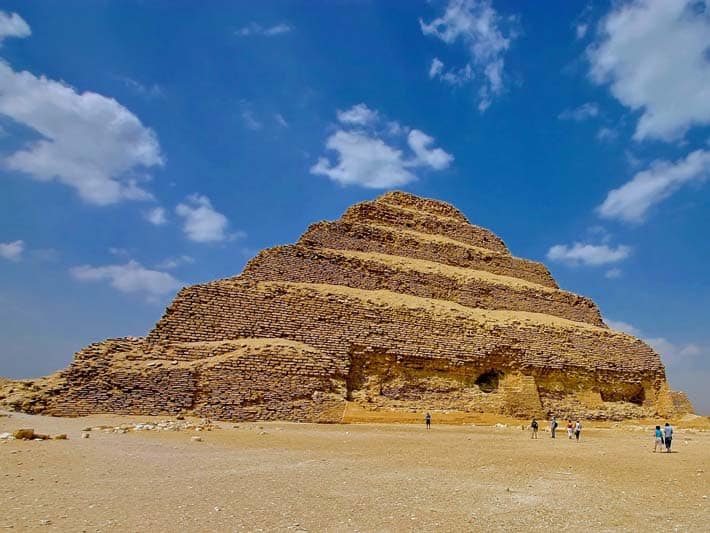 Egypt Weather in July
Egypt's summer season is also often referred to as the scorching season, and for good reason. June, July, and August are the peak summer months in Egypt, with July being the hottest time of the year.
By the time July arrives, you can expect average daytime temperatures in Cairo ranging from 29 to 34 degrees Celsius (84.2 to 93.2 F), with occasional highs of 39 or even 40 degrees Celsius (102.2 / 104 F). The further south you travel, to places like Aswan, Luxor, and Abu Simbel, the more likely you are to encounter these higher temperatures. Places like Hurghada and Sharm El Sheikh also experience somewhat higher daytime temperatures compared to Cairo.
On the upside, in the evenings you can expect wonderfully pleasant temperatures that tend to hover around 22 degrees Celsius (71.6 F).
Now you know why exploring Egypt's many historical sites, such as the Pyramids of Giza and the many ancient temples and tombs that line the banks of the Nile River in Upper Egypt is not for everyone. With that having been said, you can avoid the worst of the summer's scorching heat by visiting tourist sites early in the morning or during the late afternoon.
So, is July a good time to visit Egypt? Only you can answer that question. If you believe you can handle the sort of temperatures we've quoted above, then by all means visit this amazing country in July.
Suggested Reading: When to Visit Egypt?
The Advantages of Visiting in July
As we mentioned right at the very beginning, visiting Egypt in July, or at any other point during the country's summer season, can actually be advantageous if you can tolerate the heat.
Let's take a look at two of the biggest benefits to be had from visiting Egypt at this time of the year:
Visiting in Summer Saves you Money
Egypt's summer is right in the heart of the low tourist season, which is the ideal time for anyone who wants to find money saving deals. Hotels, Nile River cruises, and even Egypt package tours cost less at this time of the year than they do during the high season which runs from October to April.
You can save hundreds, if not thousands of dollars, particularly if you are traveling as a family. Just bear in mind that price increases can occur at any time of the year. For this reason, it is always best to make any and all reservations well in advance in order to avoid being affected by possible price increases. 
Have Egypt's Famous Archaeological Sites all to yourself
If you want to avoid large crowds of tourists at popular archaeological sites, then July is definitely an excellent time to visit Egypt. Rest assured, you won't have to fight your way through throngs of tourists, even at Egypt's most popular archaeological sites, such as the Pyramids of Giza and the breathtaking Abu Simbel Temple complex.
You will still see tourists at major sites, but certainly not many of them. This is good news when it comes to taking photographs. During the peak tourist season which runs from December to February, taking good photographs at popular tourist sites is virtually impossible because of the crowds. In July, on the other hand, you are more or less guaranteed unobstructed views of the various ancient monuments you visit.
Recommended: Nile Cruise Holidays
Nile River Cruises in July
Is July a good time to visit Egypt for a Nile Cruise? Most good quality Nile River cruises include quite a bit of sightseeing in the form of onshore excursions. So, whether or not July is a good time for a Nile cruise really depends on whether you feel you can handle the sort of temperatures which have been mentioned previously.
With the above having been said, most excursions take place early in the morning and/or in the late afternoon. This means that you will be on board your cruise ship during the hottest time of the day.
Nearly all of the modern ships that provide cruises on the River Nile have swimming pools, so you can always go for a dunk or a swim when you need to cool down. Of course, if you start to feel too hot out on deck, you can also head indoors to enjoy some air-conditioned comfort. Last but not least, you also won't have to contend with large crowds of other passengers.
Desert Excursions and Outdoor Activities
Is July a good time to visit Egypt for desert excursions and other outdoor activities? In our opinion, summer is definitely not the best time for Sahara Desert excursions, or any other sort of outdoor adventures or activities. The only exception would be water activities such as swimming, snorkeling, scuba diving, windsurfing, etc.
Red Sea and South Sinai Beach Holidays
Egypt's Red Sea coastline and South Sinai coastline are home to several excellent beach resorts, including places like Sharm el-sheikh, Hurghada and Marsa Alam. Egypt's Red Sea coastline has some of the world's finest scuba diving and snorkeling sites. There are literally hundreds of pristine coral reefs and even a number of shipwrecks which divers can explore. Believe it or not, but July is considered to be the best month of the year for scuba diving in Egypt.
Don't worry, if you are not a scuba diving or snorkeling enthusiast, there are many other water activities which you can enjoy, including some adrenaline boosting water sports such as kite boarding and windsurfing.
If you just want to enjoy quality relaxation time on some beautiful sandy beaches, be sure to look for beaches that provide access to shade even if it's only in the form of sun umbrellas. Bear in mind that it's unlikely you'll even see a single cloud in the sky, so it is extremely important to remember to use plenty sunscreen, not only at the beach, but throughout your trip to Egypt.
Suggested Reading: Red Sea Holidays
Enjoy a Flawless Holiday to Egypt in July
Whether you want to visit and explore Egypt's ancient pyramids, temples and tombs, or whether you just want a relaxing break, we can make your dream trip come true. At Egypt Tours Plus, you will find an absolutely epic range of private Egypt tours and five-star Nile cruise packages to suit all tastes and budgets.
When you book your dream holiday to Egypt through us, you are booking your trip through an Egypt tour operator that has sold nearly half a million tours already, so you can expect a totally flawless experience from beginning to end.
Contact us now to begin planning your once-in-a-lifetime holiday in Egypt or to book your dream vacation today.
Design Your Custom Egypt Tour
Explore Egypt your way by selecting only the attractions you want to visit