Holidays to Egypt in February
When booking holidays to Egypt in February, you can expect wonderfully mild weather which is perfect for exploring the country's ancient monuments, many of which are located in desert regions.
Design Your Custom Egypt Tour
Explore Egypt your way by selecting only the attractions you want to visit
Egypt in February
Egypt is a fantastic year-round destination, but February is an especially good time to visit. Visiting Egypt in December you typically have to expect some "traffic" when visiting Egypt's famous archaeological sites like the Pyramids of Giza and the ancient temples in places like Abu Simbel, Aswan, and Luxor.
By the time February arrives, tourist numbers have significantly started to declined, which is great news if you are the sort of person who doesn't enjoy large crowds. Sure, you will still see lots of tourists at the country's major attractions, like the Pyramids of Giza, but nowhere near as many as you would see in December or January, and the same applies to Nile River cruises.
If you book a Nile cruise in December or January, expect your cruise ship to be fully booked. On the other hand, if you book a Nile cruise in February, there will still be lots of other passengers on board, but not as many.
Recommended Tours: Nile Cruise Holidays
Another good thing about visiting Egypt in February is that you will have the opportunity to witness a truly spectacular event at Abu Simbel, but we will mention more about that later. First let's take a look at what sort of weather to expect during Holidays to Egypt in February.
Weather in Egypt in February
Beautifully mild weather is one of the top reasons why people book Egypt tours in February. Sure, the evenings can be rather cold in Egypt at this time of the year, but the days typically range from cool to warm. Many days are still cloudy, but this helps to keep you cool and it helps you to avoid serious sunburn.
In Cairo, Egypt's capital city, average daytime temperatures tend to hover around 22C (about 72F). At night, the temperature drops to around 10C (about 50F) on average. Sure, the evenings are chilly, but the daytime temperatures are just perfect for exploring the streets of Egypt's bustling cities and for visiting the county's ancient monuments that were left behind by one of the most advanced civilizations in history.
If you head south to Egypt's ever-popular beach resorts, such as Hurghada and Sharm-El Sheikh, you will find that the weather is slightly warmer than it is in Cairo. In places like Sharm El-Sheik, the average daytime temperature is around 22.4C (about 72.3F) but occasionally the temperature can drop to around 14C (about 57F).
The average sea temperature in places like Sharm El Sheikh and Hurghada is 23C (about 73F) in February. Both Hurghada and Sharm El-Sheikh are extremely popular beach destinations, and many people who book Holidays in Egypt in February make a point of staying at one of these resorts for at least a few days.
Abu Simbel Festival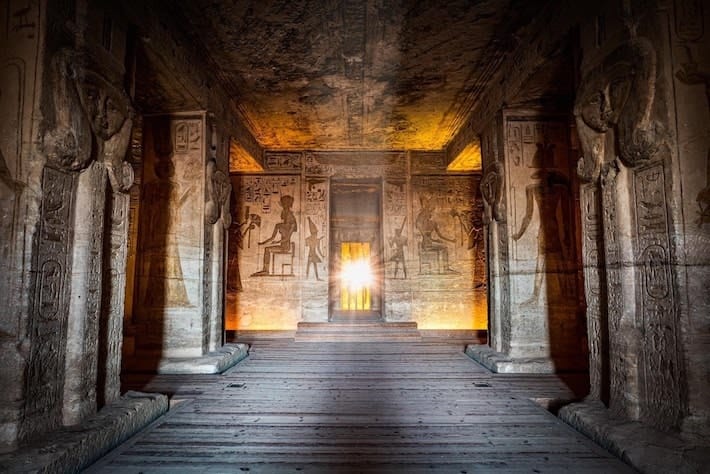 The Abu Simbel Festival, also known as the Abu Simbel Sun Festival, is an event that takes place twice a year (February and October) at the breathtaking rock-hewn temples of Ramses II in southern Egypt. The Abu Simbel temple complex is one of Egypt's most famous and most instantly recognizable ancient sites. If you are going to be visiting Egypt in February, you should definitely make a point of attending the Abu Simbel Sun Festival.
On two days every year, the sun is able to penetrate the temple's inner chamber which for the remainder of the year remains in total darkness. Inside this inner chamber are four statues: Ra the sun god, Amun, king of the gods, Ptah, god of darkness, and a statue of pharaoh Ramses II himself.
For a short period of time after sunrise on two days of the year, when the sunlight penetrates the inner sanctum, each statue is briefly illuminated by the sun, apart from the statue of Ptah whose statue remains in the shadows. This event has been occurring twice a year for more than 3,200 years.
The Abu Simbel festival is popular among locals and tourists alike. As the sun rises higher in the sky and the temple's inner sanctum is cast back into darkness, visitors head outside where live music and traditional Nubian dancing is performed. Food stalls are also erected, with most of them offering Egypt's national dish, koshari.
The Abu Simbel Festival is truly a spectacular event, and many people book their holidays to Egypt in February just so they can witness this event for themselves. It is also possible to attend the festival as part of a Nile cruise package or a Lake Nasser cruise package.
Suggested Tour: Abu Simbel Sun Festival Tour
Other Festivals in Egypt in February
Besides the Abu Simbel Festival, there are no other annual festivals that take place in February. However, Egyptians love festivals and celebrations, so there is almost always a celebration or a festival of some sort taking place, regardless of when you choose to visit.
Valentine's Day is celebrated, but this typically only includes the exchanging of gifts, although you will most like be able to find some events taking place in the country on Valentine's day.
Design Your Custom Egypt Tour
Explore Egypt your way by selecting only the attractions you want to visit
What to Pack for Egypt in February
So, you are preparing for a visit to one of the world's most fascinating holiday destinations, and now you are wondering what to pack for holidays to Egypt in February. Besides a valid passport and your clothes, there are a few other items which we definitely recommend packing in your luggage, including the following:
Universal power adapter so you can recharge your electronic devices.
A small portable power bank for recharging your phone or camera should your battery run out while visiting Egypt's many historical sites.
A small collapsible umbrella in case it rains while you are out and about.
A good sunscreen lotion with an SPF (sun protection factor) of 15 or above.
Extra digital storage to store photos and videos.
A secure money belt or neck wallet to protect your money and credit cards from pickpockets in crowded areas.
A small first aid kit containing some disinfectant, some plasters, and some antiseptic or antibacterial cream or ointment, and some anti-diarrhea medication in case you end up with a bout of Mummies Tummy.
A good pair of sunglasses, preferably with Polaroid lenses.
A compact pair of binoculars, especially if you are going to be going on a Nile cruise.
A good pair of walking shoes or a pair of sturdy trainers for sightseeing tours.
An insulated water bottle to keep your water or other beverages cool while you are sightseeing.
Holidays to Egypt in February in Comfort and Style
With more than half a million tours already sold, we have helped many people enjoy unforgettable holidays to Egypt in February, and we can do the same for you. Our private guided Egypt tours include your own professional guides, private drivers, deluxe air-conditioned vehicles, world-class accommodation, and admission to all the historical Egyptian attractions listed in our travel itineraries.
And, if you can't find holidays to Egypt in February on our site that offer exactly what you are looking for, we can help you to design your very own tour from scratch.
Start planning your trip to Egypt now or browse our wide range of epic Egypt tour packages to learn more.