How Much Does It Cost To Travel To Egypt?
For a bespoke 8-day Egypt tour that includes 4-star or 5-star hotel accommodation, a 5-star Nile River cruise, professional guides and admission to several sites, expect an average cost of around $1,600 p/person.
The figure mentioned above does not include airfare for your flights to and from Egypt. Of course, you could enjoy a 7-day trip to Egypt for less, but you would be missing out on so much of what makes Egypt such a fantastic and such a fascinating holiday destination.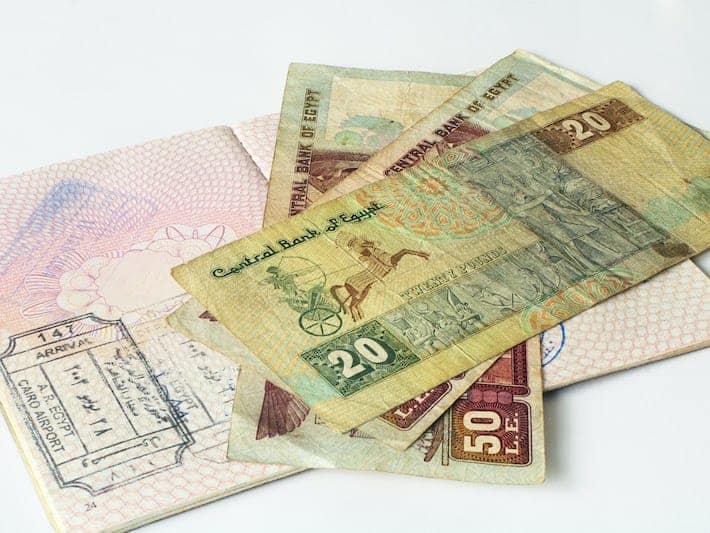 For many people, a trip to Egypt is a once in a lifetime event, so it only makes sense that you should try to make the most of your vacation in the Land of the Pharaohs. You want your Egypt tour to be an epic journey with lifelong memories.
You could easily reduce the figure quoted above by not going for a Nile cruise, not using guides, staying in budget accommodation, using public transport only, and limiting the number tourist attractions you visit. However, you will probably go home with a lot of regrets. As with so many things in life, when it comes to having a vacation in Egypt, you get what you pay for.
Let's take a look and various elements that can reduce or add to the cost of a trip to Egypt, including things like hotel accommodation, sightseeing, and Nile cruise prices. Any and all prices quoted in this post were correct at the time of this post being written.
How Much Does International Flight Tickets Cost?
International air travel to and from Egypt is one of the biggest expenses when it comes to visiting Egypt, so we recommend investing some time in shopping around for the best deals. Websites like Skyscanner can be a big help in finding really good flight prices. You can usually also save a good amount of money by booking your flights well in advance.
Remember, direct flights always cost more than indirect flights. This can further reduce the cost of your trip if you don't mind the inconvenience of a one-stop or two-stop flight. Flying to Cairo International Airport almost always costs less than flying to one of Egypt's other international airports.
Entering the country via Cairo also allows you to visit famous sites like the Giza Pyramids and the Egyptian Museum before moving on to places like Aswan, Luxor, Hurghada and/or Sharm El-Sheikh. Domestic flights in Egypt are very reasonably priced but you could also opt for train travel instead, depending on your daily budget.
How Much Does Nile River Cruises Cost?
How much would it cost to travel to Egypt if you don't want to go on a Nile River cruise? Well, as of the time of writing, our own prices for a 5-day/4-night Nile cruise were starting at around 800 dollars per person during the low season and around 900 dollars per person during the high season. These are cruises on 5-Star ships with full board and lodging and Egyptologist-guided cruise excursions to numerous archaeological sites.
By not going on a cruise, you can save $600 or more. However, if you don't go for a cruise, you will have to pay for hotel accommodation instead. You will also have to pay ticket prices for all the different archaeological sites you want to visit and for transport to and from those sites.
It is often said that there is no better way to experience the magic of Ancient Egypt than to do so by way of a Nile cruise, and we certainly agree. So, if you are planning a trip to Egypt, budget for a Nile cruise as well.
Nearly all Nile cruises listed on our site include guided cruise excursions to numerous ancient sites, including:
Some of our cruises also include a day trip to Abu Simbel to see the rock-cut temples of Ramses II. As you can tell, Nile River cruises represent excellent value for money. For this reason, most of our Egypt tour packages include a Nile cruise.
How Much Does Tour Guides Cost?
How much does it cost to travel to Egypt and hire tour guides? Egypt is unlike any other country on earth and if you are planning to visit the country's famous archaeological sites, we strongly recommend having a professional tour guide accompany you to the sites you visit. It really will make your trip so much more rewarding and memorable.
When it comes to hiring guides, you will need to book guided private tours or guided group tours. Alternatively, it is often possible to hire tour guides at the sites you choose to visit. Be aware that some of these guides are not licensed tour guides. They are operating illegally and will charge you as much as you are willing to pay, so be prepared to do some serious haggling.
If you want a tour guide, it is best to make arrangements with a local tour operator. To give you some idea regarding the price of guided tours, one of our Egypt day tours featuring the Giza Pyramids, Memphis, and the Step Pyramid at Saqqara cost 150 USD. This is assuming you want a private tour. Group tours cost less. The same tour would only cost you 69 USD per person if traveling as a group of 6. As a general rule, the more people there are in a group, the cheaper tours are.
If you have a full day tour with your own guide and driver, you should tip your driver about 50 Egyptian Pounds and your tour guide about 80 to 100 Egyptian pounds. At the time of writing, 1USD was worth approximately 18 Egyptian Pounds. Four or five dollars for a tip is not a huge amount but it is an expense you need to budget for if you are going to be using guides, and we certainly recommend that you do.
How Much Does Additional Activities Cost?
How much does it cost to visit Egypt is a question many people ask, and even after doing plenty of research, they still spend more than they had expected. Visiting places which you had not planned on visiting can quickly push you over your budget. The same applies to doing activities you had not planned on doing, such as going for a camel ride at the pyramids, or going for a hot air balloon ride over Luxor's ancient monuments at sunrise or sunset.
A camel ride at the pyramids costs anywhere from US$5 to US$20 for a half hour ride depending on your haggling skills. The official rate for a camel ride is currently 50 Egyptian pounds but the price can vary tremendously.
If you want to go for a hot air balloon ride, expect to fork out another US$75 to US$200, depending on location and duration. If you decide you would like to go for an afternoon Felucca ride on the Nile, this will again add at least another US$30 to US$50 to the cost of your trip.
Summary: How Much Does It Cost To Travel To Egypt?
So, how much does it cost to travel to Egypt? You could probably get by on around $50 per day, but it will be a bare bones trip. To really enjoy Egypt, we would recommend a daily budget of $150 to $200 per day, or perhaps slightly more if you book a good quality Nile cruise holiday that includes four or five star accommodation, professional guides, a driver and vehicle, and a Nile River cruise.
While a good quality tour does cost a bit more than going it alone, it takes all the worry and hassle out of planning a trip to Egypt, and it guarantees a far more enjoyable and more rewarding experience.
Travel Egypt in Comfort and Style
If you are longing to experience the magic of Ancient Egypt and you want to do it in comfort and style, check out our fantastic range of Egypt travel packages. All our travel packages are customizable, or you can even design your own tour from scratch using our user-friendly online travel planner. With Egypt now fully open to tourists once more, and a fantastic USD to EGP exchange rate, now is the perfect time to enjoy a dream vacation in the Land of the Pharaohs.
Design Your Custom Egypt Tour
Explore Egypt and the Middle East your way by selecting only the attractions you want to visit