What to Wear To Visit the Pyramids in Egypt?
The best clothing to wear for visiting the pyramids in Egypt would be airy clothes like loose dresses or pants, a loose fitting shirt or blouse with long sleeves and comfortable shoes.
If you are feeling a bit more adventurous, you could also consider wearing traditional Islamic clothing when you visit the pyramids in Egypt. However, if you do decide to wear traditional Islamic clothing, expect to get a few strange looks because Egyptians in major cities tend to wear more or less the same sort of clothing people wear in most western countries.
If you don't fancy the idea of wearing long Arabic style loose fitting robes, continue reading to learn more about "what to wear to visit pyramids in Egypt":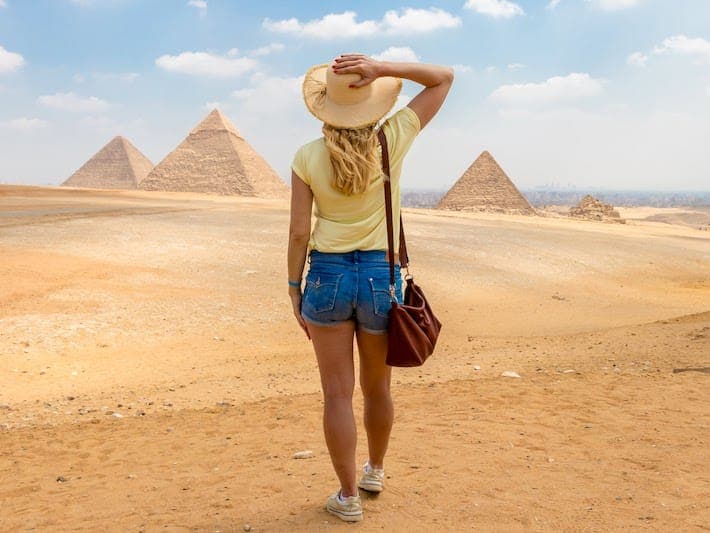 Best Clothes to Wear to Visit the Pyramids in Egypt
To begin with, we highly recommend wearing a wide-brimmed hat when you visit the Giza pyramid complex or any other pyramid complex in Egypt. When you visit the Pyramids of Giza, you will soon discover that there is very little shade. A wide-brimmed hat will help to keep the sun off your face and reduce the risk of sunburn.
A head scarf can offer some amount of protection, but a wide-brimmed hat is a much better choice. Don't forget to take a good pair of sunglasses with you as well when you visit the pyramids in Egypt.
Upper Body Clothing
Because Egypt is a Muslim country and a rather conservative country, a lot of tourists are unsure of what to wear to visit the pyramids in Egypt. The truth is, most Egyptians in Egypt's major cities are very accustomed to tourists, and the way many tourists choose to dress.
Egyptians tend to dress modestly at all times, but that does not mean they expect tourists to dress as modestly. Travel guides often recommend that female travellers should wear tops that cover their upper arms. While this is true in the case of visiting mosques, there is no need for female travellers to cover their upper arms when visiting the pyramids.
While it is not necessary to wear long sleeve shirts for the sake of modesty, you should consider wearing long sleeve shirts to protect against sunburn unless you are trying to get a holiday tan.
Sleeveless tops are generally frowned upon in Egypt. Locals are unlikely to say anything, but we would not recommend wearing crop tops or sleeveless tops to visit the pyramids in Egypt, or any other tourist attractions in the country. These are items of clothing you should keep for when you are visiting coastal resorts like Sharm El Sheikh.
Lower Body Clothing
When it comes to your lower body, what should you wear to visit the pyramids in Egypt? Long loose dresses and/or loose fitting trousers or slacks are best. If you plan on going for a camel ride or horse ride at the Pyramids of Giza, then a pair of loose fitting long pants would probably be better than a full length dress or even a shorter dress.
Tourists are not required to follow any particular dress code to visit the pyramids in Egypt. Although many online sources say that female travellers should not wear short pants, many female tourists do, and nobody bats an eyelid. Both men and women are free to wear shorts to visit the pyramids. However, if you are a woman and you are going to be using buses or the metro to get to the Giza plateau from downtown Cairo, wearing very short pants is likely to attract unwanted attention.
What Shoes to Wear to Visit the Pyramids in Egypt
With Egypt being such a warm country, surely it would be best to wear open sandals when visiting the Pyramids of Giza or any of the other pyramids located at Saqqara and Dashur? While sandals may seem like a better and cooler choice of footwear, they actually are not.
There are lots of stones, rocks and other objects which you can accidently kick when you visit the pyramids in Egypt. Sandals also don't offer any support for your feet or ankles. A good pair of leather walking shoes or a pair of good quality breathable trainers are far more suitable for visiting the pyramids. This is especially true if you plan on going inside any of the pyramids.
Summary
There is no special dress code at the Giza necropolis, Saqqara necropolis, or Dashur necropolis. You really don't need to worry about what to wear to visit the pyramids in Egypt. In a nutshell, you should opt for light and loose fitting clothes made from breathable fabrics. And, since Egypt is a conservative country, you should also consider dressing somewhat conservatively.
Visit Egypt and Travel in Safety and Comfort
If you are longing to visit Egypt and its many breathtaking ancient attractions, check out our incredible selection of private guided Egypt tour packages and book your dream trip to the Land of the Pharaohs today. And, if you don't find the perfect tour on our site, our travel planner allows you to design your own tour in three easy steps.
Design Your Custom Egypt Tour
Explore Egypt your way by selecting only the attractions you want to visit