4 Day MS Amoura Dahabiya from Aswan to Esna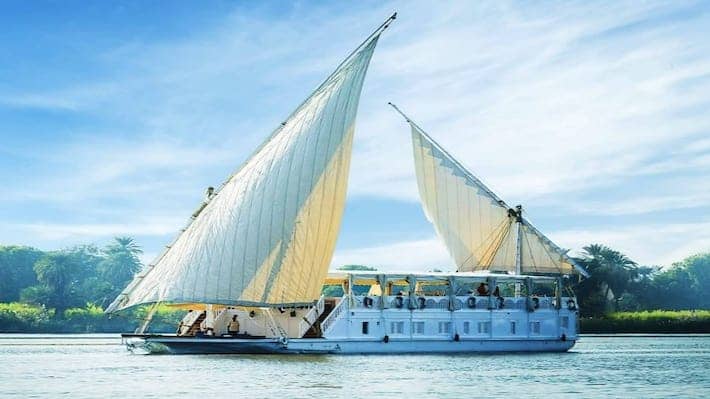 Step out of reality and into a dream come true when you board the 5-Star Amoura Dahabiya Nile Cruise, a luxurious traditionally styled river yacht that will be your home on the water throughout this magical 4-Day Aswan to Esna cruise. All six cabins on the Amoura have large panoramic windows, while the luxury suite also has its own private terrace as well. This remarkable Dahabiya Nile cruise exudes luxury throughout, from fine onboard meals, to luxuriantly decorated accommodation.
Enjoy some of the Nile River Valley's best ancient sites, stretching from Aswan to Luxor; visit sites which are inaccessible to the larger cruise ships; have dinner in the grounds of an ancient illuminated temple; and some unimaginable historical sightseeing in a beautiful horse-drawn carriage. Enjoy a vacation you will never forget – Epic Egypt tours and Nile River cruises with lifelong memories guaranteed.
MS Amoura Dahabiya Nile Cruises Depart from Aswan every Friday.
NOTE: Scheduled MS Amoura Dahabiya departures are dependent on at least 2 double cabins being booked, or 4 participants, in order to guarantee sailing.
Inquire
4 Day MS Amoura Dahabiya Nile Cruise
Itinerary
Day 1 – Aswan Day Tour and Sail to Kom Ombo
When you arrive at Aswan Airport or Aswan Railway Station for your Amoura Dahabiya Nile Cruise, your tour manager will be there to meet and greet you, and to assist you in any way they can. You will also be joined by a highly experienced and duly qualified Expert tour guide who will be accompanying you on a historical tour of Aswan.
Your first stop will be at the remarkable Philae Temple, an ancient site featured in nearly all high-quality tour itineraries. Like many ancient monuments in this region of Egypt, Philae Temple was moved in its entirety to its current location. If this had not been done, this wonderful relic of the ancient world would have vanished beneath the waters of Lake Nasser following the construction of the Aswan High Dam.
After visiting Philae Temple, you will move on to visit the actual Aswan High Dam itself. It is this might dam that gave birth to Lake Nasser, one of the world's largest man-made lakes.
Finally, you will be taken to Aswan's lively bazaar where you will be able to immerse yourself the area's local culture. It is also a wonderful place to shop for souvenirs; perfumes; spices, and etc. Haggling for the best prices is a part of daily life here, but even if you are not good at haggling, your guide will see to it that you don't pay more than you have to if you see things you want to buy.
After soaking up the atmosphere in the bazaar, you will be escorted to the pier where you will be boarding the utterly charming MS Amoura, a 5-Star Dahabiya that will be your home for the remainder of your 4-Day Aswan to Esna Amoura Dahabiya Nile Cruise. Once you have boarded, you will be served a delightful onboard lunch while your river yacht is sailing silently towards Kom Ombo. In the evening you will also enjoy a lovely onboard dinner, and you will be spending the first night of your cruise in your cabin, on the water at Kom Ombo.
Meals Included: Lunch and Dinner
Day 2 – Kom Ombo Sightseeing and Sail to Speos of Hormheb
After a good leisurely breakfast on board the Amoura Dahabiya Nile Cruise, all passengers will disembark, and you will enjoy a fascinating visit to Kom Ombo Temple. This marvelous Greco-Roman temple is essentially two temples, with one basically being a mirror image of the other. This complex was built to honor two different gods, and because of this, one could not appear to be better than the other in any way. This is a remarkable site with a remarkable history, and your Expert tour guide will be more than happy to share their knowledge with you.
Following your temple visit, you will return to your Dahabiya river yacht in time for you to enjoy another fine onboard lunch while it sails towards the temple of Gebel el Silsila, one of Egypt's less frequented ancient relics. After a brief stop at this site, the boat will sail to the opposite side of the river, and it will tie up alongside an ancient rock-hewn temple known as the Speos of Hormheb. This is really a fascinating place to visit, but you won't find it being featured in regular Nile River cruises, simply because the large cruise ships are not able to dock here.
Providing the weather remains favorable, you will enjoy a wonderful dinner within the grounds of the illuminated temple in the evening. If the weather does not permit this, then dinner will be served on the Dahabiya's upper deck where you will still have a perfect view of the lit up temple. There will also be soft music to match the mood. Finally, the day will end with a wonderful night's rest on board in the comfort of your luxury cabin.
Meals Included: Breakfast, Lunch, and Dinner
Day 3 – Edfu Sightseeing; Island Dinner, and Sail to Esna
Enjoy another leisurely breakfast, and then once all passengers have finished eating, you will disembark, and you will be taken to visit Edfu Temple. However, this is no ordinary temple visit. Instead, you will be going to the temple in a lovely horse-drawn carriage. Edfu temple was buried beneath the sand for roughly 2,000 years, and this has ensured that the temple is now the best-preserved ancient temple in Egypt.
Once you have seen all there is to see at the temple, you will move on to an extensive nearby bazaar. You can either explore the bazaar on foot, or you can ride through it in your horse-drawn carriage, stopping whenever you want in order to buy things which might have caught your attention.
Once you are done at the bazaar, it will be time to once again board the MS Amoura, which will then start sailing towards a tiny island in the Nile River where everyone will disembark for a lovely dinner, and some truly memorable Egyptian entertainment. Of course, if the weather doesn't permit this, then dinner will be served on the boat's sundeck.
Later in the evening, the boat will sail slowly towards Esna, where you will be spending the night on the water, in the blissful comfort of your cabin.
Meals Included: Breakfast, Lunch, and Dinner
Day 4 – Disembarkation and Luxor Monuments Tour
Today once again begins with a good hearty breakfast being served on board the vessel. Even though this is the last day of your 4-Day Aswan to Esna Amoura Dahabiya Nile Cruise, there is still a bunch of sightseeing to be done. After all passengers have finished breakfast, you will need to check-out and disembark, and then the action begins.
A modern air-conditioned vehicle will take everyone to Luxor, with your first stop be at the Valley of the Kings. This is the site of a vast ancient necropolis where archaeologists have discovered more than 70 royal tombs, including that of King Ramesses II and King Tutankhamen. In fact, the mummy of King Tutankhamen is still located inside his tomb, although nearly all of the artifacts that were discovered in the tomb are now on display at Egyptian Museum in Cairo.
Your next stop will be at an equally as impressive site, this time the rock-cut temple of Queen Hatshepsut. No amount of words can accurately describe this remarkable site, and this explains why it is today one of Egypt's most frequented archeological treasures.
Next, you will visit the famous Colossi of Memnon. While there is not much left of the original site, it does also have a remarkable history, and it does feature on most Nile cruise itineraries. Finally, you will head off to visit Karnak Temple. Although this site is referred to as a temple, it was in fact, more of a temple city that continued growing for about 2,000 years, as every new ruler added to it. It is an amazing site to visit, and one which you aren't likely to forget.
With your Luxor tour now completed, it will be time for you to be transferred to the airport or the railway station, depending on what you travel plans are. Sadly, your 4-Day Aswan to Esna Amoura Dahabiya Nile Cruise is now officially over, but you will be leaving with memories you can cherish forever.
Meals Included: Breakfast
What is Included
What is
included

in your MS Amoura Dahabiya Nile Cruise holiday:
Meet and Greet Service – One of tour representatives will meet you on arrival in Aswan, and another one will be there to bid you farewell when you depart from Luxor.
Full Personal Assistance – Our team of tour professionals will be available to offer assistance throughout the duration of your cruise in the unlikely event that something goes wrong.
All Transfers – All transfers are done in modern air-conditioned vehicles and are included in the price of your cruise.
Full Board – Your 4 Day Aswan to Esna MS Amoura Dahabiya Nile Cruise includes full board and lodging on board the MS Amoura river yacht.
All Excursions – All excursions mentioned in the itinerary are included in the tour price.
Entrance Fees – Any and all entrance fees to the various sites visited are included.
English Speaking Guide – A fully certified English-speaking Expert guide will accompany you on all excursions. Our guides are extremely knowledgeable, and visitors are encouraged to ask question during excursions.
All Service Charges and Taxes – The price of your cruise is inclusive of all taxes, services charges, and etc. With us, there are NO hidden charges along the way.
What is
not included

in your MS MS Amoura Dahabiya Nile Cruise holiday:
Pre-Arrival and Post-Departure Travel – Tour price does not include travel to Aswan or onward travel from Luxor.
Tipping – Tour price does not include money for tipping guides, waitresses, waiters, and etc. Tipping is not required or expected, but always appreciated if you feel it is well-deserved.
Price
| Price per 1 person | May to September | October to April |
| --- | --- | --- |
| Double Cabin | $775 | $835 |
| Single Cabin | $1199 | $1315 |
Prices are quoted per person in US$ and are valid until the 30th of September 2023, except during Christmas, New Year and Easter holidays.
Nile River Cruises
Didn't find the Dahabiya Nile Cruise you were looking for? Find more 4-day Nile cruises here or see MS Amoura Dahabiya Nile Cruise alternatives below.
Design Your Custom Egypt Tour
Explore Egypt your way by selecting only the attractions you want to visit