4 Day Nile Cruise in December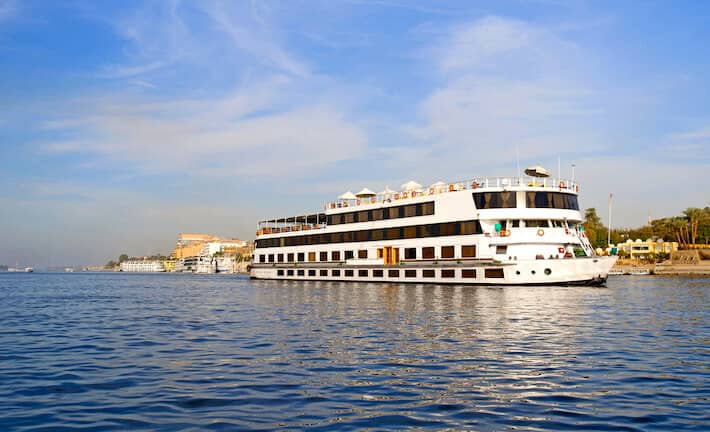 Get ready for an experience of a lifetime with a surprisingly affordable high quality 4-day Nile Cruise in December from Aswan to Luxor aboard the beautifully appointed Movenpick Royal Lotus cruise ship. Enjoy Ancient Egypt the way it should be enjoyed, tracing the footsteps of the pharaohs in comfort and style.
Prepare to be amazed as your adventure unfolds, with one of our friendly and incredibly knowledgeable English speaking Egyptologist tour guides accompanying you on daily excursions to some of Egypt's most magnificent ancient sites. Experience the magic of Egypt Christmas holidays on the Nile which you will never forget. If this itinerary doesn't quite meet your needs, we have lots of other amazing Nile River cruises available to make your festive season truly unforgettable.
Our 4 Day Royal Lotus Nile Cruise in December runs on the 27th of December 2021.
Itinerary
DAY 1 – Your Nile Cruise in December Adventure Begins
When you arrive at the train station for your Nile cruise in December, one of our tour representatives will meet you at the airport or at the railway station and then they will escort you in a modern air-conditioned vehicle to board your 5-Star Movenpick MS Royal Lotus Nile cruise.
After you have checked in on board you will be served lunch, and then you will disembark for a visit to the Aswan High Dam, followed by a visit to see the massive Unfinished Obelisk, and finally a visit to one of Egypt's most cherished attractions, the ancient Philae Temple. As with all your tours and excursions during your cruise, today's tour will be a small group tour with some of our other clients and one of our Egyptologist tour guides.
After your tour is over, you will return to the Royal Lotus and you will have the rest of the day to enjoy as you wish. Dinner will also be served on board the boat in the evening, and this will be followed by some enjoyable on-board entertainment. Enjoy the first night of your Nile cruise in December on the water at Aswan.
Meals Included: Lunch and Dinner
DAY 2 – Best of Kom Ombo and Best of Edfu Excursions
Today begins with an early departure from Aswan, with breakfast being served while you are sailing towards Kom Ombo where you will be taken see the remarkable Temple of Kom Ombo, and also the Crocodile Museum. Kom Ombu Temple is an ancient temple that was constructed thousands of years ago and then dedicated to two gods: Sobek and Haeroris. Following your excursion, you will return to the boat and it will begin sailing to Edfu.
Enjoy another good lunch on the ship, and then you will once again disembark, this time to go and see the ancient Temple of Horus which is Egypt's best-preserved ancient temple. Following your Horus Temple visit, it will be time to return to the MS Royal Lotus which will then sail to Esna.
In the evening another wonderful onboard dinner will be served, followed by some more enjoyable on-board entertainment. Tonight will be spent onboard, on the water in Esna.
Meals Included: Breakfast, Lunch, Afternoon Tea and Dinner
DAY 3 – Cruise to Luxor and Luxor East Bank Monuments
This morning your boat will depart from Esna and it will sail to Luxor, with a good breakfast being served along the way. When you arrive in Luxor you will once again disembark, this time for an excursion to Luxor's East Bank to see the Karnak Temple complex which is Egypt's second-most-visited ancient site. You will also be taken to see the much smaller but also much better-preserved Luxor Temple before returning to the ship for an afternoon of relaxation.
Meals and tea will be served at the usual times and there will once again be entertain aboard the vessel in the evening. Enjoy the last night of your Nile Cruise in December on the quite waters of the Nile at Luxor.
Meals Included: Breakfast, Lunch, Afternoon Tea and Dinner
DAY 4 – Cruise Disembarkation, West Bank Tour and Departure
Wake up and enjoy another fine onboard breakfast, and then it will be time for you to prepare for disembarkation. When you disembark, your guide will take you and the other member of you group to visit three more attractions magnificent ancient attractions: Valley of the Kings; the rocked-carved Temple of Queen Hatshepsut, and the Colossi of Memnon.
Valley of the Kings, along with the mortuary Temple of Queen Hatshepsut, are among the most visited attractions in the country. Valley of the Kings is of course where you will be able to see the royal tomb of King Tutankhamen although your Nile cruise in December does not include entry to the tomb.
Following your tour of the West Bank attractions, you will then be driven to the airport or the railway station for your onward journey. Your Nile cruise in December will now be over, but it will have been an adventure you will never forget.
Meals Included: Breakfast
What is Included
Inclusions – What is included in your 4 Day Nile Cruise in December:
Meet and assist service for at arrival and departure
Customer Service assistance throughout your 4 Day Nile cruise in December
All transfers and tours in clean and modern air-conditioned vehicles
Accommodation for 3 nights on 5-Star Nile Cruise with full board
Meals as specified in the itinerary
All tours during Nile Cruise (small group tours)
Admission tickets for all attractions mentioned in the itinerary
English speaking driver/guides for all tours
All service charges and taxes
Exclusions – What is not included in your 4 Day Nile Cruise in December:
Pre-arrival and post-departure travel
Entry visa for Egypt
Optional tours mentioned or not mentioned in the itinerary
Personal expenses such as extra meals, beverages, laundry and etc
Tipping kitty.
Price
Accommodation Plan
Movenpick MS Royal Lotus Nile Cruise (5-Star)
| Price per 1 person | Christmas / New Year |
| --- | --- |
| 3 Sharing | $689 |
| 2 Sharing | $709 |
| Solo | $1049 |
Prices for our 4 Day Royal Lotus Nile Cruise in December are quoted per person in US$ and valid for the 2021 Christmas and New Year holiday period.
Egypt Christmas Holidays
Didn't find the Egypt Christmas Holiday you were looking for? See more 4-day Nile cruises here or choose from one of our Nile Cruise in December alternatives below.