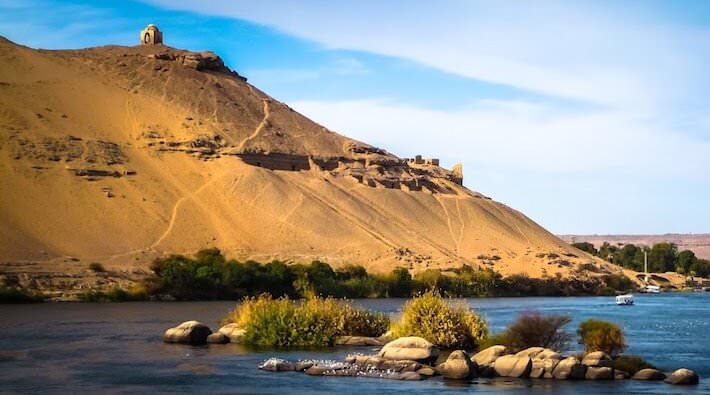 An 8 Day Cairo and Dahabiya Nile cruise vacation that has been meticulously planned and structured to provide visitors with one of the most memorable experiences they're ever likely to have.  From the magnificent ancient pyramids, mosques and churches in Cairo, to the vast collection tombs and temple complexes scattered throughout the Nile Valley, your days are going to be filled with wonder and awe.
Visit and explore all of Egypt's top historical attractions, and do it in absolute style aboard a luxurious Dahabiya. Enjoy calling in at quaint little islands where larger ships can't go; mix and mingle with local Nubians, and dine on the banks of the Nile. With the Cairo and Dahabiya Nile Cruise package lifetime memories are guaranteed.
Inquire
Cairo and Dahabiya Nile Cruise
Itinerary
Day 1: Welcome to enchanting Cairo
When you arrive for your Cairo and Dahabiya Nile cruise adventure, our representative will meet you at the Airport and escort you to the prestigious Le Méridien Pyramids Hotel & Spa for a refreshing "welcome" drink and a hassle free check-in.
After you have checked in, our tour consultant will discuss your itinerary with you, and they will also discuss pick-up times for your various tours and transfers. This is also a great opportunity for you to ask any questions you might have. Once everyone is happy, our consultant will leave and you will have the remainder of the day to yourself.
Day 2: Experience Cairo
Immediately following breakfast you will join your guide and your driver for a full day of sight seeing.
Start your day with the only remaining one of the original seven wonders of the ancient world, the famous Giza Plateau. Here you will see the Great Pyramid of Khufu, which the ancient Greeks called Cheops. In addition to Cheops you will be able to visit the pyramids of Khafre (Chephren) and Menkaure (Mykerinos). Another fabulous, albeit mysterious structure on the Plateau is the world renowned Sphinx.
Next stop on your tour is the Egyptian Museum at Cairo. Designed by French architect Marcel Dourgnon, the museum was built in the neo-classical style. Inside the museum you can browse over 120,000 artifacts from various time periods including pre-dynastic era clear up through the Greco-Roman era. Enjoy the only surviving image of Khufu who was the creator of Egypt's  Great Pyramid. Also inside is the funerary treasure of King Tut, statues of king Akhenaten (heretic king) and much more! If you have ever been curious about ancient Egyptian culture the museum is a great place to start! Many people particularly enjoy learning about the art of mummification.
Your next stop will be Coptic Cairo to visit the Hanging Church. The inspiration for the name of this Basilica church stems from its location on top of the south gate of the Fortress of Babylon.  Wrap up your day tour with a visit to the Khan el-Khalili Bazaar located in the Islamic district of Cairo. This is a major souk and one of the main attractions in Cairo. Finally, head back to the hotel for your overnight stay in Cairo.
Included Meals: Breakfast + Lunch
Day 3: Fly to Luxor and lose yourself
Day three of the Cairo and Dahabiya Nile Cruise will begin with a drive from your hotel to the airport for your short flight to Luxor. When you land in Luxor you will once again be met by your Egyptologist guide and a driver who will take you to visit the largest place of worship ever built, the magnificent Karnak Temple complex.
Ipet-isut is the ancient name for this temple and means "The Most Sacred of Places".  Karnak is actually a complex of temples that took more than two thousand years to complete. Generation after generation of Pharaohs worked on the complex.  Enjoy a complete tour of the temple starting with the Hypostyle Hall which contains a virtual forest of giant pillars.
Next enjoy a casual lunch at a local restaurant before moving on to the Valley of the Kings. In the valley there are numerous magnificent tombs which are carved deep into the rock and filled with treasures and rich decorations to be used by the pharaohs in the afterlife.
Wrap up this day of sightseeing with the temple at El Deir El Bahary, a magnificent temple built for Queen Hatshepsut. She was the only female pharaoh and her temple rises from the plain in a series of terraces, and finally merges with the limestone cliffs around it. Next you will transfer to Esna where you will board and spend the night on your Dahabiya river boat.
Included Meals: Breakfast + Lunch
Day 4: Cruise to Esna and on to the Speos of Hormoheb
The next leg of your Cairo and Dahabiya Nile Cruise journey will take you from Esna to Edfu where you will disembark for a horse carriage ride to the spectacular Temple of Horus. After this pleasant excursion, you will be taken to the remarkable Edfu souk where you can do some great shopping or simply stroll around taking in all the sights and sounds. Finally we move on until we reach the Speos of Hormoheb.
After exploring and taking plenty of pictures of this ancient chapel, dinner will be served on the site. This makes for a very special experience since the structure is not only right there in front of you, but it will also be illuminated. Spend the night on board the Dahabiya
Included Meals: Breakfast + Lunch + Dinner
Day 5: Cruising the Nile River
Day five of your Cairo and Dahabiya Nile Cruise tour package will see you sailing for Kom Ombo to visit the Temple of Sobek. This fascinating complex actually consists of two temples, the one being a mirror image of the other. Since both were dedicated to two different gods, they had to be built identical in all aspects.
After touring these spectacular structures, you will then sail for a small and quiet Nile River island. Dinner will be served on the island which coincidentally is just a short distance from Aswan. Spend your  night on the Dahabiya.
Included Meals: Breakfast + Lunch + Dinner
Day 6: Aswan Sightseeing
On day six of your Cairo and Dahabiya Nile Cruise vacation you will have breakfast on board and then you will disembark for a tour of Aswan's popular attractions such as the Temple of Philae and the charming Aswan souk.
Since this is the last day of your cruise, a special farewell dinner will be served, accompanied by some wonderful Oriental and Arabic music. Enjoy you last night on board.
Meals included: Breakfast; lunch and supper
Day 7: Aswan and Flight to Cairo
After enjoying a good breakfast on board, you will disembark and one of our consultants will escort you to Aswan airport where you will then board your flight back to Cairo. On arrival in Cairo you will be met at the airport and taken to your hotel, where you will have the remainder of the day to yourself.
Meals included: Breakfast
Day 8: Your Day of Departure has Arrived
All good things must end, and unfortunately your Cairo and Dahabiya Nile cruise vacation must end too. Enjoy a lovely breakfast while you allow your mind to dwell on the many great experiences you've recently had, and promise yourself you'll return. After breakfast you'll be collected and taken to the airport for your flight home. Bid Cairo and Egypt farewell, and fly off into the sunset with memories you'll cherish forever.
Included Meals: Breakfast
What is Included
Inclusions – What is included in your Cairo and Dahabiya Nile cruise vacation:
Meet and greet service upon arrival and departure at airports.
Assistance from our experienced personnel during your stay.
All transfers in air conditioned vehicles with private driver.
Domestic flights.
Accommodation for 3 nights in a 5-Star Cairo hotel (includes breakfast).
Accommodation for 4 nights on Dahabiya cruise from Luxor to Aswan (full board).
Private Egyptologist guide.
All tours mentioned in the itinerary
Bottled water during your tours.
All shore excursions as mentioned as per cruise itinerary.
Free loan of mobile phone plus free 30 min local calls / 2 min. international calls.
Exclusions – What is not included in your Cairo and Dahabiya Nile cruise vacation:
International airfare.
Entry visa to Egypt.
Personal expenses.
Optional activities and tours.
Tipping.
Price
Accommodation Plan
Le Méridien Pyramids Hotel & Spa
Merit Dahabiya Cruise
Fairmont Heliopolis Hotel
| Price per 1 person | May to September | October to April |
| --- | --- | --- |
| Double (min. 2 pax) | $1,385 | $1,519 |
| Solo (1 pax only) | $2,135 | $2,355 |
Prices for our 8-Day Cairo and Dahabiya Nile Cruise are quoted per person in US$ and are valid until the 30th of September 2019, except during the Christmas, New Year, and Easter holidays.
Egypt Tours with Nile Cruise
Didn't find the Nile cruise holiday you were looking for? See Cairo and Dahabiya Nile Cruise alternatives below or customize your tour here.