If you have been longing for holiday, Egypt tours from Riyadh could be just what you need. And, if you have any questions about booking and enjoying Egypt tour packages from Saudi Arabia, we have the answers. In this post we address some of the most common questions and concerns about visiting Egypt from Saudi Arabia. If you don't find the answers you are looking for, you are welcome to contact us via email, Live Chat, or by calling us on our toll-free number and one of our trained travel specialists will be happy to help you.
Top 6 Egypt Tours from Riyadh
FREQUENTLY ASKED QUESTIONS
What to See In Egypt?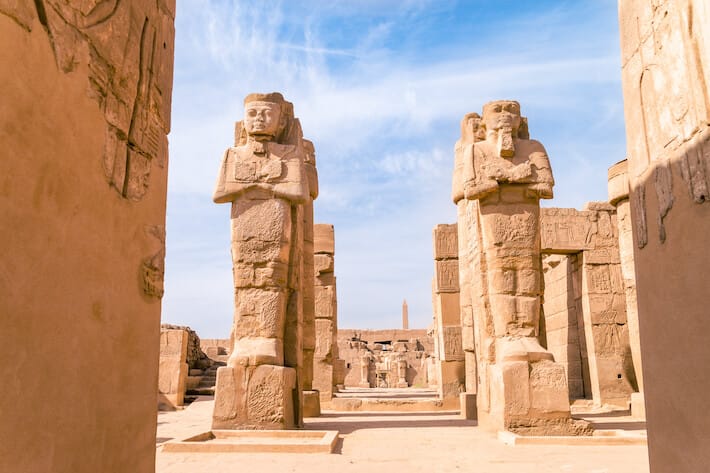 Not sure what Egypt tourist attractions you should visit when you arrive in the country? Since you will most likely be starting your vacation in Cairo, a visit to the ancient royal necropolis at Giza is a definite must. This is where you will find the iconic Pyramids and the Sphinx. The Egyptian Museum is also a superb place to visit, and if you want to do some shopping, we would recommend visiting the famous Khan el Khalili Bazaar.
Next on the list would be the two magnificent rock-cut temples at Abu Simbel near Aswan. Philae Temple in Aswan is also an excellent site. Edfu Temple, which is the best-preserved ancient temple in the country, should also be added to your list. A day or two in Luxor is also an absolute must because no trip to Egypt is complete without a visit to the Valley of Kings, Hatshepsut Temple and Karnak Temple complex.
Top 5 Attractions to See in Egypt
What to Pack for Egypt?
We can't tell you what to pack for Egypt, but there are a few things which we would certainly recommend packing for your trip. These would include things like a pair of sunglasses, some sunscreen lotion, a wide-brimmed hat, and some light loose-fitting clothes. If you intend doing any swimming while you are in Egypt, then naturally you should also pack in a swim suit or some swimming trunks. We would also recommend taking a comforable pair of shoes which are suitable for walking.
Distance and Flight Time from Riyadh to Egypt
The shortest flight distance from King Khalid International Airport in Riyadh to Cairo International Airport in Egypt is approximately 1,615 kilometers, with an estimated flight time of approximately 2 h 25 mins. These figures are based on direct flights from Riyadh to Cairo.
How to Obtain a Tourist Visa for Egypt?
Saudi Arabian citizens do not require a visa to visit Egypt. The can visit Egypt without a visa for a period of up to 3 months.
Is It Safe To Visit Egypt?
Egypt is a very safe place to visit as a tourist. Nevertheless, we do recommend that you stay alert and aware of your surrounding, particularly in very crowded touristy areas. We also recommend that female travelers and those traveling alone should avoid walking around in very quiet and/or poorly lit areas at night.
Anyone who has concerns about the current situation in Egypt can check the latest Egypt Travel Advisory issued by the Saudi government prior to booking any Egypt tours from Riyadh. The same advice would also apply if you were to book one of our Egypt and Jordan tours from Riyadh.
Tailor Made Egypt Tour Packages from Riyadh, Saudi Arabia
Explore Egypt your way by selecting only your favorite attractions. Click here to design your personal Egypt travel package from Riyadh.