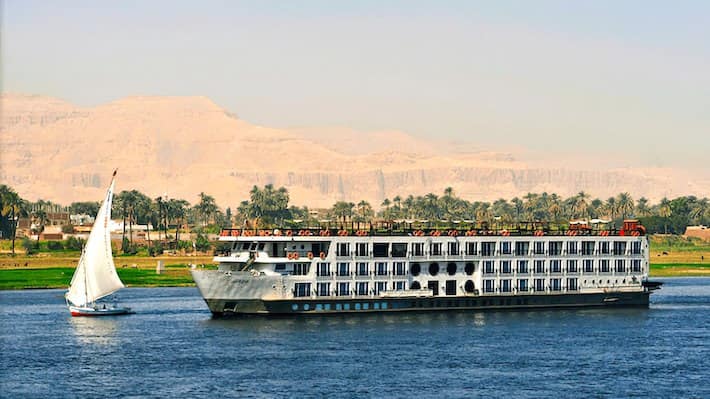 Enjoy a short and relaxing break with this thoughtfully put together 4-Day Nile Cruise Itinerary specifically designed for people with a limited amount of time to spare. Board the beautiful MS Mayfair cruise ship in Aswan, and soak up the magic of Ancient Egypt as it slowly makes its way to Luxor.
Join us for a 100% hassle free travel experience that will bring you face to face with some of Egypt's most treasured monuments. No matter which one of our Nile cruises you choose, you can look forward to traveling in style, with VIP treatment every step of the way.
NOTE: Our Nile cruises from Aswan depart every Friday.
Inquire
4 Day MS Mayfair Nile Cruise Itinerary
Itinerary
DAY 1 – Arrive Aswan for your 4 Day Nile Cruise Itinerary
When you book tours through Egypt Tours Plus, you are never on your own, and the same applies to this wonderful 4-day Nile cruise itinerary which begins in Aswan and ends in Luxor. Whether you will be arriving in Aswan by train or by plane, one of our tour managers will be waiting to meet you at the airport or the train station. Once they have given you a warm welcome, they will escort you to the area where you will be boarding the beautiful MS Mayfair cruise ship which is quite literally a floating hotel.
Once you have boarded and checked in, you will have some time to settle in, and then you will be served your first onboard lunch. Enjoy your lunch, and then you will be disembarking with a small group of our other clients, and you will be taken to see three of Aswan's most famous attractions: the Aswan High Dam; the ancient Temple of Philae, and the remarkable Unfinished Obelisk.
Philae Temple in particular is nothing short of spectacular, and it is almost impossible to actually believe that this entire ancient complex was moved in entirety from its original location. Had it not been moved, it would have been forever lost beneath the rising waters of Lake Nasser following the construction of the Aswan High Dam.
After visiting all three amazing sites, you will then return to the cruise ship where you will of course have some time for yourself before sitting down to a wonderful onboard dinner in the evening. After dinner, the remainder of the evening is yours to enjoy as you wish. Tonight you will be sleeping on the water in Aswan.
Meals Included: Lunch and Dinner
DAY 2 – Relaxing Cruise with Excursions at Kom Ombo and Edfu
Wake up to an excellent onboard breakfast, and then enjoy a wonderfully relaxing cruise to Kom Ombo. Spend the morning lounging around by the pool, or go ahead and enjoy all the ship's many other amenities. At around midday, you will again be served a delicious onboard lunch, followed by some afternoon tea a little bit later in the day.
Shortly after your afternoon tea, you and the other members of your group will be taken to see Kom Ombo Temple which is also often referred to as the Temple of Sobek and/or Haeroris Temple. The reason for this being that this ancient temple was originally built and dedicated to two gods, Haeroris the falcon headed god, and Sobek the crocodile god. This temple is essentially two temples, with one being a mirror image of the other. Because it was dedicated t two gods, both had to be identical in every aspect so as to not offend either of the two gods.
Following your visit to Kom Ombo Temple, you will return to the vessel, and it will set sail for Edfu where you will enjoy another onshore excursion, this time to see the ancient Horus Temple, which is also sometimes called Edfu Temple.
On arrival back at your cruise ship, you will have a little bit of free time for yourself, and then it will be time for another excellent onboard dinner. You will spend this night of your luxury Nile cruise itinerary on the water at Edfu.
Meals Included: Breakfast, Lunch and Dinner
DAY 3 – Cruise to Luxor with East Bank Sightseeing
The 3rd day of your Nile cruise itinerary once again includes a nice amount of time for you to relax and enjoy your surroundings. The vessel will be leaving Edfu shortly after you have had your breakfast, and it will then sail towards Luxor, with lunch and afternoon tea being served along the way.
On arrival at Luxor, you and your small group will disembark, and you will be taken to see the remarkable Luxor Temple which is located on Luxor's East Bank. After your visit, you will return to the boat where you will again have a little bit of time for yourself before dinner is served. Shortly after dinner there will also be a very enjoyable Egyptian Belly Dancing show on the ship. Enjoy a relaxing evening and a wonderful night's sleep on the water at Luxor.
NOTE: There is a nightly Sound and Lights Show at the Luxor Temple complex, but this is not included in the price of your Nile cruise itinerary. However, if you would like to witness this marvelous event, please let us know, and we will be happy to make the necessary arrangements for you.
Meals Included: Breakfast, Lunch and Dinner
DAY 4 – Disembarkation and Luxor West Bank Tour
Sadly, your Nile cruise itinerary ends today, but not before you have been taken to see two of Egypt's most famous ancient attractions. Enjoy one last onboard breakfast, and then it will soon be time for you to check-out and disembark.
After disembarkation, your first visit will be to the now infamous Valley of the Kings, a vast royal necropolis where more than 60 ancient tombs have been discovered, including the tomb of King Tutankhamen which was found still sealed and intact in the early 20th century by Howard Carter. While virtually all of the tomb's treasures and artifacts were moved to the museum in Cairo, the actual mummy of King Tutankhamen remains on display inside his tomb. In order to try and preserve his tomb, it is not always open to visitors, and when it is, a special ticket has to be purchased onsite, and only a certain number of visitors are allowed in on any given day. For this reason, entrance tickets for this particular tomb are not included in the price of our Nile cruise itinerary.
After exploring Valley of the Kings, you will then be taken to see another truly spectacular site, the mortuary temple of Queen Hatshepsut. This vast ancient complex was carved out of the surrounding bedrock, and it is today one of the most visited ancient sites in Egypt.
At the appropriate time, you will be driven in a clean and modern air-conditioned vehicle to the airport or the railway station, depending on what travel arrangements you have made. One thing is for certain, and that is that you will have had an unforgettable few days; exactly the sort of travel experience we guarantee every on e of our valued customers.
Meals Included: Breakfast
What is Included
What is
included

in your Nile Cruise Itinerary:
Meet and Greet Service – One of tour representatives will meet you on arrival in Aswan, and another one will be there to bid you farewell when you depart from Luxor.
Full Personal Assistance – Our team of tour professionals will be available to offer assistance throughout the duration of your cruise in the unlikely event that something goes wrong.
All Transfers – All transfers are done in modern air-conditioned vehicles and are included in the price of your cruise.
Full Board – Nile Cruise Itinerary includes full board and lodging on board the MS Mayfair cruise ship.
All Excursions – All excursions mentioned in the itinerary are included in the tour price.
Entrance Fees – Any and all entrance fees to the various sites visited are included.
English Speaking Guide – A fully certified English-speaking guide will accompany you on all excursions. Our guides are extremely knowledgeable, and visitors are encouraged to ask question during excursions.
All Service Charges and Taxes – The price of your cruise is inclusive of all taxes, services charges, and etc. With us, there are NO hidden charges along the way.
What is
not included

in your Nile Cruise Itinerary :
Pre-Arrival and Post-Departure Travel – Tour price does not include travel to Aswan or onward travel from Luxor.
Tipping – Tour price does not include money for tipping guides, waitresses, waiters, and etc. Tipping is not required or expected, but always appreciated if you feel it is well-deserved.
Price
Accommodation Plan
MS Mayfair 5-Star Nile Cruise Ship
| Price per 1 person | May to September | October to April |
| --- | --- | --- |
| Triple Cabin | $779 | $817 |
| Double Cabin | $799 | $837 |
| Single Cabin | $1,283 | $1,323 |
Prices are quoted per person in US$ and valid up until the 30th of September 2023, except during Easter and Christmas and New Year holidays.
Nile River Cruises
Didn't find the Nile Cruise from Aswan you were looking for? Find more 4 day Nile cruises here or see Mayfair Nile Cruise itinerary alternatives below.
Design Your Custom Egypt Tour
Explore Egypt your way by selecting only the attractions you want to visit