4 Day Steigenberger Omar El Khayam Lake Cruise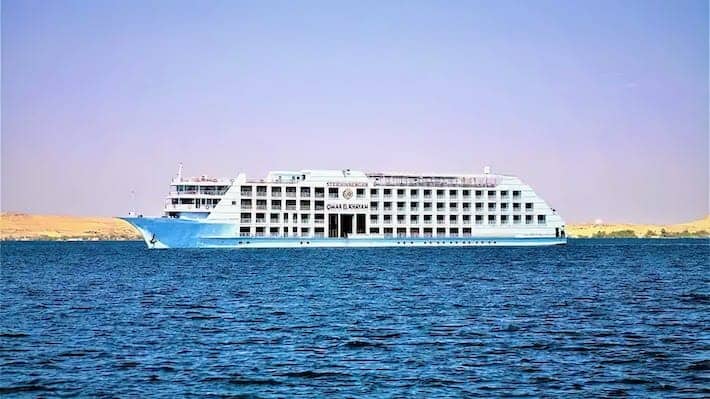 Enjoy a 4-Day Abu Simbel to Aswan Lake Nasser cruise on board the luxurious Steigenberger Omar El Khayam Lake Cruise, the newest cruise ship operating on Lake Nasser between Abu Simbel and Aswan. With its friendly crew and its world-class amenities, it allows you to enjoy a truly unforgettable journey through ancient Nubia.
Live a life of absolute luxury when on board, and a life of never ending discovery every time you step ashore along the banks of Lake Nasser. See the best ancient sites at Abu Simbel; Wadi El Sebou; Amada, and Aswan. Whether you choose a cruise on Lake Nasser, or whether you choose one of our other Nile cruises, your stay in Egypt will be an experience you will cherish forever.
Steigenberger Omar El Khayam Lake Cruise departs from Abu Simbel every Friday.
Inquire
4 Day Steigenberger Omar El Khayam Lake Cruise
Itinerary
Day 1 – Cruise Embarkation and Abu Simbel Temples
Arrive at Abu Simbel and you will be met by one of our happy and dedicated tour representatives who will be happy to assist you in any way they can. Once all the formalities are over, they will escort you in a modern air-conditioned vehicle to the place where you will board the luxury 5-Star Steigenberger Omar El Khayam for your magical 4-Day Abu Simbel to Luxor lake cruise.
Once you have boarded and you have checked in, you will be shown to your cabin where you will be sleeping for the next three nights. Soon after check-in, the ship's crew will begin serving a delicious onboard lunch, and after that everyone will disembark for a visit to one of Egypt's most prized ancient sites, the Abu Simbel Temples.
These vast rock-cut temples were constructed during the 13th century BC under the orders of Ramesses II who wanted two lasting monuments, one for himself, and one for his wife, Queen Nefertari. Like many ancient sites on the shores of Lake Nasser, this astonishing complex was moved in its entirety to higher ground. If this was not done, these temples would have vanished below the rising waters of Lake Nasser after the Aswan High Dam was built.
After everyone has had plenty of time to explore this magnificent site, you will make your way make to the ship, with some time left for leisure and relaxation. There will also be an optional excursion offered in the evening for those who would like to return to Abu Simbel Temples after dark for a spectacular Sound and Light Show. However, this is not included in the standard price of your cruise.
Tonight you will be enjoying a wonderful dinner on board, and a good night's sleep in your luxurious cabin on the water at Abu Simbel
Meals Included: Lunch and Dinner
Day 2 – Sightseeing Cruise to Wadi El Seboua
Today the Steigenberger Omar El Khayam will leave Abu Simbel early, and ultimately, it will be sailing towards Wadi El Sebou, but with some great sightseeing opportunities along the way. Enjoy a lovely leisurely breakfast on the water, and by the time everyone has finished eating, the ship will be approaching Kasr Ibrim, an ancient historical site perched on a little miniature island.
Because of Kasr Ibrim's location, it is not possible for passengers to go ashore, but the ship will move in close and then stop so that everyone can take photos from the spacious sundeck. After this brief stop, the vessel will continue on its way, with a wonderful lunch being served along the way.
When the boat reaches Amada, everyone will get a chance to disembark, and you will enjoy a visit to the amazing Temple of Amada which was built by Pharaoh Thutmose III of the 18th Dynasty. Finally, everyone will board the majestic Steigenberger Omar El Khayam for its final leg of the journey to Wadi El Sebou.
Another fine onboard dinner will be served at Wadi El Sebou, and there will be an optional excursion offered for those passengers who would like to experience a fantastic Sound and Light Show at Wadi El Sebou Temples. The cost of this excursion is not included in the cost of your cruise. Tonight, you will sleep on the water at Wadi El Sebou in the comfort of your luxury cabin.
Meals Included: Breakfast, Lunch, and Dinner
Day 3 – Wadi El Sebou Sightseeing and Cruise to Aswan
Wake up to a delicious early breakfast, and then everyone will disembark for a sightseeing extravaganza that will see you visiting two remarkable ancient sites. First, you will visit the Wadi El Sebou Temples that were built under the watchful eye of Pharaoh Ramesses II, and then you will visit the extremely impressive Dakka Temple which dedicated to Thoth, the God of Wisdom when it was originally built during the 3rd century BC.
Once you have finished exploring these remarkable relics of Egypt's ancient past, you will head back to your cruise liner in time for another good onboard lunch which will be served as while you are cruising to Aswan. On arrival in Aswan, you will sit down to enjoy the last dinner of your cruise, and this will be followed by an enjoyable and very memorable Nubian show.
The rest of the evening is free for you to enjoy as you wish. Retire to your cabin early; take advantage of the ships generous amenities, or head outdoors and enjoy some refreshments under the stars. The last night of your 4-Day Abu Simbel to Aswan lake cruise will be spent on the water at Aswan.
Meals Included: Breakfast, Lunch, and Dinner
Day 4 – Aswan Sightseeing, Disembarkation, and Airport Transfer
This is the last day of your unforgettable Nile cruise vacation package, but the fun has not ended yet. Wake up and enjoy one last breakfast on the beautiful cruise ship, and then it will be time for everyone to disembark for a visit to another two ancient sites.
Your first visit will be to a temple that was built in 30BC to honor a Lower Nubian sun god called Mandulis, the Temple of Kalabsha. Next will be a visit to the nearby Temple of Beit el-Wali, a truly remarkable rock-cut temple which must be seen in order to be fully appreciated.
Finally, you will return to the ship so that you can collect your luggage and check out. Once you leave the ship, you will once again be met, and in a modern air-conditioned vehicle, you will be transferred to Aswan Airport for your final departure. If you intend traveling on from Aswan by rail, just let us know and we will transfer you to the railway station instead.
Meals Included: Breakfast
What is Included
What is
included

in your Steigenberger Omar El Khayam Lake Cruise holiday:
Meet and Greet Service – One of tour representatives will meet you on arrival in Abu Simbel, and another one will be there to bid you farewell when you depart from Aswan.
Full Personal Assistance – Our team of tour professionals will be available to offer assistance throughout the duration of your cruise in the unlikely event that something goes wrong.
All Transfers – All transfers are done in modern air-conditioned vehicles and are included in the price of your cruise.
Full Board – Your 4 Day Abu Simbel to Aswan Steigenberger Omar El Khayam Lake Cruise includes full board and lodging on board the Steigenberger Omar El Khayam Lake Cruise ship.
All Excursions – All excursions mentioned in the itinerary are included in the tour price.
Entrance Fees – Any and all entrance fees to the various sites visited are included.
English Speaking Guide – A fully certified English-speaking Expert guide will accompany you on all excursions. Our guides are extremely knowledgeable, and visitors are encouraged to ask question during excursions.
All Service Charges and Taxes – The price of your cruise is inclusive of all taxes, services charges, and etc. With us, there are NO hidden charges along the way.
What is
not included

in your Steigenberger Omar El Khayam Lake Cruise holiday:
Pre-Arrival and Post-Departure Travel – Tour price does not include travel to Abu Simbel or onward travel from Aswan.
Tipping – Tour price does not include money for tipping guides, waitresses, waiters, and etc. Tipping is not required or expected, but always appreciated if you feel it is well-deserved.
Price
Accommodation Plan
Steigenberger Omar El Khayam Nile Cruise
| Price per 1 person | May to September | October to April |
| --- | --- | --- |
| Triple Cabin | $915 | $955 |
| Double Cabin | $972 | $1012 |
| Single Cabin | $1539 | $1579 |
Prices are quoted per person in US$ and are valid until the 30th of April 2024, except during Christmas, New Year and Easter holidays.
Nile River Cruises
Didn't find the Lake Nasser Cruise you were looking for? See Steigenberger Omar El Khayam Lake Cruise alternatives below or check out some of our other 4-day / 3-night Nile cruises here.
Design Your Custom Egypt Tour
Explore Egypt your way by selecting only the attractions you want to visit