5 Day MS Nile Goddess Cruise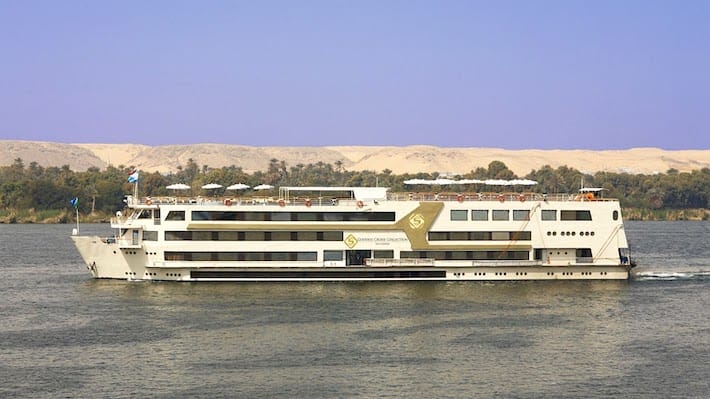 5 Day Luxor to Aswan on board the MS Nile Goddess Nile Cruise
Leave all your troubles behind and climb on board the deluxe MS Nile Goddess river cruiser for magical 5-day Luxor to Aswan Nile cruises. With a total of 49 Deluxe Cabins, 4 Senator Suites, and 4 Presidential Suites with private terraces, the MS Nile Goddess can provide the perfect level of luxury to suit all tastes and budgets.
Arrive in Luxor and visit the area's most remarkable ancient attractions, including the burial tomb of King Tutankhamen. Enjoy a cruise to Esna where more sightseeing awaits, then proceed to Edfu, and on to Kom Ombo, exploring unforgettable attractions along the way. Sail into Aswan, and visit the amazing Temple of Philae before you disembark. No matter which one of our Nile cruises you choose, lifelong memories are guaranteed.
MS Nile Goddess Nile Cruise departs from Luxor every Monday.
Inquire
5 Day MS Nile Goddess Nile Cruise
Itinerary
Day 1 – Luxor Arrival and Nile Goddess Cruise Begins
Welcome to Luxor, Egypt. One of our professional tour representatives will be waiting to meet and greet you when you arrive in Luxor, and then they will immediately take you to the port where you will be boarding the elegant 5-Star MS Nile Goddess Nile cruiser. Your short drive will take place in a modern air-conditioned vehicle.
Once you board the Nile Goddess, you will have some time to drop your bags off in your cabin, and then a delicious lunch will be served.
After a leisurely lunch, you will disembark for a short excursion to Luxor's East bank where you will be taken to see the old ruins of Karnak Temple, an ancient city of temples. You will then enjoy a visit to the much better preserved Luxor Temple before returning to the MS Nile Goddess Nile Cruise in time for a pleasant afternoon tea.
In the afternoon, following your tea, there will be an authentic Egyptian belly dancing show, followed by a wonderful onboard dinner being served early evening. Tonight will be spent on the water in Luxor, so you'll have plenty of time to enjoy the cruise liner's many excellent amenities, or if you prefer something more energetic, you can dance the night away in the onboard disco.
Meals Included: Lunch, Afternoon Tea, and Dinner
Day 2 – Luxor West Bank Tour and Cruise to Esna
Another fun filled day awaits. Kick today off with a good wholesome breakfast and then disembark for a morning you will never forget.
After disembarking, you will be going to visit one of Egypt's mot valued ancient sites, the Valley of Kings. This is where Sir Howard Carter discovered the tomb of King Tutankhamen, complete with his mummy and a vast collection of treasure. However, more than 70 other tombs have also been unearthed at this site, including the tomb of Ramses VI.
After Valley of the Kings, your group will then go to see another unforgettable ancient wonder, the majestic rock-cut Temple of Queen Hatshepsut. After your fascinating West Bank visits, everyone will return to the boat and it will then start cruising to Esna.
Enjoy another fabulous onboard lunch and then spend the afternoon as you wish. At around 15h00 afternoon tea will be served, and shortly afterward there will be a short but very nice "Captain's Welcome" cocktail party.
Sit down to a fine onboard dinner in the early evening, and then go any enjoy yourself in the ship's disco, or simply relax and unwind. This night will be spent on the water in Edfu.
Meals Included: Breakfast, Lunch, Afternoon Tea, and Dinner
Day 3 – Cruise to Edfu and on to Kom Ombo
Today will start with an early breakfast which will be served while the MS Nile Goddess Nile Cruise is sailing to Edfu.
On arrival in Edfu, everyone will disembark for a brief but fascinating visit to ancient Edfu Temple, and upon returning to the cruise liner, it will begin the journey to Kom Ombo, with another fine lunch and afternoon tea being served along the way.
When you arrive in Kom Ombo you will disembark again, and you will be taken to visit Kom Ombo Temple. This temple is actually composed of two identical temples that were dedicated to two different Gods. One was built to honor Horus the falcon God, while the other was built to honor Sobek the crocodile God.
Following your visit to this remarkable site, you will head back to the Nile Goddess in time for another wonderful onboard dinner. Shortly after dinner, there will be a very entertaining Galabya Party, and tonight you will be sleeping on the water in Kom Ombo.
Meals Included: Breakfast, Lunch, Afternoon Tea, and Dinner
Day 4 – Cruise to Aswan and Aswan Sightseeing
Wake up on the water and enjoy another scrumptious onboard breakfast while the Nile Goddess is cruising to Aswan. On arrival in Aswan, you will enjoy a visit to the spectacular Aswan High Dam; a visit to the area's ancient granite quarries, and finally a visit to the remarkable Philae Temple.
Philae Temple is an extraordinary ancient relic with an extraordinary history dating back thousands of years. Be sure to ask your Expert guide about this astonishing attraction. After your visit to Philae, it will be time for everyone to enjoy another 5-Star lunch on board the MS Nile Goddess Nile Cruise, and then the rest of the afternoon will be yours to enjoy as you wish.
Afternoon tea will be served at around 15h00, with dinner being served at the usual time in the evening. After enjoying a nice leisurely dinner, everyone will be invited to watch a fascinating Nubian folkloric show on board the vessel, and then the rest of the evening is free. End your day in the comfort of your cabin on the water in Aswan.
Meals Included: Breakfast, Lunch, Afternoon Tea, and Dinner
Day 5 – Nile Goddess Disembarkation
All good things eventually come to an end, and unfortunately, the same applies to your 5-Day Luxor to Aswan Nile cruise. Before you go, though, first enjoy one last breakfast on board the luxury MS Nile Goddess Nile Cruise as you reminisce about all the things you have seen throughout your cruise through Ancient Egypt.
After breakfast it will be time for you to disembark, at which point you will once again be met by one of our tour managers, who will then escort you to the airport or to the railway station, depending on what your onward travel plans are. Your Nile cruise has come to an end, but when final goodbyes have been said, you will be leaving with memories that will never fade.
Meals Included: Breakfast
What is Included
What is
included

in your MS Nile Goddess Nile Cruise holiday:
Meet and Greet Service – One of tour representatives will meet you on arrival in Luxor, and another one will be there to bid you farewell when you depart from Aswan.
Full Personal Assistance – Our team of tour professionals will be available to offer assistance throughout the duration of your cruise in the unlikely event that something goes wrong.
All Transfers – All transfers are done in modern air-conditioned vehicles and are included in the price of your cruise.
Full Board – Your 5-Day Luxor to Aswan Nile cruise includes full board and lodging on board the MS Nile Goddess Nile cruiser.
All Excursions – All excursions mentioned in the itinerary are included in the tour price.
Entrance Fees – Any and all entrance fees to the various sites visited are included.
English Speaking Guide – A fully certified English-speaking Expert guide will accompany you on all excursions. Our guides are extremely knowledgeable, and visitors are encouraged to ask question during excursions.
All Service Charges and Taxes – The price of your cruise is inclusive of all taxes, services charges, and etc. With us, there are NO hidden charges along the way.
What is
not included

in your MS Nile Goddess Nile Cruise holiday:
Pre-Arrival and Post-Departure Travel – Tour price does not include travel to Luxor or onward travel from Aswan.
Tipping – Tour price does not include money for tipping guides, waitresses, waiters, and etc. Tipping is not required or expected, but always appreciated if you feel it is well-deserved.
Price
Accommodation Plan
MS Nile Godess Nile Cruise
| Price per 1 person | May to September | October to April |
| --- | --- | --- |
| Triple Cabin | $885 | $1195 |
| Double Cabin | $910 | $1223 |
| Single Cabin | $1449 | $1918 |
Prices are quoted per person in US$ and valid until the 30th of April 2024 except during Easter, Christmas and New Year holidays.
Nile River Cruises
Didn't find the Luxor to Aswan Nile Cruise you were looking for? See other 5-day Nile cruises here or find a MS Nile Goddess Nile Cruise alternative below.
Design Your Custom Egypt Tour
Explore Egypt your way by selecting only the attractions you want to visit