5-Day Luxor to Aswan Dahabiya Nile Cruise [Nuut or Nuun]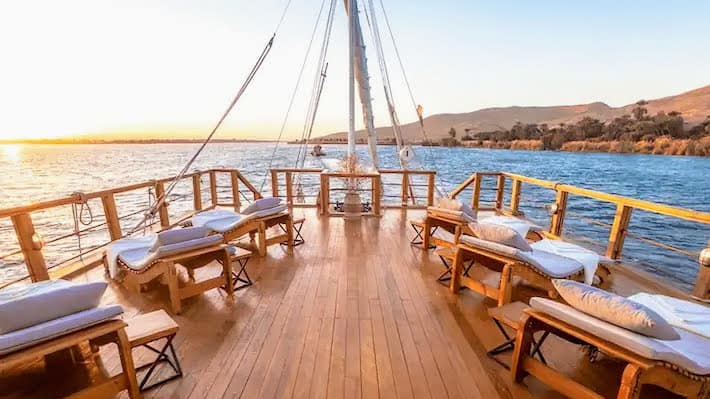 Experience a classic 5-day Luxor to Aswan Dahabiya Nile cruise aboard luxurious Nuut or Nuun Dahabiyas. As is the case will all our Dahabiya Nile cruises, lifelong memories are guaranteed. With three delicious meals served daily; beautifully appointed cabins, and daily excursions to breathtaking ancient sites, every day aboard the Nuut or Nuun Dahabiya will be an unforgettable day.
Our Nuut and Nuun cruise packages include professionally guided tours. Join us as we explore some of Egypt's most cherished monuments, including Karnak, Valley of Kings, Edfu Temple and more. And, if this isn't quite what you are looking for, be sure to check out our other gold-standard Nile cruises that can be customized to fit your needs perfectly.
Tour Runs: Every Thursday from Luxor
Dahabiya Nile Cruises
Didn't find the Dahabiya cruise you were looking for? See Luxor to Aswan Dahabiya Nile cruise alternatives below or other 5-day Nile cruises here.