8 Day Cairo-Istanbul Tour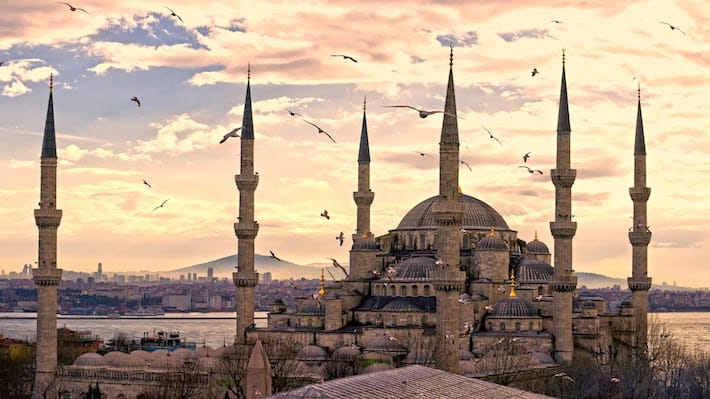 Embark on an epic mission of discovery with this gold standard 8 Day Cairo – Istanbul Tour. Explore Cairo's landmark Pyramids of Giza, the Sphinx and so much more. Visit the city's notorious Egyptian Museum, the Citadel, Coptic Cairo and many other interesting places.
Fly to Istanbul in Turkey, and experience this ancient city in all its glory. From vast underground cisterns to the majestic Topkapi Palace, Istanbul never fails to amaze. Visit the famous blue domed mosque, the museum, and explore the world's biggest covered bazaar.
Note: Depending on your own personal requirements, this Egypt and Turkey tour can also be amended so that it begins in Turkey rather than in Cairo.
Tour runs everyday.
Itinerary
Day 1: The Arrival In Cairo
Welcome to Cairo, Egypt. The tour manager that has been assigned to your tour will meet you at Cairo International Airport, along with a driver. They will assist you in any way they can, you will be driven in a comfortable air-conditioned vehicle to your 5-Star. Once you reach the hotel, your tour manager will assist you with check-in and the two of you will go over the holiday itinerary to help establish pickup times for each tour.
Spend the remainder of the day as you choose. Retire to your room and recover from your flight; dive in the pool, or head outside and immerse yourself Cairo chaos.
Day 2: Tour of the Pyramids
At your hotel in Cairo, you will enjoy breakfast and then meet with your personal guide who will take you to the Giza Plateau to visit the Great Pyramids of Cheops, Chefren and Mykerinus – plus the famous Sphinx and Valley temple in the shadow of the great statue.
Lunch will be included as part of the tour and, afterwards, you will proceed to the ancient Sakkara necropolis to  see the very first pyramid ever built, which is the Step Pyramid of Pharaoh Djoser. After your tour at Saqqara, you will be transferred back to your hotel in Cairo.
Meals included: Breakfast and Lunch.
Day 3: Tours of Cairo
After breakfast at the hotel, your private guide will escort you to the Egyptian Museum where you can explore the great treasure rooms of the legendary King Tutankhamen. Lunch will be taken at a local restaurant and then you can move to the Saladin Citadel including Mohamed Ali Alabaster Mosque inside.
Venture onward to Coptic Cairo to experience the Hanging Church and Ben Ezra Synagogue. You can mix your enjoyable time exploring the history of the region while shopping at the amazing Khan El Khalili Bazaar, which dates back to 1382. Back to hotel and overnight in Cairo.
Meals included: Breakfast and Lunch.
DAY 4 – Optional Tour to Alexandria
Wake up to another delightful breakfast served at your hotel in the morning, and then you will either have the entire day to yourself, or else you will be taken to Alexandria for a tour of Egypt's second capital. The Alexandria tour is optional, and is therefore not included in the standard price of our 8-day Cairo to Istanbul tour package.
If you have opted in for this tour, you will then be picked up from your hotel at the agreed time, and you will be driven to Alexandria for an unforgettable tour of the city's best historical attractions. The first place you will visit upon arrival will be the imposing Qaitbay Citadel which was once one of the most crucial and most impenetrable military stronghold along the entire Mediterranean coastline.
You will also visit the city's new and much spoken about library before heading to visit the rock-cut Roman cemetery and the ancient Catacombs. Finally, you will be driven back to your hotel in Cairo.
Meals Included: Breakfast
DAY 5 – Fly to Istanbul in Turkey
Enjoy one last hotel breakfast in Cairo, and then at the appropriate time, one of our tour representatives and a driver will collect you from the hotel and they will escort you to Cairo International Airport in time for your flight to Istanbul.
On arrival at the airport in Istanbul, you will once again be met by one of our tour representatives, and then you will immediately be transferred to the luxury hotel where you will be staying for the remainder of you Cairo to Istanbul Tour. After you have been assisted with check-in, and after our tour representative has discussed your tour itinerary with you, you will then have the remainder of the day to yourself.
Meals Included: Breakfast
DAY 6 – Full Day Tour in Istanbul
Enjoy a fabulous breakfast at your hotel and then at the agreed time you will be picked up from your hotel and you will head to an area known as Sultanahmet which is recognized by UNESCO as being the heart of old Istanbul. You will also be taken for a nice lunch here in between your sightseeing.
You first notable stop will be at the world-famous Hagia Sophia. Built in 537 AD, Hagia Sophia originally served as an Orthodox Church but was later converted into a mosque. This is one of the most visited tourist attraction in all of Turkey so you can be sure that you will definitely not be disappointed. After spending some time admiring the unique blend of Byzantine and Turkish decoration, you will then enjoy a short walk to the nearby Blue Mosque which was built during the 17th century.
From the Blue Mosque you will then be escorted to the Grand Bazaar where you will some time for shopping and/or browsing around amongst the bazaar's more than 1,000 gold and spice shops. One could spend several days at the Grand Bazaar, but there is still more sightseeing to be done today so after a relatively short stay at the bazaar it will be time to move on.
Your next stop today will be at the indescribable Topkapi Palace. Not only is the palace itself a sight to behold, but while you are there you will also get the opportunity to see an amazing collection of imperial and religious treasures including golden thrones and emerald crowns. After enjoying a comprehensive guided tour of Topkapi Palace, you will then be taken to see the incredibly impressive Hagia Irene Church although this visit will only include viewing from the outside.
Finally, you will visit one last historical site, the amazing Petit Hagia Sophia Mosque which was formally the Church of Sergius and Bacchus. After such a long day of sightseeing, it will time for you to return to your hotel where you can enjoy a good night's rest.
Meals Included: Breakfast and Lunch
DAY 7 – Bosphorus Cruise and Spice Market
Wake up and enjoy another excellent hotel breakfast and then you will be picked up at your hotel and you will be taken to Eminonu Pier where you will be boarding a boat for a 1.5-hour cruise on the Bosphorus Straight which runs through the center of Istanbul and also separates Europe from Asia.
There will also be an extremely knowledgeable guide with you during this cruise to tell you about the history of the various palaces, forts and bridges which you will be sailing past during the cruise. After your cruise, you will then enjoy a guided tour at a colorful 17th century spice market where you can find virtually any herbs and spices you can possibly think of.
If there is enough time left after your visit to the spice market you will also be taken to a local leather wholesaler where one can find a vast range of leather goods being sold at unbelievable low prices. If time does not allow for a visit to this wholesaler, then you will simply return to your hotel directly from the spice market.
Meals Included: Breakfast and Lunch
Day 8: Final Departure
Regrettably, your magical Cairo and Istanbul tour has come to an end, but you will carry the memories with you for the rest of your life. Enjoy a lovely 5-Star breakfast and then you will be driven to the airport in style for your flight out of Turkey. With heavy hearts, we will bid you farewell.
Meals included: Breakfast.
What is Included
Inclusions – What is included in your 8 Day Cairo-Istanbul Tour:
Meet and greet service at airports
Customer service assistance throughout your stay
All transfers in private air-conditioned vehicles
Accommodation for 4 nights in Cairo at a 5-Star hotel (includes breakfasts)
Accommodation for 3 nights in Istanbul at a 5-Star hotel (includes breakfasts)
All sightseeing tours in Cairo (private tours) with English speaking guide.
All Tours in Istanbul, Turkey (small group tours) with English speaking guide
Bosphorus Tour Cruise
Entrance fees to all sites as indicated on the itinerary
Lunch during sightseeing tours in Cairo
Lunch during sightseeing tours in Istanbul
Portage when needed
All service charges and taxes
Exclusions – What is not included in your 8 Day Cairo-Istanbul Tour:
International airfare
Entry visa for Egypt and Turkey
Optional tours not mentioned in itinerary
Personal expenses
Tipping Kitty
Price
Accommodation Plan
Hilton Pyramids Golf Hotel in Cairo
The Marmara Pera Hotel in Istanbul
| Price per 1 person | May to September | October to April |
| --- | --- | --- |
| Triple (3 pax) | $954 | $1050 |
| Double (min. 2 pax) | $1012 | $1120 |
| Solo (1 pax only) | $1696 | $1890 |
Prices for our Cairo-Istanbul tour are quoted per person in US$ and valid until 30th of April 2024. Please inquire for pricing over Christmas, New Year's, and Easter holidays..
Egypt and Turkey Tours
Didn't find the Egypt and Turkey tour you were looking for? See Cairo-Istanbul tour alternatives below or customize your tour here.
Design Your Custom Cairo-Istanbul Tour
Explore Cairo and Istanbul your way by selecting only the attractions you want to visit