Can You Visit the Pyramids from Sharm El Sheikh?
Yes, you can visit the pyramids from Sharm El-Sheikh by road or by air, either independently or by way of an organized tour. Visiting by road is your cheapest option, but probably not the most enjoyable option.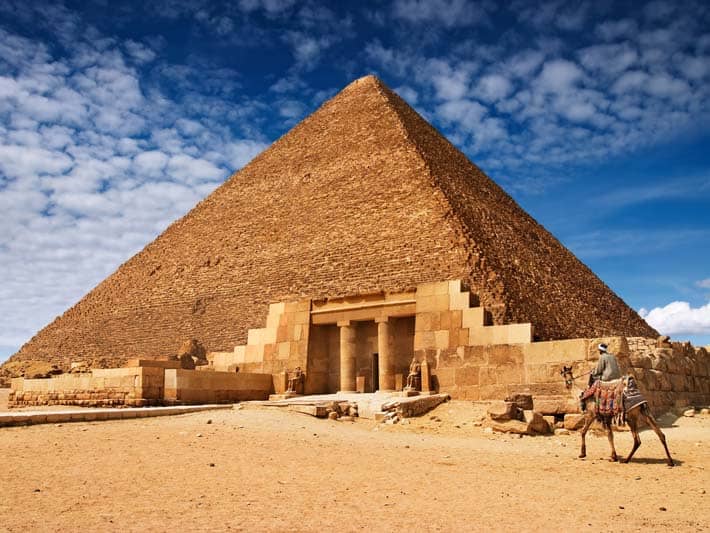 Can You Visit the Pyramids from Sharm El Sheikh?
Many tourists who enter Egypt via Sharm El Sheikh want to see the famous Giza Pyramids. The pyramids, along with the Great Sphinx are located on the Giza plateau on the outskirts of Cairo, the bustling Egyptian capital. Fortunately, visiting the Pyramids of Giza from Sharm El-Sheikh is relatively easy and also pleasantly affordable.
Visiting the Pyramids Independently from Sharm El-Sheikh
Can you visit the pyramids from Sharm El Sheikh using public transport? Not exactly. You would need to take a bus from the bus station to Cairo and then take a bus or the Metro to Giza, and from there you would need to take a taxi to the Giza Pyramid complex. While this is certainly your cheapest option, it is by far not your easiest nor best option.
Bus Tours to the Pyramids of Giza
Some travel agents offer reasonably priced bus trips from Sharm El Sheik to the Pyramids of Giza. However, before you choose this option, you should be aware of the fact that it is a 500 km (about 311 miles) drive to the pyramids, and then another 500 km drive back to Sharm El Sheikh. The drive to Cairo by bus can take up to 8 hours or more.
Do you really want to spend 16 + hours on a bus, even if it's a comfortable air conditioned bus with onboard entertainment and reclining seats? Bear in mind that if your bus tour includes a tour at the pyramids, your tour will most likely last no more than 2 hours.
Some tour operators also offer small group tours from Sharm El Sheikh to the pyramids in air-conditioned minivans. This is a somewhat quicker option, but you are still going to spend a considerable amount of time on the road.
From Sharm El Sheikh to the Giza Pyramids by Air
Flying from Sharm El Sheikh to Cairo is by far the quickest and most convenient option. Once you land at the airport in Cairo, you can get a taxi directly from the airport to the pyramids complex. Alternatively, you can catch a bus from the airport to downtown Cairo or Giza, and then get a taxi to the pyramids.
If you book an early morning flight from Sharm El Sheikh Airport and a late afternoon flight from Cairo back to Sharm El Sheikh Airport, you should have enough time for visiting a few other tourist attractions in Cairo as well, such as the Egyptian Museum, the Khan El Khalili Bazaar, and etc. On the downside, you will have to rely on taxis in order to get from one attraction to the next.
Don't even think about using public buses unless you can speak fluent with Arabic or unless you are already very familiar with the city's public transport network.
All-Inclusive Day Trips to the Pyramids from Sharm El Sheikh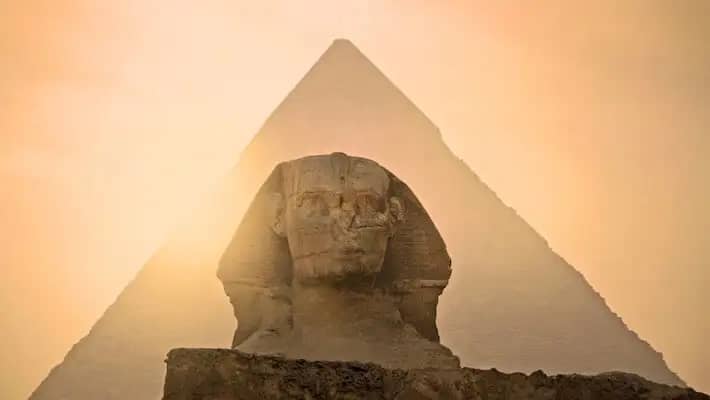 Booking an all-inclusive full-day trip through a reputable Egypt tour operator is hands-down your easiest, most enjoyable, and most hassle-free option. If you book a private day trip through a reputable travel agent, you really shouldn't have to do much planning at all.
By booking an all-inclusive day tour to the pyramids from Sharm El Sheikh, you are essentially paying someone else to do all the planning and make all the necessary arrangements.
If this sounds like the right sort of option for you, be sure to check out our ever-popular 12 Hour Cairo Tour from Sharm El Sheikh. With this high quality pyramids and Cairo tour package you have nothing to worry about, but you have a lot to look forward to.
Our 12 hour pyramids and Cairo tours include return flight tickets, airport and hotel transfers and all transport in Cairo in our private air conditioned vehicles. You will also have your own Egyptologist guide with you throughout your time in Cairo. A delicious lunch meal at a good quality restaurant is included in the price of your tour.
Begin your tour at the Pyramids of Giza in the morning where you will also have the opportunity to go for a short camel ride, and then visit other attractions such as the Egyptian Museum in Tahrir Square and the famous Khan el Khalili bazaar in the city's old Islamic quarter.
When it is time for your flight back to Sharm el-sheikh, your guide and driver will transfer you to Cairo Airport, and one of our company representatives will meet you when you arrive at the airport in Sharm El Sheikh and then transfer you to your hotel.
Create Your Own Dream Vacation
At Egypt Tours Plus, we can help you to take your Red Sea vacation to a whole new level. From camel rides in the desert to ATV Desert Safaris and world class scuba diving, every day of your vacation can be an unforgettable day.
Contact us now to begin planning your trip to Egypt or to book your dream holiday today.
Design Your Custom Egypt Tour
Explore Egypt your way by selecting only the attractions you want to visit