Is It Safe to Visit the Pyramids in Egypt?
Travel to the Egypt pyramids is very safe. Pickpockets, purse snatchers and scammers are probably the biggest risk for tourists visiting the pyramids, and especially when there are large crowds.
While the US travel advisory advises travellers to exercise extra caution when travelling to Egypt due to the threat of terrorist attacks, the fact remains that Egypt is a very safe country to visit. With the Giza Pyramids being Egypt's number one tourist attraction, it is probably the safest of all attractions in Egypt. So yes, we believe the pyramids in Egypt are safe to visit.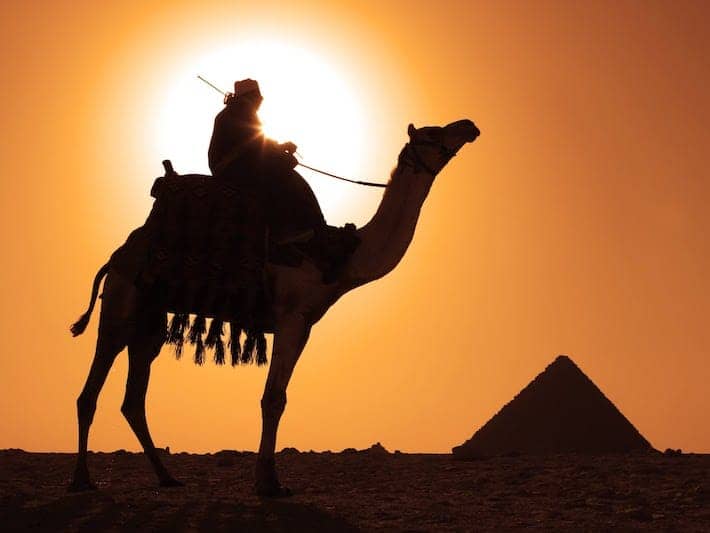 Are the Pyramids in Egypt Safe to Visit on Your Own?
Nearly every first-time visitor to Egypt visits the famous Giza Pyramids and the Sphinx. Many of them visit the site on their own without encountering any problems or stressful situations. Of course, Egypt is not without crime, and acts of petty crime, such as pickpocketing does occasionally occur. It is more likely to occur during peak tourist season when there are large crowds of tourists going about.
Scams are another reason for concern. Usually, a little bit of common sense can go a long way in helping you to avoid scams. We also recommend that you keep your valuables close to your side, not only at the pyramids, but also on your way there if you are using public transport. If your budget allows for it, we highly recommend visiting by way of a professional Egypt Pyramids tour package. 
A good quality Egypt Pyramids from Cairo tour package will include clean and modern air-conditioned transport, an experienced private driver and a profession Expert guide.
Is It Safe to Travel to Egypt's Pyramids at Dashur and Saqqara?
Yes, it is safe to visit the pyramids at Dashur and Saqqara. However, outside of the peak tourist season, both of these sites can often be more or less deserted. This is largely due to their distance from Cairo. Both sites are located roughly 40 kilometers from Cairo and there is no public transport from Cairo to either of these sites.
Independent travellers need to hire a car or make use of taxis. Because of this, many independent travellers don't bother visiting these sites, which explains why they are often deserted. While it is safe to travel to the Egypt pyramids at Saqqara and Dashur, we recommend that female travellers, and especially single female travellers, visit these two sites with a profession tour guide just to be on the safe side.
Visiting as part of a tour package means you won't have to haggle with taxi drivers. You will have clean and comfortable transport, and more importantly, you will have an experienced local guide and private driver accompanying you to the sites.
Is It Safe To Go Inside the Pyramids in Egypt?
Most of Egypt's famous pyramids are open to tourists, including the Giza Pyramids, the Step Pyramid at Saqqara, and the Red and Bent Pyramids at Dashur. You need not have any safety concerns about entering the pyramids during your visit. These pyramids are only open to the public because they are safe to enter. Many people describe going inside at least one pyramid to be a truly incredible experience.
Safety Tips and Travel Advice for Visiting the Pyramids in Egypt
While the pyramids in Egypt are safe to visit, there are a few things one can do to make your visit to these iconic monuments even safer. Here are a few things to keep in mind, not only when visiting the pyramids, but also when visiting other attractions or other parts of the country:
Dress Modestly
Egypt is a conservative country. Both men and women dress modestly. While most Egyptians in major cities don't really care how tourists choose to dress, it is somewhat different when travelling elsewhere in the country. Even when visiting attractions in major cities, such as the Giza Pyramids, it is best to dress modestly.
This is especially true for female travellers who are travelling alone and even more so for female travellers using public transport. If you wear very revealing clothes in major cities like Cairo, it is unlikely that you will experience sexual harassment, but you will almost certainly attract stares and extra attention.
Don't Carry More Money than you Need To
While it is safe to travel to Egypt pyramids, it is best to leave unnecessary valuables at your hotel. Only carry as much money as you think you will need, and try to keep your purse or wallet concealed. Pickpocketing is not a major problem at the Giza Pyramids complex, but it can and does happen.
Be Polite but Firm with Camel Handlers
Camel handlers at the Giza Pyramids can be very pushy and persistent. If you don't want to ride a camel, or if you feel a camel driver is trying to scam you, simply smile and walk away. Be polite, but also firm. If you have a tour guide with you, he or she will deal with any such issues on your behalf.
Be Wary of the Safety of Taxis
While taxis are a cheap and convenient means of getting to the pyramids, they are not the safest option. Cities like Cairo have no shortage of crazy drivers, and many of the crazy drivers happen to be taxi drivers.
Summary: Is It Safe to Visit the Pyramids in Egypt?
Is it safe to travel to Egypt pyramids? Yes it is. Providing you exercise a certain degree of caution, you can have an amazing time and a perfectly safe trip. As we have already mentioned, if you don't want to haggle with taxi drivers, and you don't want the stress that comes with using public transport, simply book an all-inclusive Egypt Pyramids tour.
Alternatively, consider booking one of our epic Egypt tour packages or Nile cruise and stay packages that include a visit to the pyramids. With more than half a million tours sold, we know how to make travel dreams come true.
Design Your Custom Egypt Tour
Explore Egypt your way by selecting only the attractions you want to visit