Is Egypt Cheap to Travel?
Is Egypt Cheap to Travel? Compared to many Western countries, travel in Egypt is considerably cheaper, and people traveling on a budget can really see and do a lot without having to spend a great deal of money.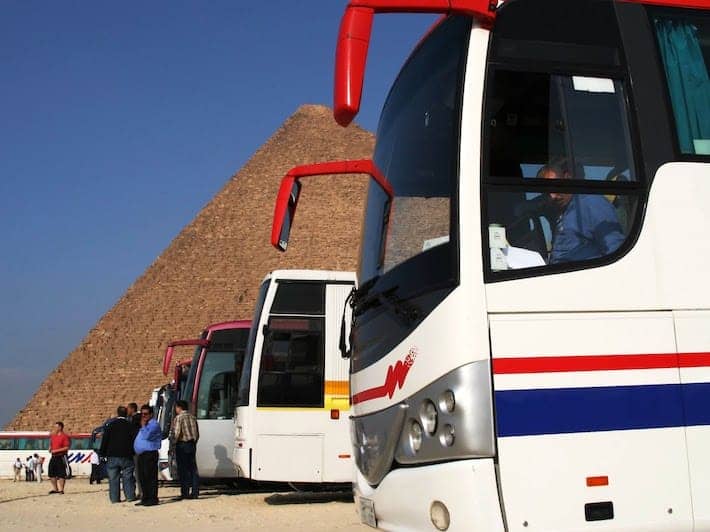 Many people have compared the cost of travel in Egypt to the cost of travel in some Southeast Asian countries, such as Thailand. How much you actually spend while traveling in Egypt depends on your personal travel style, and what sort of daily budget you have set for yourself.
You can have a totally luxurious vacation that includes an all-inclusive resort experience, along with a 5-star Nile River cruise. One of the great things about travel in Egypt is that while those with the necessary resources can have the sort or luxury vacation they are longing for, budget travelers can also have an amazing experience, and also get to see many of the country's major tourist attractions.
So, is Egypt cheap to travel? Yes, Egypt is for the most part a cheap country to visit, providing you watch your spending.
Here are some great tips to help you save money while travelling in Egypt:
Domestic Travel on a Budget
In this example, we'll look at travel from Cairo to Luxor. While it is usually possible to find cheap flights, they will still cost quite a bit more than traveling by bus or by train. The cheapest bus tickets start from around US$2 while flight tickets with EGYPTAIR start at around US$75.
If you choose the cheapest bus (+/- $2.00) don't expect any modern-day comforts at all. A better option would be to fork out about US$25 for a ticket with Go Bus. These buses have air-conditioning, reclining seats, personal entertainment, free WiFi, and phone charging points.
The cost of your ticket typically also includes a snack box, along with some bottled water or fruit juice. You get all this for less than half of what you would pay for a flight ticket. Not surprisingly, buses are the most popular option among tourists.
Now for the big surprise: overnight sleeper trains, one of Egypt's best kept secrets. Most tourists are either intimidated by the thought of train travel in Egypt, or else they are unaware of how enjoyable train travel in Egypt can be, and also how affordable it is.
At the time of this post being written, there were five trains a day from Cairo to Luxor, two of which depart from Cairo in the evening and arrive in Luxor the following morning. Ticket prices range from $2 to 35 USD per person, which is not much different to the price of buses.
However, if you take the US$35 option and you travel on the overnight train, you ticket includes dinner and breakfast which is served in your private compartment. If you are traveling on a budget, or if you simply want to enjoy a more authentic experience, then we would definitely recommend taking the overnight train rather than a bus.
Is Egypt cheap to travel in terms of accommodation?
Egypt has an abundance of accommodation for tourists. From budget accommodation to luxury accommodation, you won't have any difficulty finding accommodation you can afford.
Hostels are the cheapest option when it comes to accommodation, and unlike in many other countries, most hostels in Egypt are surprisingly clean and comfortable. Hostel prices typical begin at around 8 Dollars per person, per night. Some hostels even include a free meal. If you don't mind forfeiting the amenities you find in hotels, and/or you want to meet new people, hostel accommodation is a great option when traveling in Egypt.
Is Egypt cheap to visit if you want to stay in good hotels? Well, it really depends on what level of luxury you want during your stay. If you do some searching, you can find acceptable 3-star hotels for around 25 USD per person per night. However, if you are willing to pay around US$35 or more, you can find really good 4-star hotels. For 5-star resort style hotels, expect to pay upwards of 140 USD per person per night.
As a general rule, one should expect to spend between US$35 to US$160 per night on hotel accommodation. Home rentals, on the other hand, cost between US$60 and US$ 400 per day/night. Home rentals can be a good way to cut costs if you are traveling with a group of friends or traveling with a large family. As you can see, Egypt is cheap to travel, but the more luxury you want, the more your Egypt vacation is going to cost you.
Is Egypt cheap to travel if you also want to experience a Nile cruise?
A Nile cruise is one of the best travel experiences you could possibly imagine. For the ultimate Nile cruise experience, we would recommend booking a cruise from Cairo to Luxor or Aswan. These cruises typically last around 12 to 14 days, but they are definitely not well-suited for budget travellers.
For most travellers, a 3-night or 4-night Nile cruise on board one of the large tourist boats is perfect. We in fact have several 5-Star Nile River cruises, including several budget Nile cruises listed on our website that are surprisingly affordable, even for budget travelers.
Nearly all good Nile River cruises include a number of onshore excursions to some of Egypt's most famous sites, including sites like Karnak Temple, Luxor Temple, Valley of the Kings, and quite often the rock-hewn Temples of Ramses II at Abu Simbel.
Prices for 5-Star Nile cruises start at around 750 USD per person. While this might seem costly, at first glance, one needs to take into account that the cost of the cruise includes on-board accommodation, 3 meals a day, Expert-guided cruise excursions to several famous sites, as well the fees to sites visited during the cruise.
As is the case with hotels, Nile cruises typically cost less during the summer months. If you are going to be travelling on a tight budget and you are hoping to secure the best possible deals, try to visit any time from May to September since this is the cheapest time to visit Egypt.
So, is it cheap to travel Egypt? We think it is. After all, at the time of this post being written, you could enjoy a private guided Egypt tour, complete with a Nile cruise, for less than 1,000 USD per person.
Recommended: Budget Egypt Tours
Travel Alone or Book a Package Tour?
Some people simply prefer to travel independently. With independent travel, you set your own schedule and your own pace. However, independent travel in Egypt can be quite challenging due to a lack of familiarity, and the language barrier. And, while it might come as a surprise, independent travel is not always the cheapest option when visiting a country like Egypt.
Of course, we sell Egypt tour packages and Nile cruise holidays, so our opinion is obviously somewhat biased, but we firmly believe that professionally designed tours allow for the very best travel experience in Egypt.
At Egypt Tours Plus, all of our tours are fully customizable and can be tailored to fit your needs perfectly. We can also help you to create your own unique travel itinerary from scratch, so if you are ready to discover the magic of Egypt, contact us now to start planning your dream vacation today.
Design Your Custom Egypt Tour
Explore Egypt your way by selecting only the attractions you want to visit