Does Egypt Have Travel Restrictions?
As of the 17th of June 2022, the Egyptian government lifted the last remaining Covid-19 travel restrictions. Travel to some parts of the country is restricted reasons other than Covid.
In this post we look at any and all restrictions which may be in place, and also at how they might affect foreign tourists in Egypt and international travel to Egypt in general.
Covid-19 Travel Restrictions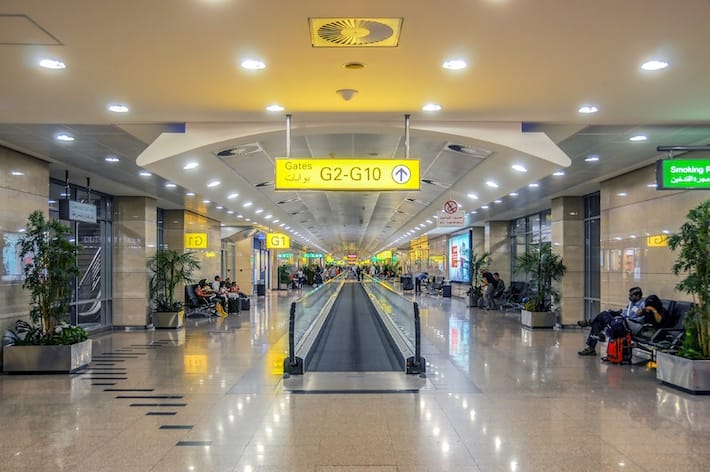 Does Egypt have travel restrictions regarding Covid-19? Not anymore. All Covid related restrictions have been lifted. Covid-19 vaccination, including at least one booster dose is recommended, but no longer a requirement for entering the country. There is also no requirement for international tourists to get tested prior to travelling to Egypt or on arrival in Egypt.
With the last remaining restrictions lifted, Egypt it once again 100% open for tourists, as are all of the country's popular tourist attractions. The wearing of masks and social distancing are still recommended in order to reduce the risk of exposure. Travellers should however be aware that the Covid-19 situation is being monitored constantly, and restrictions could be re-imposed at any time if the Egyptian authorities feel it is necessary.
Yellow Fever Immunization
There is no Yellow Fever in Egypt, and anyone travelling to Egypt from a country where Yellow Fever is prevalent needs to show proof of Yellow Fever immunization in order to enter the country. The same applies to anyone who has recently visited or travelled through a country where Yellow Fever is prevalent. If you cannot provide proof of immunization, you will be denied entry by the passport and immigration authority.
Does Egypt have Travel Restrictions Relating to Israelis and Israeli Passport Stamps?
Contrary to what many people believe, Egypt has no entry restrictions relating to Israeli citizens or anyone who has an Israeli stamp or Israeli visa in their passport.
Like everyone else, Israelis are welcome to visit Egypt providing they obtain a valid tourist visa prior to travelling to Egypt. Alternatively, they can visit Sharm El Sheikh, Dahab, Nuweiba and Taba coastal resorts on the Sinai Peninsula without a visa for up to 14 days.
Unfortunately for Israelis who want to explore other parts of the country, the visa application process can take several weeks, and several entry requirements need to be met. However, this applies to several nationalities rather than only Israelis.
Does Egypt have Entry Restrictions Based on Nationality?
In addition to having a valid entry visa for Egypt, the citizens of some countries must also obtain approval from Egypt's National Security Agency  (Egyptian Security Authorities) before they are able to enter the country. At the time of this post being written, there were ten countries in this group:
Iran
Iraq
Kazakhstan
Kosovo
Lebanon
Mauritania
Somalia
Sri Lanka
Syria
Yemen
Travel Restrictions within Egypt
Does Egypt have travel restrictions for tourist who are already in the country? As of the time of writing, most of Egypt was open for tourism, as were all of the country's major tourist sites and other popular tourist locations. With that having been said, some areas which are close to Egypt's borders with Libya and Sudan are off limits due to security reasons, not only for tourists but also for locals.
Some areas in the North Sinai Governorate are also off limits due to the threat of terrorist attacks, and due to ongoing military operations. Because travel in north Sinai is considered to be extremely dangerous, all travel in the North Sinai Governorate should be avoided.
Checkpoints that are manned by Egyptian security forces are routinely attacked and as a result, any tourists attempting to travel in the area will be told to turn around.
All non-essential travel in the South Sinai Governorate should also be avoided although some south Sinai coastal resorts like Sharm El Sheikh are generally deemed to be safe. At present, tourists also have to obtain permission to visit Egypt's White Desert, Black Desert, and Western Desert, including the Western Desert's oases which were previously popular among tourists.
Photographs and Videos
While it might seem strange to foreigners, taking pictures of public buildings, police stations, and military installation or military hardware is not allowed in Egypt. Taking photos or shooting videos inside some museums, monuments and tombs is also prohibited. In almost all instances, there will be signs telling you that you are not allowed to take photographs.
If you simply cannot resist the temptation to take pictures in places where it is prohibited, use your phone camera and be sure to first turn off the flash. If you fail to do so, you run the risk of having your phone confiscated, and most likely getting a hefty fine as well.
Climbing the Pyramids
Enjoy Egypt's breathtaking tourist sites but don't abuse them, and that includes not attempting to climb the famous Giza Pyramids, or any of Egypt's other pyramids. Not only is it dangerous and disrespectful, but it is also illegal.
In the past, tourists were free to climb the pyramids but this was outlawed in 1951. Despite it being made illegal, enforcement was lax and many tourists continued climbing the pyramids in Egypt. More than 1,600 people have died while trying to climb the pyramids in Egypt.
One of the most recent deaths involved a 21-year-old American tourist who fell asleep after illegally climbing to the top of the Great Pyramid at night in 1989. The ban came into effect not only for tourist safety, but also as a means of helping to preserve these ancient structures.
These days the law is strongly enforced, and anyone who is caught attempting to climb the pyramids could face up to three years in prison.
Prescription Medication
Most medication which is available over the counter in other countries can legally be taken into Egypt for personal consumption. However, when it comes to prescription drugs, this might not always be the case.
If you take prescription medication, you should take a copy of your prescription with you when you travel to Egypt or get a cover letter from your physician prior to traveling to Egypt. Even with a letter from your doctor and/or a copy of your prescription, it is important to know that certain drugs are illegal in Egypt regardless of whether they are prescription drugs or not.
We also strongly advise against taking any cannabis derived product/s into Egypt. For example, CBD oil may be legal in many countries nowadays, and while it cannot make you high, you could be charged for attempting to smuggle an illegal substance into the country.
 Does Egypt have travel restrictions that can severely impact your experience in the Land of the Pharaohs? We certainly don't think so. While there are some restrictions on movement in a few areas such as north Sinai, the vast majority of the country is 100% open for tourists to enjoy. If you are longing to visit Egypt but you have concerns regarding your personal safety, you should consider booking an Egypt tour package through a reputable Egypt tour operator.
Providing you book your tour through a well-established tour company, you will almost always have an experienced local guide with you, along with your own private driver and vehicle. You also won't have to worry about accidently visiting places which might be risky. With well-established tour operators, the personal safety of their clients is of paramount importance.
A Magical Vacation in Egypt is only a Few Clicks Away
If you are ready for a vacation in Egypt that will leave you with lifelong memories, check out our epic range of Egypt vacation packages today, all of which are fully customizable. Alternatively, contact us now and we will help you to design your own unique travel itinerary from scratch.
With more than half a million tours already sold, we know exactly how to turn a dream holiday into a reality.
Design Your Custom Egypt Tour
Explore Egypt and the Middle East your way by selecting only the attractions you want to visit