Is It Safe to Travel to Egypt as a Woman?
Yes, it is safe to travel to Egypt as a woman. However, women who are traveling alone and without a tour guide should try to avoid being out on foot in dark or deserted areas after sunset.
The overwhelming majority of female travellers in Egypt don't encounter any problems. Egypt is a very safe destination for tourists, including women travellers. As is always the case when travelling, a little bit of common sense can go a long way in helping you to avoid stressful situations.
Tip: If traveling alone consider wearing a scarf and avoid looking men in the eyes.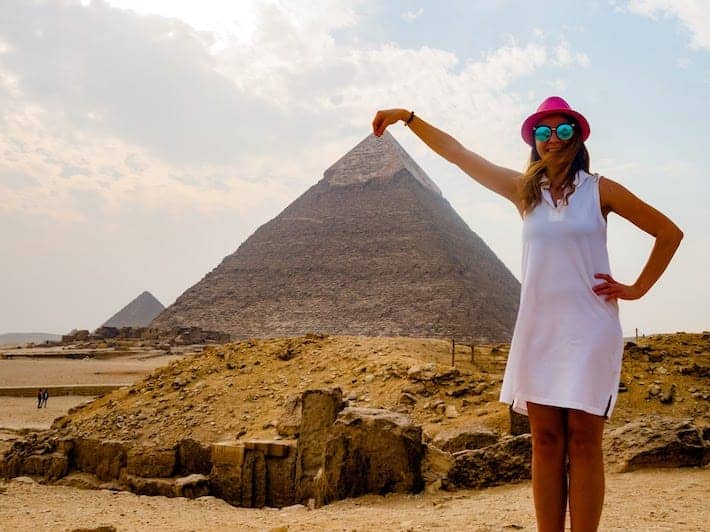 Is It Safe to Travel to Egypt as a Woman?
Egypt is as safe, if not safer than many other popular tourist destinations. Of course, as in countless countries, sexual harassment is not unheard of in Egypt. Many Egyptian women complain about sexual harassment, so obviously it does happen, but it very rarely involves female travellers. When it does involve female tourists, it is almost always limited to verbal harassment only.
If you are a woman and you intend visiting Egypt on your own you probably won't run into any problems. Nonetheless, you should consider hiring a tour guide, or booking an Egypt tour package that includes private guides and drivers. Alternatively, you should consider visiting Egypt with a friend.
7 Safety Tips for Female Travelers in Egypt
While it is typically safe to travel to Egypt as a woman, there are a number of things you can do in order to make your trip to the Land of the Pharaohs even safer. Here are a few tips to help you avoid and/or deal with dodgy situations:
1. Dress Modestly
Is it safe to travel to Egypt as a woman wearing very revealing clothes? Egypt is a conservative country. Nearly all Egyptians, both male and female, dress modestly. In major cities like Cairo, Aswan and Luxor, most Egyptians don't really care how foreigners choose to dress. However, women travellers who wear very revealing clothes are likely to attract attention, and possibly even some amount of verbal harassment.
Of course, in coastal resorts like Sharm El-Sheikh, female tourists that wear revealing clothing are a sight which most locals are familiar with. However, when you are visiting popular tourist sites and/or using public transport, women travelers should dress modestly.
2. Keep a Hotel Business Card with You
One of the first things you should do when you check-in at your hotel, is take one of the hotel's business cards and put it in your purse or handbag. This can be very helpful if you get lost or if you forget how to get back to your hotel. It can also be a big help if you are being harassed. Simply flag down a taxi and show the taxi driver the card and you will be safely back at your hotel in no time at all.
3. Only Stay in Safe Hotels
Only staying in good and safe hotels makes it even more safe to visit Egypt as a woman. You don't have to stay in 5-Star hotels, but you should only stay in hotels that have security at all entrances. Egypt also has many small family-owned 3-Star hotels which are also safe hotels. Still, we recommend staying in hotels with security at the doors.
4. Using Public Transport
If you happen to be using public transport like the metro in Cairo or the streetcars (trams) in Alexandria, you will notice that the first one or two carriages/cars are reserved for female travelers only. Women are welcome to use the mixed gender carriages/cars, but if you have safety concerns about possible harassment, then simply use the "women only" carriages.
5. Hire a Female Tour Guide
While it is safe to travel to Egypt as a woman, you can add another layer of safety by hiring a professional tour guide to accompany you to the different tourist sites you intend visiting. As a woman, you might also want to consider hiring a female tour guide if you are concerned about your safety.
6. Avoid Dark and/or Deserted Areas
Tourists, and especially female tourists should avoid being out on foot at night in areas that are dimly lit and/or mostly deserted. This is advice which we would give to anyone and everyone regardless of which country they intend visiting. If you don't see many local females in a particular area at night, then it it's probably best for you to avoid the area as well.
7. Consider Booking an Egypt Tour Package
By and large, Egypt is safe for women travelers, but it is even safer if you visit this amazing country as part of a tour package. Egypt tour packages offered by well-established Egypt tour operators will include professional tour guides and experienced drivers. You get to see many of the country's best attractions with a professional guide by your side every step of the way. You also don't have to worry about crazy drivers and/or the safety of taxis because reputable travel companies will have their own experienced drivers who have been carefully vetted.
Summary: Is Egypt Safe for Solo Female Travellers?
Is it safe to travel to Egypt as a woman? We believe it is, providing you exercise a certain degree of caution. Women travelers are no more at risk in Egypt than they are in most other popular tourist destinations. As is often said, a little bit of common sense can go a long way in helping you to avoid unpleasant situations.
If you are ready for a dream holiday which will be safe and totally unforgettable, check out our incredible range of Egypt tour packages today, or even design your own dream trip to Egypt right now.
Design Your Custom Egypt Tour
Explore Egypt your way by selecting only the attractions you want to visit