Is it Safe to Travel to Alexandria, Egypt?
Is it Safe to travel to Alexandria, Egypt? Travel to Alexandria Egypt is both safe and affordable. Many travellers travel from Cairo to Alexandria by bus or taxi but you can also travel by train, which takes a bit longer, but is also safer.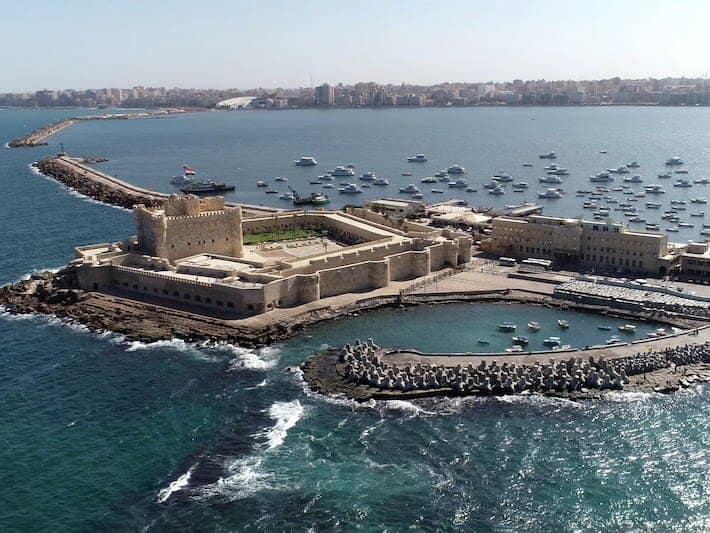 Alexandria is a major city and the third largest city in Egypt after Cairo and Giza. Like all major cities in Egypt, Alexandria is a very safe destination for tourists. The vast majority of tourists have an amazing time Alexandria's attractions and don't experience are problems at all during their stay.
Okay, let's look at getting to Alexandria from Cairo:
From Cairo to Alexandria by Road?
Is it safe to travel to Alexandria Egypt by road? It is no secret that Egypt has no shortage of crazy drivers, along with many crazy taxi drivers, so traveling by road is probably not the safest option. However, thousands of people travel to and from Alexandria without any problems.
Taxis are very convenient, which makes them a popular choice. They are also very affordable if you insist on the meter being turned on, or if you have honed your haggling skills. As of the time of writing, a taxi from downtown Cairo cost from US$21 to US$26. The journey typically takes just over two hours.
Getting to Alexandria by bus is another option, and also the most popular option. Go Bus has several busses running between Cairo and Alexandria. Their busses are clean, comfortable, modern, and safe, or at least safer than taxis. As of the time of writing a one-way ticket with Go Bus cost around US$7, with the journey taking roughly 3 hours.
Is it Safe to Travel to Alexandria Egypt by Train?
While Egypt has had a few rail accidents over the years, trains in Egypt are pretty safe. First class and second class trains are also reliable, comfortable, and cheap, with prices starting at around US$5 per person.
Trains in Egypt usually have a few carriages reserved for females only. So, if you are a female traveler, you can either sit in one of the regular carriages or you can sit in one of the "Women Only" carriages if you have any safety concerns.
Cairo to Alexandria by Air
Air Cairo and EGYPTAIR both offer flights between these two major cities. Flying is probably the safest way to travel to Alexandria from Cairo, but it is obviously also the most expensive option, with prices starting at around US$160.
Is it Safe to Travel to Alexandria Egypt in Terms of Crime?
Even though Alexandria cannot compete with places like Cairo and Luxor in terms of archaeological sites, you can still have an incredible time. While Alexandria is a very safe city for tourists, it is not free of all crime. Fortunately, a little bit caution and common sense can go a long way in helping to ensure that you have a safe trip. '
Here are a few things to be aware of when visiting Alexandria:
Violent Crime
Violent crime is very rare in Alexandria, just as it is in Egypt's other major cities. There is no real threat of violent crimes like muggings and/or armed assaults. However, violent carjackings have and can occur.
Very few regular tourists drive while they are visiting Egypt, but if you do and find yourself in a potentially violent carjacking situation, it is best to simply get out of the car and walk away. You will have lost the car, but in so doing, you may well have saved your own life.
Pickpocketing and Bag Snatching
Unfortunately, pickpocketing does happen in Alexandria, just as it does in most big cities. Most pickpocketing happens in crowed areas, including on trains, and particularly during rush hour.
To minimize your chances of becoming a victim of pickpocketing, keep a close eye on your belongs at all times and stay aware of your surroundings. Under no circumstances should you leave any belongings unattended, even on tables at restaurants, etc. Also be aware that pickpockets will sometimes use young children to distract you.
Scams
Street vendors are accountable for most scams that tourists are exposed. In most instances, these scams involve venders trying to sell you counterfeit goods. No matter how appealing the prices might be, simply say "No" in a polite but firm manner, and then walk away. If you happen to have a professional guide with you, he or she will deal with any scammers if you happen to come across any.
Women Travelers
Women who are traveling in Alexandria can feel safe. However, female travellers should exercise the same sort of caution as they would when traveling even in their own countries. For example, female travelers should avoid very deserted areas and dimly lit areas after the sun goes down.
Food Scene
Alexandria has a flourishing food scene, and it is a fantastic place to enjoy delicious and seriously affordable seafood. While we always encourage travellers to try authentic Egyptian food, we also advise them against eating at places that don't appear to get many local customers. Your best way to avoid stomach problems is to eat where you see lots of locals eating, and under no circumstances should you drink tap water. Bottled water is both cheap and plentiful in Egypt.
Independent Travel or Guided Tour?
As is to be expected, travel to Alexandria Egypt is typically going to cost less if you make your own way there as an independent traveller. However, private Egypt tours are far more convenient, far more rewarding, and they provide an extra layer of safety because you have a professional local guide with you at all times.
So, is it safe to travel to Alexandria Egypt? We believe it is, and we highly recommend visiting this charming port city. While some people say you need at least three days in Alexandria, we believe you can see all the top sites simply by booking a private guided day trip from Cairo.
If you are ready for a once in a lifetime high quality vacation in Egypt, check out our epic range of Egypt Tour Packages today, or even create your dream trip right now.
Design Your Custom Egypt Tour
Explore Egypt your way by selecting only the attractions you want to visit