11 Day Dahabiya Luxury Cruise and Cairo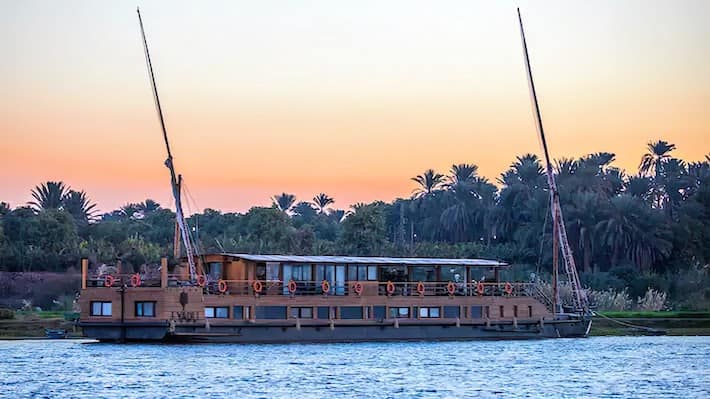 Book a luxury Dahabiya Nile cruise and enjoy some of the very best attractions in Egypt, and do so in style. Our Luxury Egypt tour packages include luxury accommodation; luxury transport, and top class service every step of the way. Visit Cairo's finest attractions like the pyramids; Sphinx; Egyptian Museum, and then fly to Luxor. Tour Luxor and board the magnificent Eyaru Dahabiya for a week long trip to Aswan. The Eyaru is plastic-free and everything on board the vessel is handmade, even the plates and carpets.
Discover all the timeless attractions that await you along the way, and then tour the wonderful city of Aswan, now home to the majestic Temple of Philae. Fly back to Cairo; relax and prepare for your flight out of this fascinating land. Egypt tour packages simply do not get any better than this.
Our 11-day luxury Egypt tours runs: Wednesday & Thursday.
Inquire
Cairo and Luxury Dahabiya Nile Cruise
Itinerary
Day 1: Arrive at Cairo International Airport
Your tour manager meets you and assists you at the airport when you arrive in Cairo, and then you are transferred to your hotel in one of our deluxe air-conditioned vehicles. After you have been checked in, your tour manager will discuss your itinerary with you and confirm pick-up time for the following day's tour. With a complimentary "welcome" drink and the beauty of Cairo waiting, you're free to spend the rest of the day as you wish.
Day 2: Memphis and pyramids tour
After breakfast, you will start your day trip with a visit to the Giza necropolis where you can explore the pyramids of Cheops, Mykerinus, and Chefren. These are known as the Great Pyramids of Giza, and this is also where you will see the Great Sphinx with its pharaoh head and lion body, as well as the Valley Temple.
Enjoy lunch at a local restaurant after your visit to the pyramids, and then taken to see Djoser's  Step Pyramid in Sakkara, which is a testament to the architectural mastery of an architect named Imhotep. The pyramid was built for Pharaoh Djoser, and it was the first pyramid ever built by the Ancient Egyptians.
Next, you will head to the old capital of ancient Egypt, Memphis. This area became the capital during the reign Pharaoh Menes during in the days of the Old Kingdom. Finally, you will be driven back to your hotel in Cairo.
Meals included: Breakfast and lunch
Day 3: Day Trip in Cairo
Enjoy breakfast in your hotel, and then head out for a day of exploration and fun in Cairo. You will enjoy a private tour of the Egyptian Museum, including a glimpse into the life of Tutankhamen. The artifacts in this museum will take you back to ancient Egypt for an educational morning.
Next up is the Cairo Citadel. In 1183 AD, the citadel was built by Salah El Din in an effort to protect the city from attacking Crusaders. After the citadel experience the Mohamed Ali Alabaster Mosque. This mosque is dedicated to an Islamic ruler who controlled Egypt for more than 40 years.
After lunch, you will have an opportunity to shop at the El Khalili Bazaar. This is one of the most robust "shopping centers" in the city, and it is an esteemed part of Middle Eastern history. When you are finished at the bazaar you will then be transferred back to your hotel and you will have the rest of the day for yourself.
Meals included: Breakfast and lunch
Day 4: Luxury Eyaru Dahabiya Cruise
After breakfast you'll be driven to Cairo Airport where you'll board a flight to Luxor for your luxury Dahabiya Nile cruise. Your Eyaru Dahabiya yacht will take you along the river for the next week, ensuring you see the most spectacular sights in comfort and complete safety.
After lunch, you will leave the cruise ship to see a complex of temples located at Amon-Ra at Karnak. You will see a hypostyle hall that was built with 137 columns, and it is a spectacular sight.  You will also see the 28th Dynasty Luxor Temple before spending a relaxing night on board the your Dahabiya in Luxor.
Meals included: Breakfast, lunch and dinner
Day 5: Day Excursion on the West Bank
Enjoy your breakfast on the cruise, and then head off board to explore the Luxor West Bank. The Valley of the Kings will show you where the tomb of Tutankhamen was found by Howard Carter in 1922. You will also visit the magnificent mortuary Temple of Queen Hatshepsut and the Colossi of Memnon.
Back on your luxury Dahabiya Nile cruise, you will be served lunch while sailing  towards Esna and you will spend the night moored in a peaceful location a short distance from Esna Lock.
Meals included: Breakfast, lunch and dinner
Day 6: A Day to Sail
Visit Esna Temple in the morning shortly after breakfast. Most of this day will be spent sailing on the Nile, and as even draws near, your Dahabiya will tie up for the night near Hegaz Village.
Meals included: Breakfast, lunch and dinner
Day 7: The Temple of Edfu
After breakfast, your Dahabiya will sail to Edfu where you will be taken to see the Temple of Edfu. This is the best-preserved ancient cult temple ever discovered in Egypt. After your tour, you will sail towards Bassawa Island where you will spend another relaxing night on the water.
Meals included: Breakfast, lunch and dinner
Day 8: The Ptolemaic Temple of Kom Ombo
Enjoy breakfast on the luxury Dahabiya Nile cruise, and then sail to Gebel El-Silsila where you will be taken to see Gebel El-Silsila. Next, you will sail to Kom Ombo for another excursion, this time to see the Ptolemaic Temple of Kom Ombo. This temple was dedicated to two gods: Horus and Sobek. Horus had a falcon head and is known as the god of the morning sun. Sobek is known as the god of the crocodile. Spend another enjoyable night on board your Dahabya on the Nile, this time near a village called Fares.
Meals included: Breakfast, lunch and dinner
Day 9: Sailing Adventure to Aswan and Aswan Tour
Spend another relaxing day taking in the sights and sounds of the Nile River. On arrival in Aswan you will visit the Aswan High Dam, the Temple of Philae and the Unfinished Obelisk. This night of your cruise will be spent on the water at Aswan.
Meals included: Breakfast, lunch and dinner
Day 10: Free Day at Aswan
There are no tours scheduled for this day of your trip although you will have the option of visiting the magnificent rock-cut Abu Simbel Temples which are about a 4.5 hour drive from Aswan.
Meals included: Breakfast, lunch and dinner
Day 11: Cruise Ends, Transfer to Cairo and Final Departure
Wake up to one last breakfast on your Dahabiya and then you'll check out and you'll be driven to Aswan airport to board a flight to Cairo. You will be met when you arrive at the airport in Cairo and you will then be taken to the International Departures hall in time for your flight home.
Board your flight with memories that words cannot describe, and know that we enjoyed the opportunity to show you the ancient treasures of this fascinating land
Meals included: Breakfast
What is Included
Inclusions – What is included in your luxury Dahabiya Nile cruise package:
Meet and greet service for all arrivals and departures.
Assistance from our customer service department for the duration of your stay.
Entry visa for Egypt provided on arrival at the airport in Cairo
All transfers in private air conditioned vehicles with a company driver.
Accommodation for 3 nights in Cairo at the Le Riad de Charme Hotel (includes breakfast).
Accommodation for 7 nights on the 5-Star Eyaru Dahabiya Nile Cruise with full board.
All sightseeing tours mentioned in the itinerary (private tours in Cairo and small group tours during your cruise).
Free tea, coffee and soft drinks at meal times during your cruise.
Entrance fees to all sites mentioned in the luxury Dahabiya Nile cruise itinerary.
English speaking Expert guide for your tours.
Lunch during tours in Giza.
Bottled water during tours.
Domestic flights.
Portage when needed.
Free WiFi access throughout your stay.
Exclusions – What is not included in your luxury Dahabiya Nile cruise package:
International Airfare
Optional activities and tours.
Personal expenses
Tipping
Price
Accommodation Plan
Le Riad de Charme Hotel, Cairo (5-Star)
Eyaru Dahabiya Nile Cruise (5-Star)
| Price per 1 person | May to September | October to April |
| --- | --- | --- |
| P/Person in Double Suite | $8495 | $8995 |
Prices for our 11-Day Luxury Dahabiya Nile Cruise and Cairo Tour are quoted per person in US$ and are valid until the 30th of September 2023, except during the Christmas, New Year, and Easter holidays.
Egypt Luxury Tours
Didn't find the Egypt luxury tour you were looking for? See alternatives below or check out some of our other 12 day Egypt tours here.
Design Your Custom Egypt Tour
Explore Egypt your way by selecting only the attractions you want to visit