Morocco Tours from Spain are extremely popular, but this is hardly surprising when you consider just how easy it is for people to visit Morocco from Spain. Morocco is also a very popular add-on destination for people touring Spain. Of course, besides the convenience aspect, Morocco is also an incredibly alluring holiday destination which is visited by millions of people from all around the world.
→ Best-selling Morocco and Spain Tours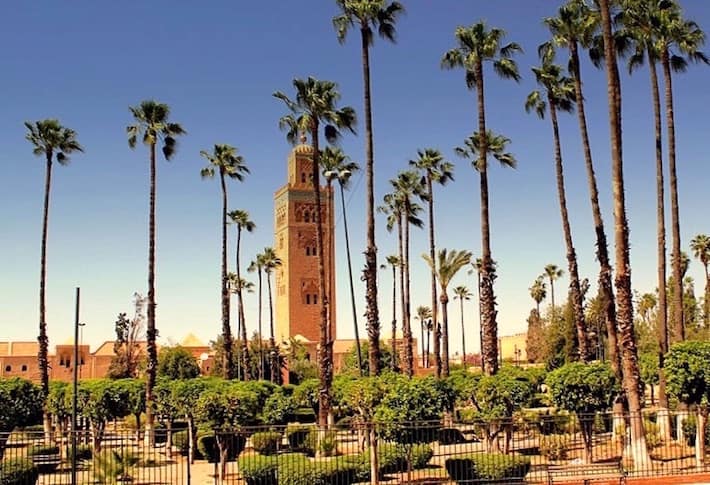 Morocco Tours from Spain
Apart from its fascinating Imperial Cities, Morocco also has an almost infinite amount or unspoiled natural beauty, from beautiful sandy beaches to the majestic High Atlas Mountains. It is also incredibly easy for Spanish passport holders to enjoy Morocco tours from Spain in terms of visa requirements. So, let's take a look at what the actual visa requirements are.
→ Amazing Morocco and Egypt Tours
Passport Requirements for All Persons Visiting Morocco
Anyone who wants to enjoy Morocco tours from Spain, regardless of their nationality, must be in possession of a valid passport. Their passports must also have at least 6 months validity remaining. This is calculated based on the date you enter the Kingdom of Morocco. Furthermore, your passport must have at least one blank page for your visa if you are traveling on a passport from a country whose nationals require a visa to visit Morocco. You can find out more about this in the section below.
Visa-Free Travel to Morocco
Spanish citizens and/or those traveling on a Spanish passport can visit Morocco for up to 90 days without a visa. The citizens of another 67 different countries can also visit Morocco for up to 90 days without a visa, including countries such as the USA; UK; New Zealand; Australia; UAE; Denmark; Norway, and the Netherland, to name just a few. The actual list of countries whose citizens can visit without a visa is subject to change so it is always best to visit the website of the Embassy of the Kingdom of Morocco for the most up to date information.
NOTE: If you wish to stay in Morocco for more than 90 days you will have to apply for a residency card at a police station that is located in the area where you are staying. Such applications must be made within the first 15 days of your visit.
Visa Requirements for a Moroccan Visa
If you are NOT a citizen of one of the 68 countries whose citizens can visit Morocco for up to 90 days without a visa, then you will need to apply for a tourist visa prior to traveling to Morocco. The process typically takes between 2 to 15 days, depending on the embassy or consular office where your application is being submitted, and depending on whether you have chosen the "fast track" option. Below is a list of the current requirements which need to be met when applying for a tourist visa:
Completed and signed visa application form.

Your original passport and a copy of the page with your photo on.

4 x passport-sized color photos.

Copy of your provisional flight itinerary.

A certificate/letter of employment from your employer.

In the case of students, a school or university letter confirming their attendance.

In the case of business owners, a copy of their most recent income tax remittance.

Provisional hotel reservation/s or a signed letter of invitation from your sponsor in Morocco.

If married to a Moroccan citizen, a copy of your marriage certificate and a copy of the passport or ID card belonging to your spouse. In this case, you don't need an invitation letter or proof of provisional hotel bookings.
NOTE: Children up to, and including 16, are permitted to travel on the passports of their parents providing their photos also appear in the passports. The photos must have been including in the passport but the issuing authority.
NOTE: People who are only in possession or a temporary travel document must obtain special clearance from Morocco prior to traveling to the country, and this process can take up to 2 months
The exact cost of a Moroccan visa tends to vary a bit, depending on which country you submit your application in. In the United Kingdom for example, an Entry Visa for Morocco costs about £16. If your application is successful, you will be granted a 3-month visa. If you are planning to stay longer, you must apply for an extension within your first 15 days in the country.
When Is the Best Time for Morocco Tours from Spain?
Morocco is a fantastic year-round destination, so you can essentially enjoy Morocco tours from Spain any time you wish. However, Morocco is a large country with varying landscapes, including coastal areas, mountainous areas, and a desert. Naturally, the best time to visit will depend on what your intentions are when you visit.
For most people though, it is often said that April and May are the best months to visit because is pleasantly warm and dry. Springtime begins in March and lasts unto May, and this is when many people choose to enjoy Morocco tours from Spain because they find themselves surrounded by a spectacular lush green landscape. It also needs to be said though that Morocco is exceptionally beautiful in autumn as well, from September to October.
In the summer months, most of the country also enjoys pleasant and comfortable weather, apart from areas in or near to the Sahara Desert where temperatures become almost unbearable. In winter, temperatures in much of the country also remain very pleasant, but it can get surprisingly cold at night. Also, the higher the elevation of the areas you visit, the colder it becomes.
Enjoy Morocco Tours from Malaga
Morocco tours from Malaga in the Andalusia region of Spain are extremely popular, not only amongst the locals, but also amongst the countless tourists who visit Malaga each year. Originally founded in around 700 BC, Malaga is often credited with being the world's oldest city with a population greater than 500,000. With such a long history, it is a traveler's dream, and it is made even more alluring by its splendid year-round weather and its beautiful beaches.
Malaga is also home to a large international airport, one of the oldest functioning airports in Spain, as well as being home to a very active port and a thriving cruise ship industry. With frequent flights and cruises between Malaga and Morocco, and even a weekly ferry service, it is easy to see why Morocco tours from Malaga are so popular.
A direct flight from Malaga to Tangier only takes about 45 minutes, while a direct flight to Casablanca only takes about 1 hour and 40 minutes. Cruise times naturally vary considerably depending on what sort of cruise itinerary you choose. If you have some time to spare but not enough time for a cruise, the ferry which runs once a week will get you to morocco in just under 6 hours. So, no matter how you look at it, Morocco tours from Malaga, both for local residents, as well as for tourists, are very enticing
Enjoying Morocco tours from Madrid
With Madrid being the capital of Spain, it should come as no surprise why so many people in Spain book their Morocco tours from Madrid. Air travel is the most common choice amongst those booking Morocco tours from Madrid because you can find return tickets for around 40 Euros, and you can be in Marrakech about 2 hours later, which makes air travel both cheap and convenient.
Despite air travel between the two countries being so affordable and so convenient, many people who book Morocco tours from Madrid also choose to make the journey by road before taking the ferry across the Strait of Gibraltar to Tangier. Coach tours are very popular in Spain, including Spain and Morocco tour packages.  In fact, many Morocco tours from Madrid feature coach travel, departing from Madrid and also ending in Madrid.
Morocco Tours from Spain – A Perfect Holiday in the Sun
Spain is special and Morocco is magical, and high quality Morocco tours from Spain can allow you to enjoy the best of both worlds in a way which is both affordable and convenient. Whether you are a local or an expat living in Spain, Morocco tours from Spain can provide you with wonderful travel experience right on your doorstep.
Breathtaking Morocco and Spain Combination Tours